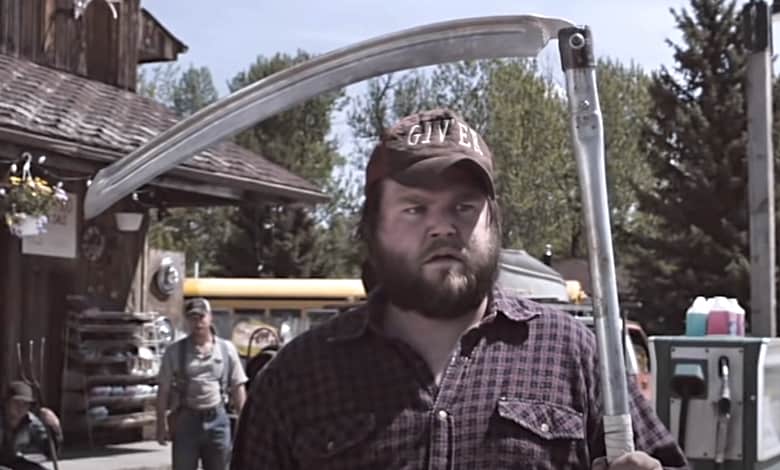 Rural America takes its lumps from Hollywood, Inc.
Comedians roast this slab of the country ruthlessly. Films and TV shows often do the same, think "Deliverance" and TLC's "Here Comes Honey Boo Boo."
"The Beverly Hillbillies," anyone?
"Tucker & Dale vs. Evil" does just the opposite.
The film upends cultural cliches, allowing self-acknowledged hillbillies a chance to prove their mettle against a gang of city slickers. It's a sly horror-comedy with teeth and heart.
Tucker & Dale vs. Evil (2011) Official HD Trailer
Alan Tudyk and Tyler Labine play the title characters, plainspoken souls who make the most of their modest dreams. All they want is to spend time in their vacation retreat, a cabin coated with cobwebs and dust, and sneak some fishing in between house cleaning.
A chance encounter with some college students interrupts their merriment. Each side thinks the worst of the other, and before long people are accidentally dying.
Guess who gets the blame?
Katrina Bowden of "30 Rock" fame plays the one city slicker with a heart big enough to let Dale in. The rest? Well, they're either cowardly or cruel, dismissive of anyone outside their cultural norms.
You could argue the moral lessons within "Tucker & Dale vs. Evil" apply to any persecuted group, but the film is having too much fun to get on a soap box.
Tucker and Dale vs Evil (11/12) Movie CLIP - Best Friends Forever (2010) HD
The laughs are small but meaningful, and while the third act needs some trimming the film moves at a zany clip.
Labine, one of the bright spots of the "Fantastic Beasts" franchise, makes Dale's self-worth issues stick. Tudyk plays the straight man, eager to boost his friend's spirits no matter the events in play.
Tudyk liked the script from the jump, but he worried the project might not be able to manage the delicate comedy-horror hybrid given the story's complexity.
The "Firefly" alum said writer/director Eli Craig pulled it off.
I kept thinking, this won't work, [Craig] won't be able to keep all these balls in the air, he's not going to be able to maintain this. But he did, and that's exciting to me, something new and hard to pull off.
31 Days of Horror: