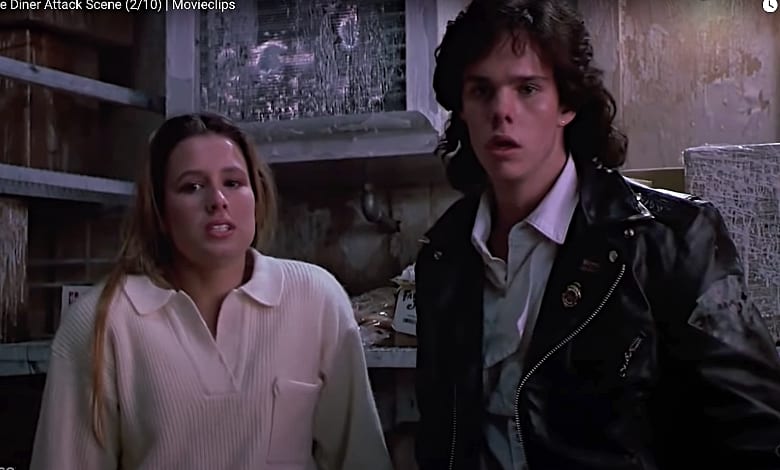 There's often a moment in a movie that sells it beyond a shadow of a doubt.
For the 1988 horror remake "The Blob," that happens when a character you'd bet would make it to the end credits dies in the first act.
What just happened?
Director Chuck Russell announced he was taking the remake in a bold new direction, that's what.
The underrated Russell ("The Mask," "Dreamscape") uncorks a giddy B-movie that makes full use of Hollywood's improving special effects.
The Steve McQueen original has its devotees, but the '50s-era cheese and clunky effects could only do so much for the then-unknown actor (billed on the one sheet as Steven McQueen).
The heart of the film belongs to Kevin Dillon, cast as the rebellious Brian Flagg. He'd rather defy authority than save the day, but he has little choice when his small town is overrun by a gelatinous baddy from the stars.
Shawnee Smith proves his equal in the heroism department, giving the film its, oh, so unlikely duo.
Writer/Director Chuck Russell's 'The Blob' starring Shawnee Smith and Kevin Dillon opened in theaters this day 35 years ago. ☄️🍿🧊 #OTD

"𝚃𝚑𝚊𝚝 𝚖𝚎𝚝𝚎𝚘𝚛 𝚒𝚜 𝚖𝚊𝚗-𝚖𝚊𝚍𝚎! 𝙸𝚝'𝚜 𝚜𝚘𝚖𝚎 𝚔𝚒𝚗𝚍 𝚘𝚏 𝚊 𝚐𝚎𝚛𝚖 𝚠𝚊𝚛𝚏𝚊𝚛𝚎 𝚝𝚎𝚜𝚝 𝚝𝚑𝚎𝚢 𝚏*𝚌𝚔𝚎𝚍 𝚞𝚙!" pic.twitter.com/evua5sxFGg

— 𝚂𝚎𝚌𝚘𝚗𝚍𝚊𝚛𝚢 𝙿𝚛𝚘𝚝𝚘𝚌𝚘𝚕 (@2ndaryProtocol) August 6, 2023
"The Blob" misfired at the box office, earning a tepid $8 million en route to VHS stores nationwide. It's gained more respect since then, even while others retain an admiration for the original.
Not here.
Russell shared some fun anecdotes on a director's commentary track, including how the scene where the hero gets embarrassed while buying condoms at the pharmacy was based on an incident in his own life.
Plus, Russell noted that the aforementioned "misdirect" was inspired by Alfred Hitchcock's "Psycho." That film also killed off the character many expected to be the main heroine.
31 Days of Horror: