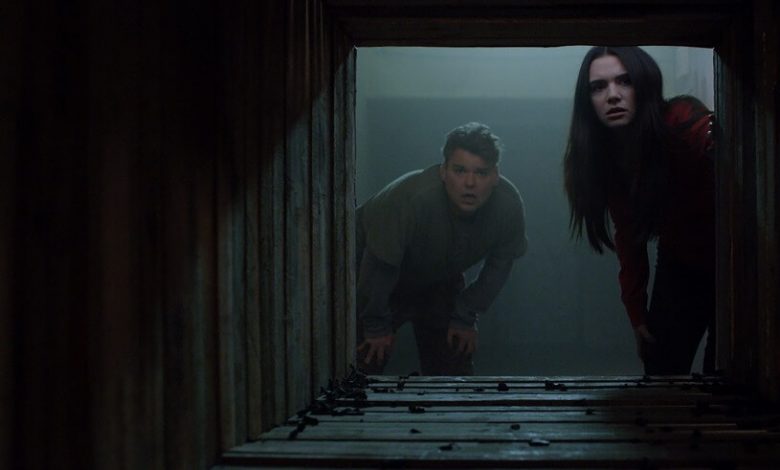 Some of the best recent horror movies served up killer gimmicks to go with the scares.
Think "Get Out," "M3GAN" and "The Black Phone."
By that standard, "Haunt" is absolutely dull by comparison.
The 2019 film follows a group of attractive young people as they stumble into a haunted house with more than cheap frights in store for them. The only cliche missing is a "cabin in the woods."
Yawning yet?
Better stop, because "Haunt" is a bona fide Halloween sleeper.
A group of old and newer friends set off for a Halloween night adventure. Along the way they spot an obscure haunted house attraction that all but begs them to step inside.
Once they do, they split up (of course!) and learn there's real danger lurking in these dimly-lit corridors.
Writer/directors Scott Beck and Bryan Woods penned the first "Quiet Place" feature, but their directorial debut is far less ambitious. It doesn't reinvent the genre, preferring to take what works and lean into it.
Hard.
"Haunt" does just that, thanks to serviceable performances, solid scares and an unpredictable series of threats facing our dwindling cast mates.
Woods told ComicBook.com how a childhood spent visiting haunted houses helped inspire "Haunt."
"It was fun and scary, but it was also, the more you thought about it, you think, "Wow, we're really vulnerable going to these things," like we're signing our lives away to people who scare people for a hobby. We started thinking about what's the worst-case scenario of that."
"Haunt" made very little noise at the box office four years ago, just $2.2 million from overseas theaters without an official U.S. tally. It made an impact all the same, snagging a perfect audience score at RottenTomatoes.com.
31 Days of Horror: