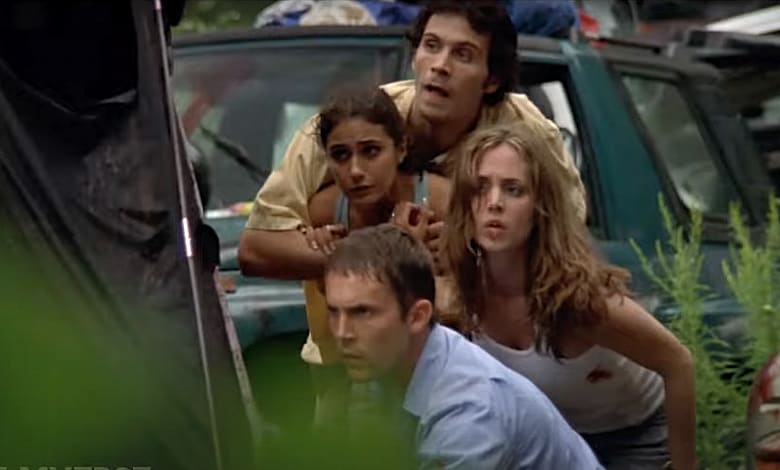 The "Wrong Turn" franchise is one of this critic's guiltiest pleasures.
Yes, the saga's budget shrank with every new outing, and the films lack anything palatable for the non-horror fan. They're still imminently watchable for gore hounds – especially their gruesome prologues – and give streaming platforms content for the low-expectation crowd.
(Yes, that even includes the occasional film critic)
The original "Wrong Turn" needs no qualifications to recommend it.
Wrong Turn (2003) Trailer
The 2003 film co-stars Eliza Dushku and Jeremy Sisto as friends whose West Va. camping plans go awry when they, all together, take the "wrong turn." Cue the "inbred" locals, a mutated lot who slice and dice anyone who crosses their path.
It's Survival 101 with plenty of creative kills along the way.
The forest setting (shot near Toronto) offered a strong visual palette, and FX guru Stan Winston of "Terminator" fame does the rest. Winston concocted the mutated makeup for the film's trio of villains.
#61DaysofHalloween day 40, part 1 – "Wrong Turn" (2003) 💀🩸 pic.twitter.com/3KYkWVYjdk

— 🎃🕸 Purga-Tori, the Queen of Samhain 🕸🎃 (@PurgatoriHorror) October 10, 2023
The indie film's production hardly went smoothly. Cast members suffered from more than just poison ivy outbreaks. One actor suffered a separated shoulder while another broke an ankle during an action sequence.
The West Virginia tourist board may have hated the film, but "Wrong Turn" earned enough in its theatrical run to spark a straight-to-video franchise. One reason for skipping theaters? It's show business, remember, and the move cut costs and froze Winston and co. out.
The films' budgets shriveled over time, with the sixth and "final" installment clocked in at $1 million.
Two years ago, franchise creator Alan B. McElroy returned to the saga for a tepid reboot that cast aside much of what made the series such a guilty pleasure.
Now, that's a real wrong turn.
31 Days of Horror: