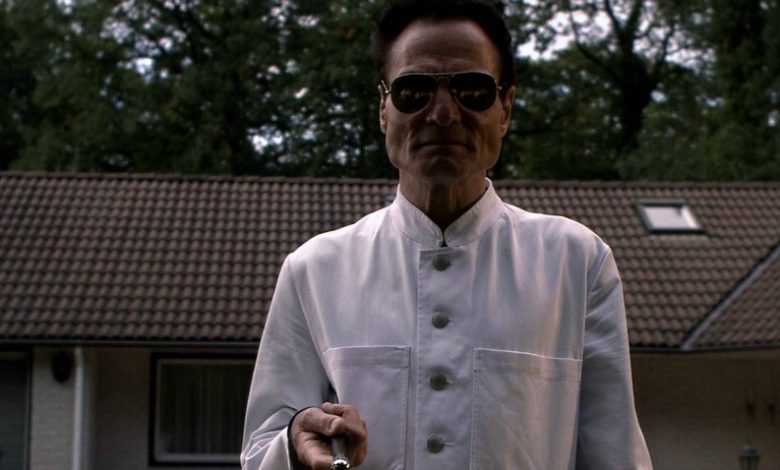 "The Human Centipede" trilogy gets a bad rap, and it's partially earned.
The second installment lost its creative spark in the third act, and the threequel pushed outrage above all else.
The original deserves credit for both originality and chutzpah, two factors that didn't win over many critics. The irony? The concept behind the trilogy remains haunting, but the first film shows much less than you remember.
Phew.
THE HUMAN CENTIPEDE - Official Trailer
Two attractive tourists (Winter Williams, Ashlynn Yennie) get a flat tire en route to a party in Germany. Their luck gets worse when they knock on the door of Dr. Josef Heiter (Dieter Laser) for help. They can't get any cell service, and they'd like to use his land line.
The not-so-good doctor drugs them instead, eager for patients to take part in his mad experiment. He wants to surgically attach several people, mouth to anus, to form the titular creature.
The rest is horror movie history, and a divisive legacy to boot.
The first "Centipede" offers a delirious turn by Laser, alternately creepy and beguiling. He's dedicated to the ghoulish task at hand, and he provides the film with an indelible monster.
Tributes paid to 'Human Centipede' star Dieter Laser who has died aged 78 https://t.co/xEB2S1hgCp pic.twitter.com/raZShTsHGE

— Andy Vermaut (@AndyVermaut) April 10, 2020
The story is hopelessly bleak, but there's a whiff of humanity at its core. Survival. Fear. The need for revenge. They're all wrapped in a shockingly tart package few filmmakers have managed to top since its 2009 release.
Writer/director Tom Six says the inspiration for the first movie came from a crude joke he often shared with friends.
"I always make this little sick joke to friends [about] a child molester. I said they should stitch his mouth to the ass of a very fat truck driver. That would be good punishment for him. Everybody says that idea is so horrible. And I thought yeah it is a horrible idea and it might be a great idea for a horror film."
The second film in the trilogy earned Six some unwanted attention.
The film was refused DVD classification by the BBFC last week on the grounds that "harm is likely to be caused to potential viewers". According to their ruling, the sequel's "graphic images of sexual violence, forced defecation and mutilation", and the fact that "the viewer is invited to witness events from the perspective of the protagonist", opens up the possibility that the film could "deprave or corrupt a significant proportion of those likely to see [it]".
31 Days of Horror: