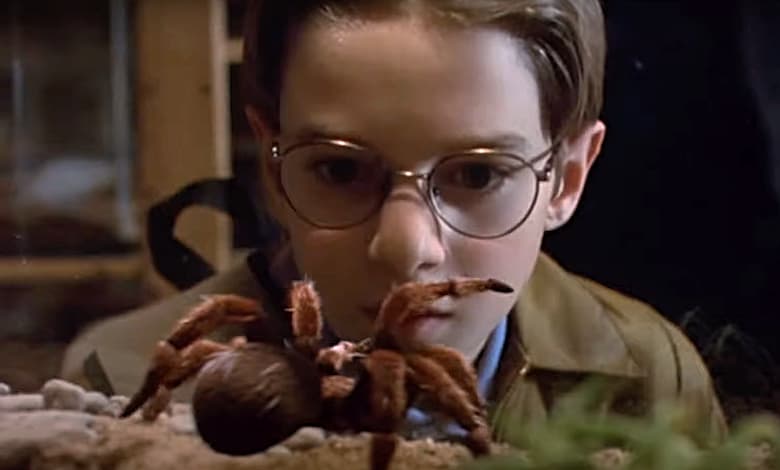 Scarlett Johansson won't name check this genre film should she ever win an Academy Award.
The "Avengers" star snagged an early paycheck via "Eight-Legged Freaks," a horror comedy that cast the future star in a supporting role.
The film's lead is "Ready to Rumble's" David Arquette, an ordinary Joe pressed into saving his town from an arachnid invasion.
Eight Legged Freaks (2002) Official Trailer - David Arquette Movie HD
Arquette plays a man whose return home is interrupted by those super-sized spiders. The critters nibbled on crickets dipped in toxic waste, and before you can say, "'50s movie homage" the townsfolk are running for their lives.
The film's spiders come courtesy of slick CGI effects, lending the film an unexpected sheen. That, plus the crisp direction of first-time helmer Ellory Elkayem, fires up "Freaks" without resorting to R-rated theatrics.
Even better?
Arquette, hardly Hollywood's idea of a heroic lead, acquits himself nicely in that unexpected role. He's given stable support from co-stars Johansson, Kari Wuhrer and Doug E. Doug as the local conspiracy monger.
Eight Legged Freaks (2002)

Actor David Arquette improvised the phrase "Eight Legged Freaks" and that became the title. The original title was "Arac Attack". #eightleggedfreaks #Davidarquette #ScarlettJohansson #horror #FilmTwitter #movies #trivia pic.twitter.com/SqjU5Unypi

— Movie Trivia You Didn't Know (@movietriviaaa) October 5, 2023
"Eight-Legged Freaks" earned a not-terrible $17 million at the U.S. box office, but it's been bouncing across various streaming platforms ever since.
Seen today, it's the perfect movie for a mindless Saturday afternoon or a Halloween night without gore, nudity or too much cussin'.
Arquette made the film under difficult circumstances. His father had recently died, forcing him to bury his grief and commit to playing the hero alongside Wuhrer of "Remote Control" fame.
The actor shared a snippet about the film's extensive effects work, along with one inexpensive part of the production, with the media. The oversized spiders came courtesy of CGI trickery, but the critters' gooey innerds were made of apple sauce spiked with green dye.
31 Days of Horror: