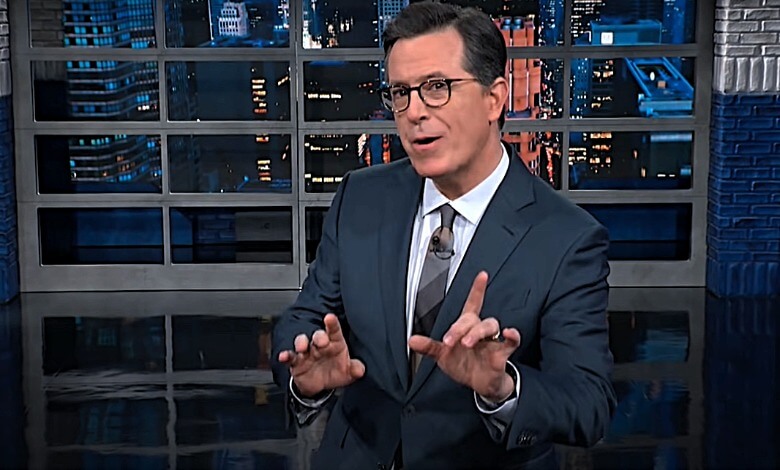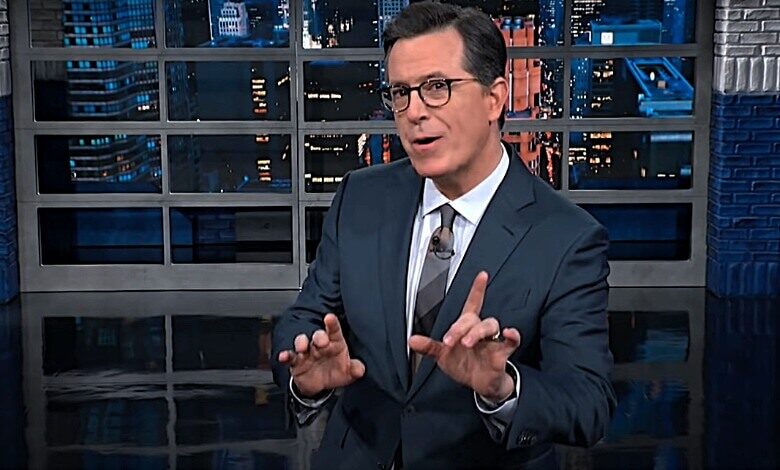 Johnny Carson didn't create the late night comedy format. He just personified it for three decades, no small achievement in pop culture terms.
Even after Jay Leno successfully grabbed the baton from Carson in 1992 the comedian's name was synonymous with the format.
Not any more.
The modern late night TV show is far more political than the Carson model, and hopelessly one-sided.
Democrat … good
Republican … bad
Rinse, lather, repeat
Some monologues sound like op-eds you'd read in The New York Times or The Nation. Others bend or mangle the truth in a fashion most professional broadcasters would avoid. There are few, if any, repercussions for late night TV hosts trafficking in Fake News.
The same reporters who eagerly share their opinions stand down when they bend or break the truth.
President Donald Trump's improbable rise cemented this pattern, but it took root months before his 2016 election victory. Late night comics literally took sides in the Trump/Clinton slugfest, a trend that intensified over the last three-plus years.
Who are these late night TV show hosts? What do they bring to their respective platforms?
Stephen Colbert
The unofficial "King" of late night TV started his broadcasting career on a program famous for its quick, shocking collapse. "The Dana Carvey Show" assembled a murderer's row of future comedians, including Colbert, Steve Carell, Bob Odenkirk, Robert Smigel and Louis C.K.
The sketch series flopped in spectacular fashion, a catastrophe captured in the Hulu documentary "Too Funny to Fail."
Too Funny To Fail: Trailer (Official) • A Hulu Original Documentary
Colbert brushed himself off and found work writing for "Saturday Night Live" before landing a co-starring role on Comedy Central's "Strangers with Candy." He segued to another Comedy Central show, the startup satirical series "The Daily Show," where he served as a correspondent for both Craig Kilborn and later, Jon Stewart.
His progressive politics aligned perfectly with the show's leftward tilt, and audiences connected to his wit and comic presence.
His success allowed him to try his own show on for size, "The Colbert Report." The comic took on a Bill O'Reilly-like persona, mocking conservatives along the way. His progressive bona fides couldn't be denied, yet CBS saw enough of Colbert's shtick and decided he would replaced a mainstream icon, David Letterman, in 2015.
Colbert's early ratings struggle suggested CBS chose poorly. He drifted back to his default progressive mode and slowly caught up with "The Tonight Show with Jimmy Fallon."
Now, Colbert generally leads the late night ratings race, thanks partly to his aggressive, hard-left posture. His nightly attacks on President Trump provide comfort food to the "resistance," even if he routinely latches on to wobbly news narratives, like the Steele Dossier and the Russia collusion hoax, to do so.
Jimmy Fallon
The New York native's big break came courtesy of "Saturday Night Live," a show he obsessed over for much of his young life. He quickly stood out in the packed ensemble, delivering music, comedy impressions and more for the demanding sketch series.
His recurring Sully from Boston sketch, alongside Rachel Dratch, joined the show's list of beloved recurring characters.
Boston Teens: High School Dance Cold Open - SNL
Fallon left "SNL" after a robust six-year run with an eye on the path blazed by past stars like Eddie Murphy, Will Ferrell and Bill Murray. Fallon's first two starring roles, in the comedies "Taxi" and "Fever Pitch," underwhelmed at the box office. He retreated into the corporate arms of his "SNL" mentor, Lorne Michaels, who chose him to replaced Conan O'Brien on NBC's "Late Night" showcase.
From there Fallon made the jump to late night prime time – 11:30 p.m. EST – where he took over for Leno on "The Tonight Show."
Fallon didn't focus primarily on politics like his peers, though. Sure, he mocked the latest headlines, but he generated a crush of viral videos with frothier bits like "Hashtag with Justin Timberlake" and "Evolution of Mom Dancing with Michelle Obama."
Everything changed after Fallon playfully tousled one guest's signature hair. That simple gesture, performed on GOP candidate Donald Trump weeks before election day, enraged the press and the Left, increasingly one in the same in the Age of Trump.
That moment sparked a ratings decline. Progressive viewers fled for more partisan late night commentary.
Fallon got caught in the woke revolution earlier this year. Progressives "unearthed" his 2000 sketch where he darkened his skin to mimic black comic Chris Rock. The press pounced, and he was forced to give a full-throated apology months before fellow late night talker Jimmy Kimmel offered a smaller, more defiant version.
Since then, Fallon's political humor has gotten more aggressive, more tilted toward progressives causes.
Bill Maher
The veteran stand-up has done it all, from movies ("Religulous"), HBO comedy specials and a talk show attacking Cancel Culture in its earliest form: "Politically Incorrect with Bill Maher."
That show got axed, ironically, after Maher made a comment that was both worthy of the show's title and markedly anti-American regarding 9/11.
"We have been the cowards. Lobbing cruise missiles from 2,000 miles away. That's cowardly. Staying in the airplane when it hits the building. Say what you want about it. Not cowardly."
He bounced back on his own terms with HBO's "Real Time with Bill Maher," which began in 2003 and continues today. The show features Maher's reliably liberal views, some of which can be nasty and unfiltered. In recent years he's emerged as one of the few liberals eager to engage with conservative stars, be it Andrew Breitbart, Steve Bannon, Ben Shapiro or Ann Coulter.
Ben Shapiro: Civil Discourse | Real Time with Bill Maher (HBO)
Maher once labeled himself a libertarian, a description that no longer applies in any meaningful way. He has been a steady, heroic voice for free speech in recent years. Maher routinely warns his fellow liberals that embracing Cancel Culture could come back to haunt them.
Samantha Bee
Like Colbert, Bee proved her comedy mettle on "The Daily Show." She served as a "correspondent" for Stewart for years, giving the show its first female on-air voice of consequence.
TBS hired her to host her own weekly show in 2015, adding a dash of gender balance to the late night format … and anger.
The first episode of "Full Frontal with Samantha Bee" delivered a profanity-laced attack on Sen. Ted Cruz, showing Bee wouldn't be as confined to decency as her broadcast TV peers. She's kept up that spirit, most famously by calling First Daughter Ivanka Trump a "feckless c-word." Her mealy-mouthed apology only endeared her to the Hard Left.
A Message From Sam | June 6, 2018 Cold Open | Full Frontal on TBS
Bee's show often targets powerful conservatives like Dennis Prager, turning a would-be comedy showcase into an activist's forum. Her humor is more cutting, more imbalanced and often relies on selective editing and facts to hammer home its points.
She's also far more focused on feminism via her routines, although never enough to defend conservative women against untoward attacks.
John Oliver
The British comic, like Bee and Colbert, toiled as a "Daily Show" contributor before landing a late night show to call his own.
His comedy career up until then, a grab bag of skits, acting work (the cult sitcom "Community") and live appearances, paved a natural path to Comedy Central's signature show. Oliver burnished his rising star status by hosting "The Daily Show" for several weeks in 2013 while Stewart directed his first feature, "Rosewater."
HBO paid attention to Oliver's "audition." The pay channel gave him his own solo series, "Last Week Tonight," in 2014. That platform allowed Oliver to take deeper dives into select targets, be it Trump or corporate malfeasance.
"Last Week Tonight" purports to be a smarter take on the late night format, but its programming is as dependent on selective editing and misinformation as its peers.
Trevor Noah
Many assumed Oliver would take over for Stewart if the longtime host ever hung up his microphone. By the time Stewart did just that, Oliver had already found an HBO show to call his own.
So Team Comedy Central selected relative unknown Trevor Noah, with roughly a year of experience as a show contributor, to assume the anchor's chair.
On paper, the South African comic offered an outsider's view of the United States and its political machinery. What emerged, though, is yet another progressive take on the latest headlines.
Noah has grown more comfortable in the anchor chair, honing his accents and performances over time. He's not as contrarian as Maher, but Noah is more likely to duck liberal groupthink than Bee or Colbert, if only by incremental measures.
His Trump harangues are just as pointed as his peers, but they often come from a more clinical perspective.
Desus & Mero
The Bodega Boys are the newest kids on the late night block.
Desus Nice (Daniel Baker) and The Kid Mero (Joel Martinez) teamed for a series of shows based on their popular podcast. The pair toiled for Viceland for a spell before fleeing for what they saw as a friendlier landing spot on pay cable.
Their Showtime talk show, now airing twice a week, lets them riff on anything from sports to sneakers. The show routinely allows progressive politicians the chance to connect with their viewers view goofy sketches and softball queries. The series debuted with an appearance by Rep. Alexandria Ocasio-Cortez.
Desus & Mero aren't as overtly political as Colbert, Bee or Maher. The focus is on their hip hop bromance and connection to the Bodega Hive, the duo's rabid fan base. Few late night TV shows shake up the formula like Desus & Mero. When national news hits their radar, though, it's filtered through a decidedly progressive lens.
Jimmy Kimmel
Kimmel's comic roots are a far cry from his peers, many of whom cut their teeth in improv comedy, "The Daily Show" and/or "Saturday Night Live." Kimmel toiled in radio as "Jimmy the Sports Guy" on the Kevin and Bean morning show before becoming the comic sidekick on Comedy Central's "Win Ben Stein's Money." He followed that program with a pair of programs for the network, "The Man Show" and "Crank Yankers," both featuring his off-screen chum, Adam Carolla.
Those gigs elevated Kimmel's profile, catching the attention of ABC brass. They plucked him out of cable TV land to host "Jimmy Kimmel Live!" The show, traditional in most ways, lets him showcase his quick wit and affable persona.
The show thrived, if not excelled, for years while producing fun cultural moments. His faux "twerking" video, for example, gave him one of his biggest viral hits.
Jimmy Kimmel Reveals "Worst Twerk Fail EVER - Girl Catches Fire" Prank
Kimmel took a political turn in recent years, sparked in part by President Trump's election. He used his young son's health woes to argue for expanded medical coverage for all. He waded into the gun control debate, parroting talking points from the Democratic party. While fellow late nighter Maher routinely invites conservatives on his show for robust debate, little of the same takes place on "Jimmy Kimmel Live!"
It's likely why he survived his own blackface past, routinely mimicking both basketball great Karl Malone and Oprah Winfrey without the threat of cultural cancellation.
James Corden
Here's a fun fact: the British-born comic did not cut his satirical teeth on "The Daily Show."
Corden starred in the British TV comedy "Fat Friends" before finding greater success via "Gavin and Stacey," which he co-wrote. His career bounced around from there, landing a gaggle of TV gigs as well as work on Broadway and beyond. His film appearances included "Begin Again," "One Chance" and "Into the Woods."
In 2015 CBS chose him to host "The Late Late Show" after Craig Ferguson stepped down. Corden's "Carpool Karaoke" segment with Adele became a viral video sensation, leading to a series of similar outings that came to define his late night persona.
Corden relies less on political news than his peers, but when he explores the latest headlines it's typically from a progressive point of view. In 2019 he famously said, "All the people that I like and respect' don't like Trump."
Conan O'Brien
The red-headed star is the iron man of the current late-night wars. O'Brien, who cut his teeth writing for both "Saturday Night Live" and "The Simpsons," seemed an odd choice to host his own late night show in 1993. And, true to form, the first few months of "Late Night with Conan O'Brien" proved tough to watch.
NBC showed surprising patience with the star, and it slowly paid off. He worked in a similar spirit to old-school Letterman, leaning on esoteric humor to draw a late night crowd.
And it worked.
Years later, NBC brass figured O'Brien offered a younger, hipper alternative to Jay Leno on "The Tonight Show." Plus, the network didn't want to "lose" O'Brien to a competitor. The compromise – O'Brien taking over on "The Tonight Show" while Leno received a 10 p.m. showcase. The move proved a double disaster. Leno got his old gig back and a furious O'Brien left the network, eventually landing his own show at TBS.
"Conan" isn't as political as his peers. In fact, O'Brien's focus remains on silly, intellectual gags, not activism. There are moments, though, where O'Brien looks and sounds exactly like his hard-edged peers.
Seth Meyers
The "SNL" talk show pipeline continued with Meyers' entry into the late night field.
Meyers commandeered "SNL's" "Weekend Update" anchor chair for years, often alongside fellow stars Amy Poehler and Cecily Strong. Meyers also served as the show's head writer during part of his "SNL" days.
Meyers' focus on political jabs made the transition to the late night format a smooth one, unlike O'Brien and the calamitous crash-and-burn attempt by Chevy Chase.
The "Late Night with Seth Meyers" star quickly fell in line with his liberals peers, including aggressively woke asides. In recent months Meyers has grown nastier, particularly regarding stories tied to President Trump.
The show's current iteration traffics in partisan sniping, name calling and arguments cobbled together with wobbly facts.
Hasan Minhaj
The star of Netflix's "Patriot Act" generates a fraction of the press, and attention, of his late-night peers. The stand-up comic, another liberal, caught the pop culture zeitgeist following his 2017 White House Correspondents Dinner hosting gig.
The "Daily Show"alum leveraged that moment, and a cultural cry for more diversity in late night, to land his weekly Netflix show a year later. The program is currently on hiatus due to the pandemic but is expected to return.
Greg Gutfeld
The Fox News superstar got his start in late night TV. Make that late, late late night TV.
His 3 a.m. EST show "Red Eye" broke the talk show mold and dumped the remaining pieces into a blender.
Anything could happen on Gutfeld's Fox News showcase, putting the former magazine editor on the broadcasting map. That avant garde forum, a rebellious blast of right-leaning mayhem, made him Fox News' most unlikely star. He rode that success to "The Five," a more traditional show buoyed by Gutfeld's subversive streak.
"The Greg Gutfeld Show" is his newest Fox News talk platform, airing at 10 p.m. EST on Saturday nights. It's hardly prime time for a show of its kind, but he still clobbers much of the late night competition with his rare blast of conservative perspectives.