Industry News
Opinion
Media Bias
WATCH: Conan Calls Trump Supporters Nazis
The mostly apolitical late night talker does his best Colbert impression here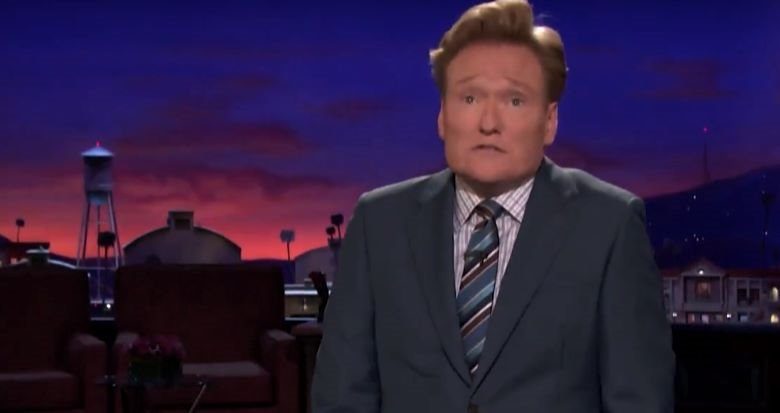 When it comes to Hate Night TV, Conan O'Brien is falling down on the job.
The TBS talker's nightly show jabs President Donald Trump, but it doesn't do so with the vitriol of his competitors. O'Brien hasn't had to deal with the fallout from homophobic jokes aimed at the President. Nor did he semi-apologize for calling the president's daughter a slur that shant be repeated here.
O'Brien tried to catch up this week all the same by slamming Trump supporters in the ugliest way possible.
His August 21 monologue brought up a recent ICE arrest drew the press' attention. Given the story's details it's not surprising.
A 95-year-old former Nazi concentration camp guard who lived quietly in New York City for decades was carried out of his home on a stretcher by federal agents and flown to Germany early Tuesday in what could prove to be the last U.S. deportation of a World War II-era war-crimes suspect.
O'Brien couldn't resist the news item for the obvious reason. Obvious, that is, for those who gleefully compare all things Trump to Adolf Hitler.
A Nazi Prison Guard Was Found Hiding At A Trump Rally | CONAN on TBS
"A Nazi prison guard has been sent back to Germany after years of living in the United States. After a long manhunt, authorities found him hiding at a Trump rally," he cracked. The crowd began to titter and then the obligatory "clapter" emerges.
Perhaps Team Conan thinks this is the best way to reverse his "little watched" show's ratings. He's already agreed to shrink the program to a half hour starting in 2019. Maybe he's watched his peers soak in the media adulation for slinging hate against the GOP on a nightly basis.
And he wants in on the action.
We'll see if this is just a blip or part of a new, "improved" "Conan." There's always a danger of slinging too much hate against Team Trump.
Just ask the suddenly unemployed Michelle Wolf.