Industry News
Opinion
Desus & Mero: We Self Censor to Avoid Cancel Culture
The rising Showtime stars refuse to tell certain jokes in the current climate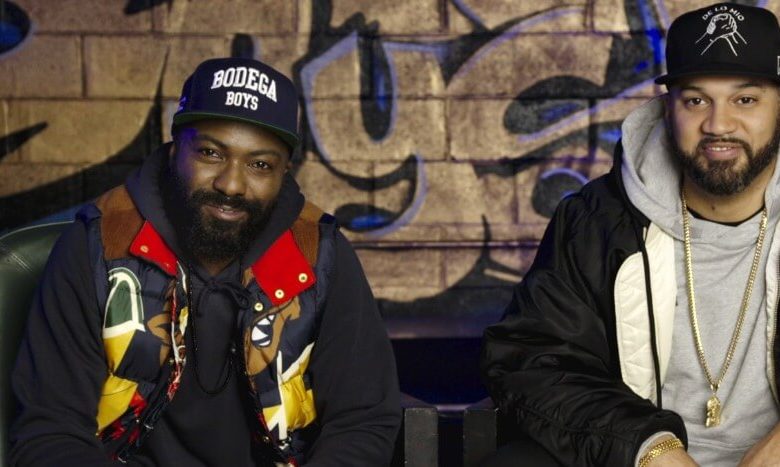 Showtime stars Desus & Mero are Bronx tough … on the surface.
The hosts of their self-titled talk show bring "street swagger" to their shtick, according to Newsday. "Desus & Mero," which airs 11 p.m. EST Monday nights, mixes pop culture, politics, sports and more with a heady blast of humor. The Bronx comedy bombers honed their chops on their Bodega Boys podcast. Their Showtime series proved a hit with critics when it debuted earlier this year.
So far, the comics haven't been pulled over by the PC Police for any jokes. No one is threatening to "cancel" their shtick.
And the pair knows why.
Their rationale, captured earlier this year but unearthed by the New York Post's Jon Levine, is frightening, sad and ultimately misguided.
Two comedians celebrating the fact that they self-censor to avoid hurting people's feelings

… they sound about as funny as lead poisoning https://t.co/nZu9FxYN67

— Jon Levine (@LevineJonathan) September 14, 2019
One wonders what they think of fellow comics Dave Chappelle and Bill Burr's broadsides against cancel culture today?
The comics appeared on a February installment of the "Hot Ones" YouTube series, a show featuring probing questions and blazing hot wings. Host Sean Evans asked the duo about the growing cancel culture trend, although in a sign of the times that term hadn't been embraced quite yet.
Their answers may surprise you.
Desus and Mero Get Smacked By Spicy Wings | Hot Ones
"We self censor … there are certain things you know that you could have gotten away with saying in '09 that you should not even formally as a sentence in your head," Desus says.
"Don't even put it in your drafts," Mero joked. "Don't even try it!"
Desus then shared how his own life experiences are shaping his woke comedy standards.
"As we've experienced the world and we've come across different people we realize that the humor hits differently, that a certain joke that might have been funny four years ago, like, you actually meet a person from this specific group and you're like, oh, s***, I even know that's offensive," Desus says.
"We're not in the cross hairs of PC culture because we're not fighting against it," Desus adds.
RELATED: Meet the Modern Late Night TV Show Hosts … See a Pattern?
Mero proceeds to mock conservatives for defending free speech.
"We're not out there like, 'Oh, PC culture, you can't say what you want anymore,'" Mero adds in an exaggerated whiny voice. "Nah, you can say what you want you just gotta be funny about it, and smart about it and approach it the right way."
The "right" way? Who decides that? Is there a ruling body that makes that decision? Is it Desus & Mero? Bill Maher? The New York Times? Chris Matthews? Was there a vote to embolden one person, group or party to be the Judge, Jury and Career Executioner?
Why is it fine to call Trump supporters racist, sexist or worse, but problematic to say the Parkland School students don't have the answer to gun violence, as woke comedy king Judd Apatow said was inappropriate to say?
Judd Apatow & Pete Holmes - Louis C.K.'s Leaked Set, Artie Lange, 'Crashing' - Jim & Sam Show
The woke rules are arbitrary and shifting on a near-constant basis. What's considered progressive today could be offensive tomorrow.
Desus's comments also "trigger" something more profound. He says his world travels introduced him to people who might take offense at his jokes. What about conservatives? Trump fans? The duo routinely mocks the Commander in Chief while kissing up to Rep. Alexandria Ocasio-Cortez.
Does Desus' empathy run dry when it comes to conservatives? If so, why?
Better yet, the duo admits jokes they told just a few years ago are no longer "woke." What if some of those bits are unearthed by a curious journalist, or just a random Twitter account? Don't they realize they could be canceled, Kevin Hart style, without being able to mount a defense?
Even the duo's progressive bona fides might not shield them from woke scolds. You'd be hard pressed to find more progressive comics than Sarah Silverman and Amy Schumer. Yet Silverman lost a precious film role for a decade-old blackface skit meant to enlighten, not insult.
Sarah Silverman Fired Over Blackface Controversy
Schumer's last two starring roles ("I Feel Pretty" and "Snatched") got hammered by the PC Police.
Desus & Mero's progressive posture will protect them, but only to a certain point.
Just ask Schumer … and Silverman … and Tina Fey … and Will Ferrell.
Comedians siding with cancel culture do so at their own creative peril. Desus & Mero may find that out the hard way.