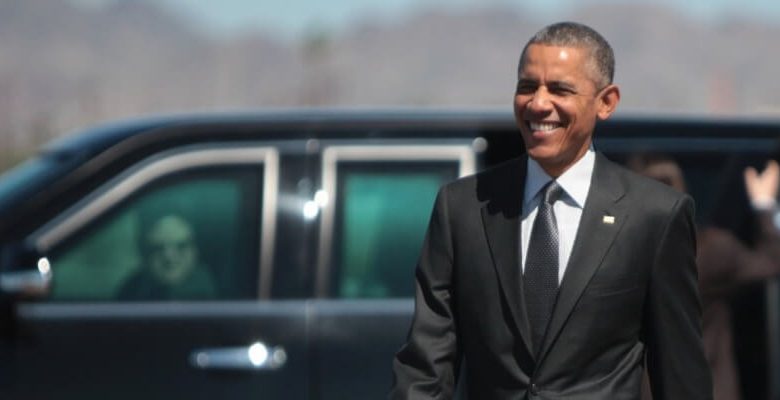 The boycott brigade is back and ready for action.
Numerous Twitter users vowed to cancel their Neflix subscriptions this week. Why? The streaming giant cinched a deal with President Barack Obama and Michelle Obama.
The former first couple will, according to an announcement Monday from the company, potentially work on scripted and unscripted series as well as docu-series, documentary films, and features under the multi-year deal.
Little else is known about the Obama Netflix deal at the moment.
Conservatives naturally winced at the report. Netflix, up until recently, hasn't worn the progressive tag like other content creators. Think HBO ("Real Time with Bill Maher, "Last Week Tonight") and Comedy Central (virtually every news-related program).
Mike Huckabee on Obamas' Netflix deal: An extensive series of fiction
Will Netflix now be yet another liberal outlet? And could Obama-produced content attempt to sway voters on key issues at key voting times?
Well, yes. There's little reason for the Obamas to go Hollywood if it's not to promote their values. Talk of documentary features alone should highlight that effort. Netflix will likely work closely with the Obamas to bring those visions to the popular streaming service.
The Obamas, to their credit, understand how to leverage pop culture to their advantage. There's a catch here, and it's massive.
RELATED: Hollywood's October Surprise? Film Series Tackles Economy (from the Left)
We're already inundated with liberal storytelling — with or without the Obama Netflix deal. Small screen fare ("Supergirl," "Designated Survivor," any late night comedy show). Movies ("Truth," "Miss Sloane"). And the flow shows little sign of stopping.
Leftist filmmaker Adam McKay just signed up to create fiscal-based content for Amazon starring Kal Penn.  McKay is one of the most overtly partisan figures in the entertainment world. He directed "The Big Short," a progressive look at the 2008 economic crisis.
The Big Short Trailer (2015) ‐ Paramount Pictures
He's a driving force behind the politically charged "Funny or Die" comedy series. And he's wrapping up work on "Backseat," the Dick Cheney biopic sure to hammer the former Vice President.
Here's why McKay should be of concern to conservatives. His work often reaches screens large and small without any hint of a partisan label. Take the news about his new economic-based series. Variety.com reported on the project without hinting as to his political motivations.
Here's how Variety describes Penn: 'a former White House Associate Director of Public Engagement…'
Which White House? The Obama White House. That gets left out, presumably to make it look as if Penn has Beltway experience but not ties to any one party.
None of that will be possible with an Obama-produced project. Everything the former First Couple does for Netflix will arrive with a loud and proud label.
This is a product by a major Democratic player.
The press will offer each new Obama offering all the press coverage possible. That cold truth will be inescapable.
Audiences, in turn, will react accordingly. Those who miss Obama's two terms will flock to the programming. Their minds won't be changed by what they see. They're already on board with the former president's vision.
RELATED: 5 Times Hollywood Brazenly Colluded with Democrats
Everyone else? Conservatives will mostly avoid the product. Independents may give it a try, but they'll know going into the experience that it comes with partisan packaging. That instantly lowers the chance of it influencing their points of view.
The news does impact Netflix, in a way that won't flatter the company. The signing makes it appear that Netflix is in the Democrat's pocket. It might not be true to the degree it is with HBO, mind you. Netflix currently streams a sprinkling of right-of-center content like the film "Chuck Norris vs. Communism" and "The Ranch" with Ashton Kutcher.
Chuck Norris vs Communism - Official Trailer
There's another reason the Obama Netflix deal could backfire.
The Obamas have virtually no experience in Hollywood. Sure, they've pressed the flesh in La La Land and scooped up a check or 20. They still don't have real-world experience picking projects, assembling the best creative teams and producing top-flight programming.
They may be fast learners. Or, they could hire the right people to make the important calls. Either way, the odds against their content clicking right out of the gate is modest, to be kind.
Still, the Obama deal (along with projects like the Jennifer Aniston film about the first female president and her lesbian partner) can't help but nudge the streaming company into the progressive side of the ledger in the eyes of many. The arrival of a new hard-left comic, Michelle Wolf, joining the Netflix fold won't help.
That growing image may minimize the cultural impact any Obama product has upon its arrival.
---
If you crave more conservative Hollywood coverage please "like" our Facebook page below.
Photo by Gage Skidmore on Foter.com / CC BY-SA