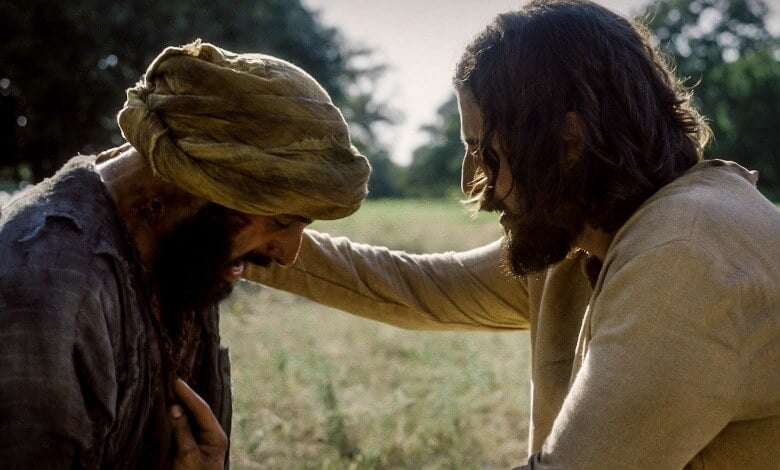 Even those averse to "miracle" talk would find "The Chosen" … remarkable.
The facts are hard to dispute.
The series following Jesus Christ's disciples-to-be inspired a massive crowdfunding campaign. The effort earned a whopping $13 million, far more than any comparable effort. For comparison's sake, the team behind the 2014 "Veronica Mars" feature drew more than $5 million.
That figure went toward an existing property with a vocal fan base. Industry observers hailed the campaign's haul, and rightly so.
Dallas Jenkins' "The Chosen" more than doubled those figures – with no marketable stars, studio backing or sizable press attention. It did use an equity feature that allowed "investors" to gain a return on their investment, but the sum still dwarfs any other Hollywood-related measure.
Need more?
The Chosen: Official Trailer 2
The show reached north of 180 countries via its standalone app, generating more than 7 million episode views since its December release.
UPDATED: The series is available for streaming at the show's official site
The bigger miracle, for cynical Hollywood types, comes courtesy of the series itself. The show's first season, eight episodes of varying length (plus a pilot), represents a generous leap in storytelling for the faith-based market.
The genre isn't what it was only a few years ago. Films like "Risen," "The Young Messiah" and "Breakthrough" reveal a maturing category:
Bigger stars (and richer performances)
Larger budgets
More absorbing tales
Box office glory hasn't always followed, but that doesn't diminish the artistic advances on display.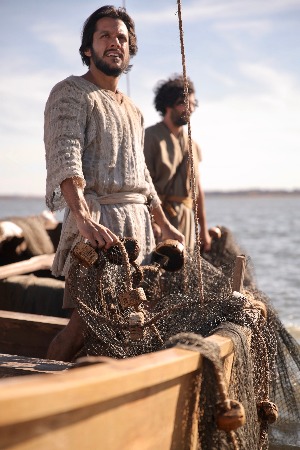 Still, the stigma attached to faith-based project persists, especially at lower budgetary levels. A Daily Beast scribe once chose Kirk Cameron's 2014 feature "Saving Christmas" as the year's worst movie – without actually seeing it.
"The Chosen" bullies past those preconceptions. The production design alone offers an immersive experience, delivering the sense that we're truly transported back in time.
FAST FACT: Jonathan Roumie landed his first leading role courtesy of "The Chosen." He first teamed with Jenkins six years ago for a short film made for the director's church.
It helps that "The Chosen" isn't another whitewashed affair. The cast is diverse and deep, an accomplishment that plays out organically.
Jenkins, who directed and co-wrote the episodes, does something else with the series. He makes this saga grittier than past Biblical tales. You can smell the bustling markets and taste the dust in your mouth after just a few sequences.
There's shaky camera work, and quite a bit of it, but it isn't flashy or distracting.
The saga boasts a lived-in component, something you can sense just by watching the various characters' shoes. They get dirty. Often.
The story itself follows several characters whose lives interact with a certain carpenter. There's Simon (Shahar Isaac), a headstrong soul attempting to get himself out of suffocating debt. Mary Magdalene (Elizabeth Tasbish) endures a possession early in the series, drawing the attention of both local religious leader Nicodemus (Erick Avari) and Jesus himself (Jonathan Roumie).
RELATED: KIRK CAMERON MULLS SUIT AGAINST CENSORIAL LIBRARIES
The standout among the main players is Avari's Nicodemus. The character actor's presence alone heightens every scene, establishing the show's ambitions in episode one. Nicodemus is morally strong but aware of his shortcomings, which becomes more clear as news of Jesus' miracles reach the masses.
The show's dialogue isn't as stuffy as past tales centered around the life of Jesus. It's accessible, even wise, with only a few numbing anachronism. The screenplay follows the stories many know by heart, but each episode surprises with humor and deft turns of phrase.
The comic moments are few but well earned, another sign of the storytellers' vigor.
We're also asked to look past first impressions, even with characters we instinctively loathe. Poor Matthew (Paras Patel) seems like a prototypical villain, the area tax collector who takes quiet pleasure in punishing the poor. Patel grants Matthew an inner strength that blossoms as the season progresses.
Jesus calls the misfit tax collector
Jenkins and his team are equally generous with supporting players, adding a secondary layer of surprises.
And then there's Jesus, a role that's all but impossible to play at this stage in pop culture. Slather on the kindness and he seems too good, too predictable. Stand back, and he's off-putting in his holiness.
Roumie balances his presentation, transforming Jesus into someone both recognizable and forever out of reach. Jesus appears but briefly in the early episodes, yet he towers over the production.
Yes, "The Chosen" is a ministry of sorts. The creators want to attract those curious about Jesus Christ while affirming the faith of true believers. The series straddles that sizable chasm, doing so in ways that suggest faith-based storytelling's progress has only just begun.
HiT or Miss: "The Chosen" is smart, easily digested and modern without leaving Jesus' spiritual resonance behind.