Industry News
Opinion
Stephen Colbert's 'Late Show' Celebrates Rocker Praising Political Violence
What does CBS think of the late night Leftist's latest cringe-worthy interview?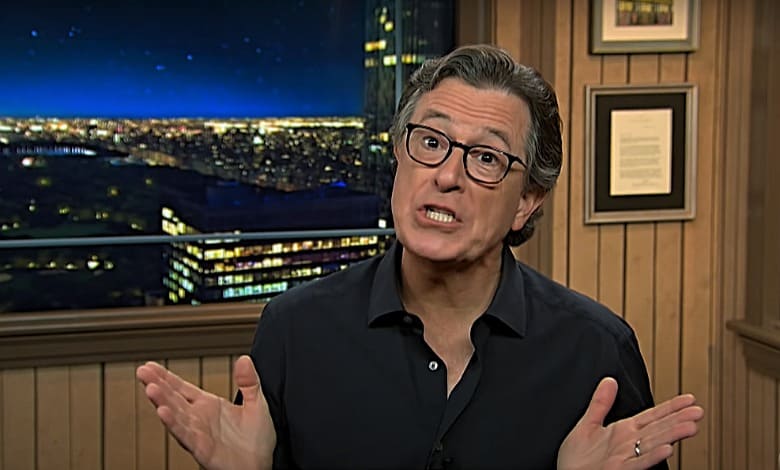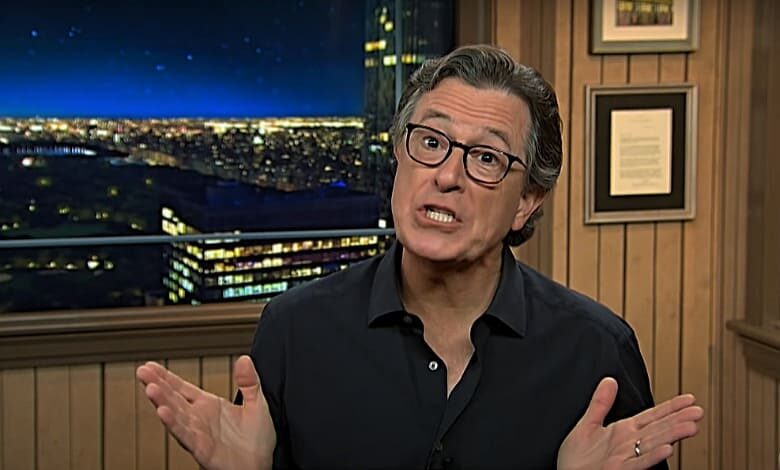 Late night TV abandoned any sense of ideological balance during the 2016 presidential election.
Host after host went "all in" on Hillary Clinton's failed candidacy, sending Johnny Carson's bipartisan approach to the dustbin of history.
It's only gotten more one-sided since then. That doesn't excuse some of the embarrassing behavior we've seen from the late night crew, including comics insulting ordinary Americans fighting back against extreme lockdowns last year.
Crowds Protest Coronavirus Lockdown | The Daily Social Distancing Show
Stephen Colbert of "The Late Show" fame is often the worst of the worst when it comes to egregious posturing. Earlier this year he cheered on Dr. Seuss' cancellation, ignoring the harmful effects of Cancel Culture as well as the author's ability to inspire children to read.
This week, Colbert sunk to a low it may be hard to top.
RELATED: 'Brooklyn Nine-Nine' Embraces BLM Playbook for Final Season
The far-left host invited Richard Marx onto his CBS show. Marx gained fame during the 1980s with hits like "Don't Mean Nothing" and "Right Here Waiting." His career slowed after that impressive run. Lately, he gets more headlines for his hard-left Tweets.
Recently, Marx shared a ghoulish message on social media.
"I'll say it again: If I ever meet Rand Paul's neighbor I'm going to hug him and buy him as many drinks as he can consume."
Said neighbor assaulted the Republican senator in 2017, causing life-threatening injuries along with broken ribs and chronic pain. Marx's Tweet clearly celebrates that attack. It's impossible to see it any other way.
Marx took down the Tweet but appears unrepentant.
Yeah, Robby. I'm the only person on Twitter who's ever referenced Rand Paul's neighbor. Must have been me. This was also a day after that traitor made a public showing of refusing the vaccine. Also, you're a grown man still using "Robby" so I'm not surprised you're an idiot. https://t.co/WzhstQ3h5h

— Richard Marx (@richardmarx) May 25, 2021
Plus, it wasn't the only time Marx cited the abusive neighbor against a Republican leader.
My wish for 2021 is that Rand Paul's neighbor moves next door to Ted Cruz.

— Richard Marx (@richardmarx) January 7, 2021
Twitter, a far-left, anti free speech platform, ruled the Tweets didn't violate its community guidelines. Colbert did the corrupt social media outlet one better. It invited Marx on his show to yuk it up over the controversy.
.@richardmarx breaks into our broadcast to address Sen. Rand Paul. #LSSC pic.twitter.com/bXvzY04qug

— A Late Show (@colbertlateshow) May 26, 2021
Colbert insisted Marx's Tweets weren't a call for violence, a standard he would never allow if the parties were reversed. Even worse? He let Marx shamelessly plug his music, memoir and upcoming concert dates.
This critic thought Colbert allowing Rep. Ilhan Omar's anti-Semitism go unchecked was his worst moment to date. This rivals that embarrassing segment.
RELATED: Try These Conservative Films on Amazon Prime … Before They're Gone
This isn't the first time Colbert downplayed violent rhetoric on his own show. His 2020 chat with future Vice President Kamala Harris found the host staying silent as she shared this discomforting take on the oft-violent George Floyd protests.
"They're not going to stop … This is a movement, I'm telling you. They're not going to stop and everyone beware, because they're not going to stop. They're not going to stop before Election Day in November and they're not going to stop after Election Day. Everyone should take note of that on both levels. They're not going to let up and they should not and we should not."
Sen. Kamala Harris: The Nationwide Protests Are A Movement. They're Not Going To Stop
Colbert and Marx aren't alone in spreading hate sans consequences. Bette Midler shared very similar thoughts about Sen. Paul's neighbor. Disney, which canned Gina Carano over an absurdly mischaracterized Instagram post, just hired her to star in "Hocus Pocus 2."
And then there are the stars who wished President Donald Trump dead. Once more … zero consequences.