Interviews
'The Star' Director Shares Oprah's Battle Cry Moment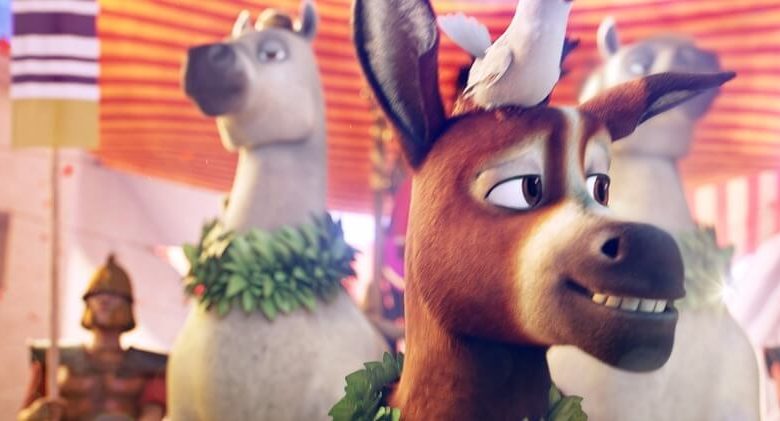 The director of the animated treat "The Star" didn't grow up doodling on his school books.
Young Timothy Reckart tinkered with his mother's home video camera instead. He became fascinated by stop-motion animation, not Bugs, Daffy or Popeye. That' the painstaking process of moving an item a fraction of an inch – over and again – to bring figures to life.
So he made some crude slasher movies using stop-motion trickery and a handy bottle of ketchup.
That's a far cry from his directorial debut, a charming interpretation of the first Christmas as told through eyes of some lovable critters. Think donkeys, doves and more.
THE STAR - Official Trailer
"The Star" follows Bo the donkey ("The Walking Dead's" Steven Yeun) as he helps Mary and Joseph find a safe place for young Jesus' birth.
"The thing that made me want to jump on board [the movie] was that it was such a fresh way to tell the nativity story," Reckart says. "It's a story we've heard so many times that it can lose some of its emotional power."
The fact that both adults and children could access "The Star" and come away entertained? All the better.
"We're filling a real vacuum here … participating in something that could be embraced by people for years to come," he says. Don't believe him? The last three major Christmas movies were all rated R ("Bad Santa 2," "A Bad Moms Christmas" and "Christmas Office Party")
RELATED: 'Moana' Animator: Polynesian Culture Has Been Abused
Tackling one's first directorial project is daunting enough. Reckart had to coax big personalities like Tyler Perry and Oprah Winfrey, who voiced two of the film's camels, in the process.
The stars didn't let him down. Nor did Winfrey in particular.
"I was so impressed by how game she was … it can be embarrassing or weird to be in front of a microphone 'being' an animal," he says. That meant giving Winfrey commands like, "we need a battle cry … whatever that means to you."
In that particular case Winfrey rose to the peculiar occasion.
"She stood quietly in front of the mic for 30 seconds. Then, out of the blue, came this 15 second long bellow. She had summoned all of her rage," he says. "We'd never seen that before from Oprah."
FAST FACT: Timothy Reckart's celebrated student film, "Head Over Heels," required five months to build the props and sets and another six months to animate via the "stop motion" method.
Faith-based audiences may scramble to see "The Star" given the season and the subject matter. Yet using animals to retell this spiritual tale, he says, may lure secular crowds as well. After all, the Christmas holiday's roots are intertwined with Western culture
The healing message of the holiday matters to millions, he says. It helps that "The Star" embraces more traditional storytelling elements to engage audiences.
"We've tried to make the movie funny, action-packed and full of adventure," he says.
RELATED: How Disney Channels Its Inner 'Three Stooges'
Animated movies like "Boss Baby" can be endlessly clever, but they often fail to resonate in a way that the best movies achieve. Think "E.T.," a film Reckart name-checks as one that moves audiences in ways they don't soon forget.
"Their story is there to serve the delivery of an emotion, like the feeling in 'E.T.' when the bike lifts off the ground … that magical moment surprises you," he says. "That's' what you remember about the movie … I'm always trying to do that in my movies."
Reckart got off to a strong career start when his student film, "Head Over Heels," earned an Oscar nomination. The stop-motion affair followed a married couple literally living separate lives. He walks on the floor while she strolls across the ceiling.
It's a brilliant concept and metaphor, and it helped establish the young director within the industry. It's still the last major stop-motion project he tackled, and he wishes he had more chances to return to that process.
ISLE OF DOGS | Official Trailer | FOX Searchlight
The opportunities just aren't there at the moment, with Wes Anderson's upcoming "Isle of Dogs" and features from Laika ("ParaNorman") the exceptions that prove the rule.
"When you're animating a stop-motion character you're going through the journey of that shot with them," he says, a different process than with any other form of animation. "It's an art form I love."