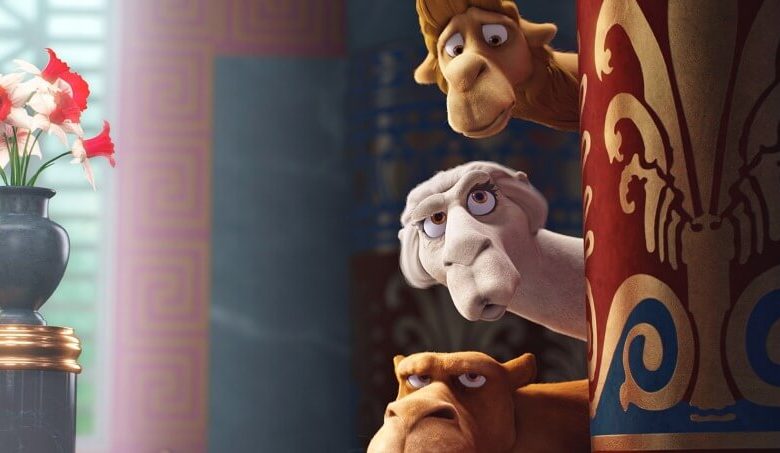 The minds behind "The Star" must know the animation template by heart at this point.
The clunky Top 40 music montages. The wink-wink sight gags aimed at the adults in the audience. The rapid-fire sight gags that leave even little ones dizzy.
It's why the film's refusal to follow it is as shocking as it is welcome.
Sure, Teams Pixar and Disney continue to crank out high-end movies that delight children and adults. It's how the lesser animated films go about their business that makes "The Star" pop.
The film's creative retelling of Christ's birth is filled with smooth animation, adorable characters and just enough faith to enchant Christian.
For everyone else there's Dave the dove, as charming a critter as you'll meet in an animated movie.
THE STAR - Official Trailer
The first Christmas is given a kid-friendly update thanks to Bo the donkey (Steven Yeun). He's a kindly work animal who escapes his shackles in the film's opening moments. He can do anything he wants now, like joining the royal caravan. He won't leave his trusty pal Dave the dove (Keegan-Michael Key) in the process, though.
Their adventures hit a snag when Bo is adopted by Mary (Gina Rodriguez), a woman recently tasked with the most important job in the world: giving birth to the son of God.
Their paths cross in amusing fashion, but her delivery will be fraught with danger. Good thing she has her new pal and his animal chums to help her on her journey.
RELATED: Here's How 'Let There Be Light' Shamed Studio Dramas
"The Star" doesn't want to insult any Godly traditions in your household. It's merely a parallel tale to engage young minds without losing their parents.
And it works.
The humor throughout isn't satirical or "meta" as we see in modern animation. It'll be viewed in 20 years and won't age a minute. There's something to be said for that approach. Plus, adults won't be uncomfortable watching the film with their kids save a mention of "number 2" mid-movie. That's hardly a concern given modern entertainment's edge.
The vocal cast ratio is just right, even if Oprah Winfrey's role as a camel doesn't resonate as expected. Peele owns his scenes as Dave the dove, yet the screenwriters avoid overusing his scene-stealing tics.
When Dave isn't making us smile it's Tracy Morgan's turn as one one of three camels bringing the wise men to Bethlehem. It's here where "The Star's" dialogue teeters on meta-awareness, the kind embraced by those LEGO features. It's done with a wink and then its over, though.
The Star Movie Clip - Charades (2017) | Movieclips Coming Soon
"The Star's animation rarely astounds us like those Pixar confections can. It's neither visually inspired or jaw-droppingly gorgeous. It's beautiful all the same, from the tiny details found in a dog's nose to the landscapes that appear in the film's final moments.
The film misses a golden opportunity when it comes to its music. The soundtrack veers from classic Christmas tunes tucked under the narrative to a mixed bag of original numbers. The latter don't always fit the moment.
There's a downside to the razzle dazzle approach found in today's animation. You often don't know where to look at any given time. Their stories often fall back on frantic pacing to paper over plot holes or just plain distract us.
Not here.
"The Star" is sweet, gently and humorous, a nice addition to the Christmas movie canon that will get more repeated views than those "Bad Moms" in future Decembers.
HiT or Miss: "The Star" represents an old-school approach to animation. That's why families will likely embrace the film as their new holiday staple.
UPDATE: "The Star" arrives on Digital Feb. 6 and on Blu-ray + DVD + Digital Feb. 20 from Sony Pictures Home Entertainment.