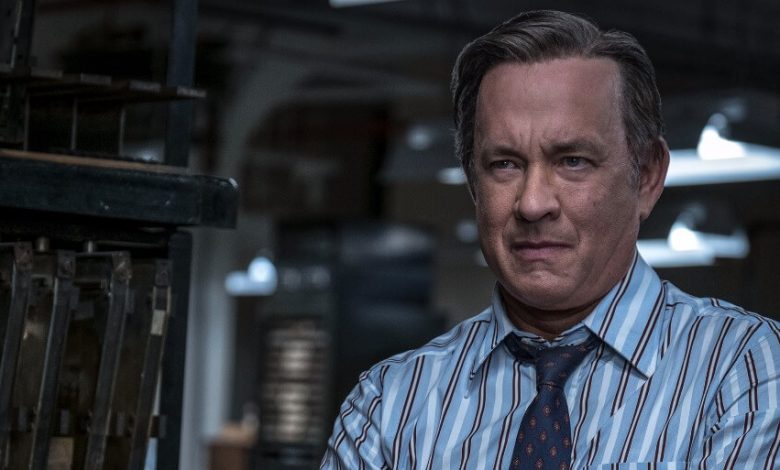 Oscar winner Tom Hanks tried to heal the nation in wake of Donald Trump's stunning presidential victory.
Most celebrities predicted the end of the world, or similar calamities, after Nov. 8, 2016. Not Hanks. The "Forrest Gump" star struck a more reassuring tone during a public appearance days after the election. Here's what he told The Hollywood Reporter at the time.
"This is the United States of America. We'll go on. There's great like-minded people out there who are Americans first and Republicans or Democrats second … I hope the president-elect does such a great job that I vote for his reelection in four years."
That was then.
Now, Hanks has a new movie to promote. Steven Spielberg's "The Post" recalls the battle between the press and President Richard M. Nixon's White House over the Pentagon Papers. Did the public have a right to know what was in them? Could The Washington Post be destroyed by publishing their contents?
The Post Trailer #1 (2017) | Movieclips Trailers
It's an important story, no doubt. The conflict goes to the heart of a free press. And there's a very good reason current media outlets and critics are salivating over it coming to the big screen. The press suddenly sees its duty as a very big thorn in the Trump White House's side.
Yes, after eight years of indifferent White House reporting the press is duty bound to track every iota of Trump's administration. Even down to the pies it makes … or doesn't.
So Hanks is following suit, offering up sound bites sure to make reporters giddy. Here's his take on Trump's attacks on media coverage of his administration.
"As an American it concerns me, because it's monkeying around with our Constitution," Hanks told CNN's David Axelrod in an interview for his show "The Axe Files," adding that Trump has sought to muddy facts and shake public confidence in long-standing institutions.
"They're throwing dirt and oil into a bucket of water, so that it all becomes undrinkable after a while," he said….
"I don't know that [Team Trump is] saying we have to shut them down so they don't publish anymore. What is happening is something that is more subtle and more insidious and I think has more fingerprints from other … governments in the past."
It's music to the mainstream media's ears. "Hanks is fighting back against Trump's 'fake news' assault!" And all the more reason conservatives might skip "The Post" when it hits theaters.
Why?
Trump's "Fake News" cry isn't the workings of a delusional leader. It's real. And in almost every case it targets Trump, the GOP, or both.
Yes, after eight years of indifferent White House reporting the press is duty bound to track every iota of Trump's administration
ABC News served up a heaping helping of it earlier this week when Brian Ross made the gaffe of the year.
During a live "special report" Friday morning, Ross reported that Flynn would testify that Donald Trump had ordered him to make contact with Russians about foreign policy while Trump was still a candidate. The report raised the specter of Trump's impeachment and sent the stock market plummeting.
One hundred perfect wrong. Fake News 101 … with real-world consequences.
RELATED: Michelle Malkin Investigates 'Fake News' Founder
So, will any brave, firefighter-turned-reporter ask Hanks about that? Probably not. Here are other questions reporters should ask Hanks as he makes his "Post" movie rounds. Just don't hold your breath they'll be asked, though.
Question 1: The public's trust of mainstream media outlets is abysmal. Do you think reporters are at least partially to blame for this?
Question 2: Earlier this year left wing journalist Glenn Greenwald called out the press, including The Washington Post, for printing so many lies about the Trump administration. "Over and over, major U.S. media outlets have published claims about the Russia Threat that turned out to be completely false — always in the direction of exaggerating the threat and/or inventing incriminating links between Moscow and the Trump circle." Did you read the piece? What's your reaction?
Question 3: Do you think President Obama would accept a news media that made so many mistakes against it, or would he fight back in a way similar to how Trump is responding?
Question 4: The mainstream press has begun covering "Saturday Night Live" sketches attacking President Trump. Is that news, in your opinion?
Question 5: President Obama attacked Fox News early and often during his presidency. He said the network, which held him accountable as few outlets did, shared a "destructive viewpoint." Do you think that was a fair approach?
Question 6: According to the Freedom of the Press Foundation, "Soon after taking office, Obama's Justice Department began to prosecute more sources and whistle blowers under the Espionage Act than all other administrations combined." Thoughts?
Question 7: The Obama administration called Fox News journalist James Rosen a "criminal co-conspirator" without charging him with a crime and spied on his actions. Has President Trump done anything worse so far during his first year in office?