Industry News
Opinion
Podcast Movement's Apology to Ben Shapiro Reeks of Desperation
Cumulus backs Daily Wire star, forcing trade giant to begrudgingly do right thing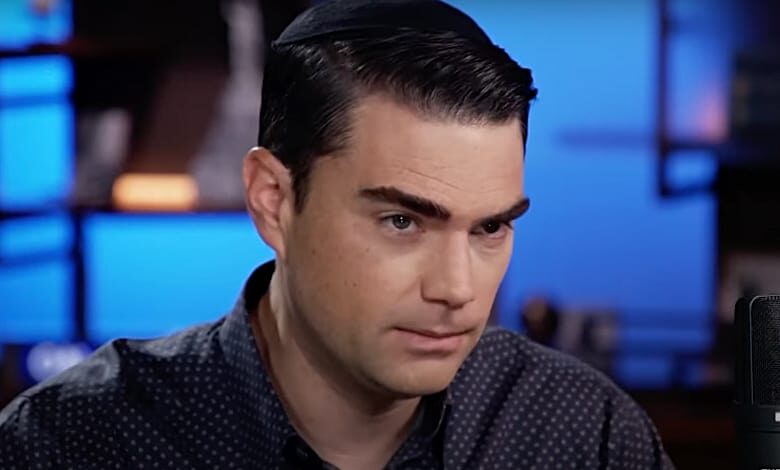 The Hostage Apology is a vital part of the woke revolution.
It's not enough to say, "I'm sorry" about a perceived mistake. One must recite a litany of vows to ensure future punishments can be avoided.
It doesn't always work, but that's what the woke mob demands.
Here's a perfect example, courtesy of Halle Berry. Her sin? She flirted with playing a trans character in a feature film.
"As a cisgender woman, I now understand that I should not have considered this role, and that the transgender community should undeniably have the opportunity to tell their own stories … I am grateful for the guidance and critical conversation over the past few days and will continue to listen, educate and learn from this mistake. I vow to be an ally in using my voice to promote better representation on-screen, both in front of and behind the camera."
The apology is often based on fear, not any actual lament. It's why Scarlett Johansson was obviously lying when she apologized for circling a trans character role in "Rub and Tug."
Her first, honest response to the backlash?
She cited other actors who earned kudos for playing trans characters. Think Jared Leto, who won an Oscar for playing a trans women in "Dallas Buyers Club."
Jared Leto winning Best Supporting Actor | 86th Oscars (2014)
Then, when the blowback intensified, Johansson cued up her own Hostage Apology. Did anyone buy her sincerity? It didn't matter. She did as she was told.
The insincerity meter hit red this week over a new "apology."
Last month, Podcast Movement's annual convention gathered some of the biggest players in the industry. That included The Daily Wire, home to "The Ben Shapiro Show." [Editor's Note: This reporter is a freelance contributor to The Daily Wire]
RELATED: LATE NIGHT HOWLS AS BIG TECH CENSORS TRUMP
The conservative Shapiro appeared briefly at the convention, taking pictures with fans before leaving.
Apparently someone complained about Shapiro's presence at the event, and Podcast Movement served up a groveling apology that many viewed as bigotry against conservatives.
Hi folks, we owe you an apology before sessions kick off for the day. Yesterday afternoon, Ben Shapiro briefly visited the PM22 expo area near The Daily Wire booth. Though he was not registered or expected, we take full responsibility for the harm done by his presence.
Those of you who called this 'unacceptable' are right. In 9 wonderful years growing and celebrating this medium, PM has made mistakes. The pain caused by this one will always stick with us. We promise that sponsors will be more carefully considered moving forward."
This week, Podcast Movement backpedaled via a statement.
"As we stated, we're continuing to evaluate our policies guiding social media & events with inclusivity, diversity & respect for all … We have to start by sincerely apologizing to Mr. Shapiro for our reaction when he visited a booth we sold his company. That wasn't right.
How do we know the group's apology is fake?
Daily Wire co-founder Jeremy Boreing shared on "Backstage Live" how he reached out to the group immediately after it issued the first apology.
The organization played phone tag with Boreing but refused any public mea culpa over the matter.
Daily Wire Backstage: Now With Even More Dystopia!
Plus, the apology came a tad late.
Not only was the initial Tweet sent Aug. 25 (Podcast Movement later deleted it), the apology arrived two days after a major podcast force, Cumulus, announced it was withdrawing from future Podcast Movement events.
Cumulus took Shapiro's side in the kerfuffle.
RELATED: THE BIG TECH WAR FOR HEARTS AND MINDS
The podcast landscape is one of the few arenas where free speech blooms. YouTube routinely censors content, as does Facebook, Twitter and Instagram. Major platforms like Prime Video attempt to silence conservatives, while HBO Max briefly removed "Gone with the Wind" from its digital lineup.
Yet podcasters like Joe Rogan can share their points of view without being punished. Conservatives thrive on the medium, witness successful shows from Shapiro, Dan Bongino, Glenn Beck and Mark Levin.
Boreing took the high road, accepting the Podcast Movement apology. We'll let The Daily Wire's report on the story have the last word.
It was not immediately clear if either The Daily Wire or Cumulus would rejoin the organization in light of its apology.
UPDATE: Shapiro shares his reaction to the belated apology.
Ben Reacts to Podcast Movement's Apology