Interviews
Kevin Sorbo Stood Up to Cancel Culture … and Won
The busy actor spoke up, got canceled, then blazed a new trail on his own terms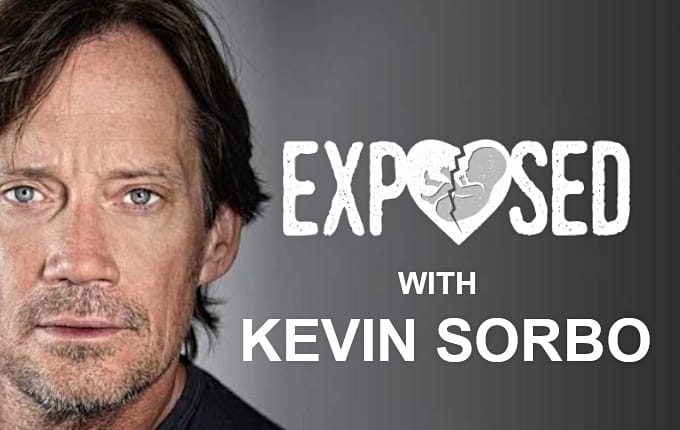 Kevin Sorbo's career flies in the face of those who say being openly conservative in Hollywood costs you work.
There's a catch, of course.
Sorbo isn't waiting for his phone to ring. He creates his own opportunities outside the traditional Hollywood system. And he's busier than ever, estimating he's shot 60 movies over the past 15 years.
Miracle in East Texas Official Trailer
It started about a decade ago, when Sorbo began speaking up when his liberal Hollywood colleagues started speaking openly about their beliefs.
"Let's have a debate about this," Sorbo recalls of his mindset at the time.
His manager and agent were in no mood for debate, though. He lost both for being outspoken and found himself at a career crossroads.
"A new door had to be opened for me," he says.
So he built one himself. He formed his own production company, making movies for less than $5 million each that adhered to his value system.
Faith friendly
Positive
Hopeful
Think "Let There Be Light" and the upcoming "Miracle in East Texas."
It's a constant struggle to get that funding, of course, but investors know they'll have Sorbo at their side.
Stories of Us: Kevin Sorbo
"I fight the good fight with them," he says. Not everyone is willing to prepare for battle, though.
"I get a lot of emails from actors that are conservative. They're afraid to speak their minds …. They will get attacked," he says. "You may as well start speaking up .. they're gonna cancel you eventually."
RELATED: Hollywood Goes Gaga for the Blacklist Era, Ignores New Version
Sorbo tries to connect actors who may be blacklisted by mainstream Hollywood to his productions when he can.
"We need people not to be afraid, to quit backing away," says Sorbo, adding he already shot three movies this year alone, including the anticipated "Reagan" biography starring Dennis Quaid as the 40th president. "We need to be as organized and filled with passion as they are on the other side."
Sorbo brings both qualities to "Exposed," an upcoming animated series to be funded on Loor TV.
RELATED: New Hollywood Blacklist: Vote GOP, Lose Gigs
The show, spearheaded by the pro-life group CHOICE42, leans on animation to tell challenging tales about abortion that Hollywood would never share.
The group's leader, Laura Klassen, is known by many for her "pink hair" satire videos like "The Magical Birth Canal." The series promises an approach unlike prior pro-life groups have attempted. And it utilizes veteran animators, folks who have worked with Disney and other major companies, to brings these stories to life.
The six-part series will explore post-abortion regret, apathy in select Church circles and more.
"I'm a pro-life guy," says Sorbo, who will be lending his voice to the project. "[Abortion] is murder, no way around it." The actor applauds how "Exposed" uses animation to share challenging material in a fresh, but direct, fashion.
"They're gonna get graphic with it," he says, adding the showcase has the power to change minds on the subject.
Help us get our new film Miracle in East Texas into theaters! Use code SORBO at checkout to get 20% off NutraMedix products and 40% of your sale is donated to Sorbo Studios. https://t.co/34r7CYqemE

— Kevin Sorbo (@ksorbs) August 16, 2021
For now, Sorbo is sticking to his daily routine. He wakes at 4:30 a.m. every morning, works out and prepares his notes for the day's challenges.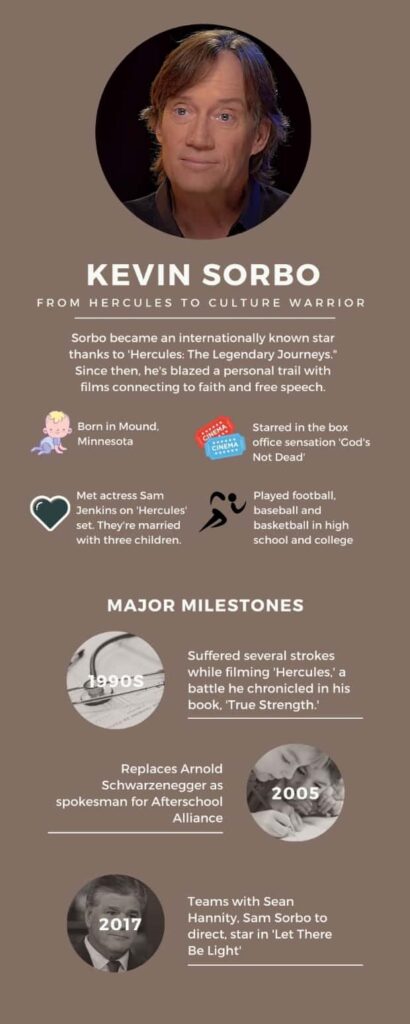 Up next?
He'll start directing a new installment of the "Left Behind" film series and co-star in "Trail Blazers," featuring a who's who of conservative Hollywood – Kristy Swanson, Samaire Armstrong, Dean Cain, Robert Davi, Scott Baio and director Antonio Sabato, Jr.
RELATED: How the Sorbos Crushed 'Suburbicon' on Their Own Terms
Sorbo's independent streak doesn't fully protect him from cancellation. His signature role, the strapping hero in "Hercules: The Legendary Journeys," makes him an obvious choice for the various Comic-Con style events across the country. Except he says he's been canceled by such shows for his right-leaning views.
That won't silence him, but the same isn't true for his colleagues who fear a similar fate for not embracing the woke revolution.
"We need to wake up and start fighting. So many people in Hollywood are still afraid," he says. "Fear is an amazing weapon."