Opinion
Is Russell Brand the New Joe Rogan?
The bawdy Brit is challenging the status quo just like his fellow, embattled podcaster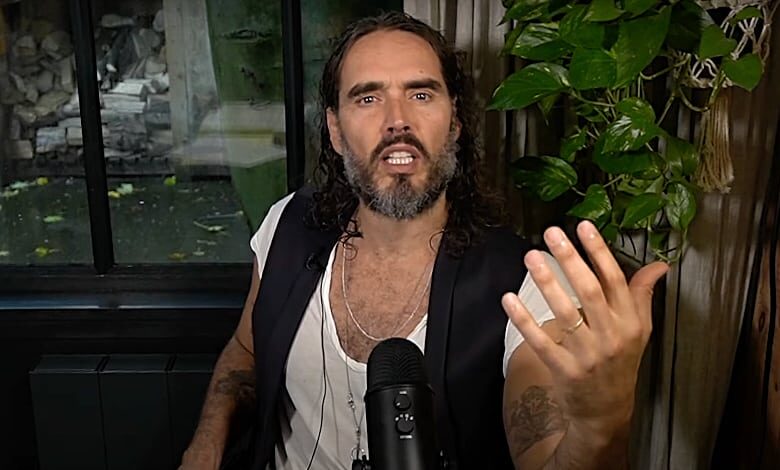 Joe Rogan came out swinging against his critics on his latest podcasts. Looks can be deceiving.
The "Joe Rogan Experience" host called attempts to cancel his Spotify podcast a "political hit job." He's not wrong, per se.
He still gave his enemies plenty of ammunition by repeatedly apologizing for past "sins" and self-censoring dozens of his previous shows featuring controversial guests like Jordan Peterson. That's exactly how you pour gasoline on a cultural fire in our woke age.
Bullies smell fear and weakness. This reporter wrote the book on the subject.
Rogan knows he's in trouble, and all the tough talk in the world can't ignore that reality. Might he have some company soon enough?
RELATED: Joe Rogan – from Sitcom Sidekick to Culture Warrior
Comedian Russell Brand emerged as a firebrand presence in 2008's "Forgetting Sarah Marshall," and later scored leading roles in "Arthur" and "Get Him to the Greek." His mainstream movie career withered, though, and he drew more media attention for his brief marriage to pop princess Katy Perry and socialist stunts.
Brand's "flavor of the month" moment, it seemed, had passed.
He kept on talking, though, via social media and his podcast projects. In recent months, Brand appears to have had an epiphany on more than a few fronts.
He's dialed down the socialist rhetoric and reached out to his ideological "foes." Consider his sit down with The Daily Wire's Ben Shapiro (note: This reporter is a contributor to that site).
Russell Brand | The Ben Shapiro Show Sunday Special Ep. 116
Brand commiserated with Matthew McConaughey on why we shouldn't blindly attack Trump supporters. That argument alone puts him in rarefied company. Even stars who weren't "broken" by President Trump would never say such a thing.
Now, Brand is taking on Big Tech Censorship, media bias and pandemic narratives. He sounds like a cross between Rogan and Glenn Beck, but he's doing it with a wink and a grin.
Brand 2.0 is more comfortable with himself and others. He opens his video podcast with a cheeky blast of sunshine aimed at his flock.
Said flock is now 4.9 million "awakening souls," and growing.
Your Politicians Accept Dark Money
Brand's latest video attracted nearly 600K views in less than 24 hours. That's cultural power, and he's doing it by eschewing the traditional Left/Right labels. He's got bigger targets in mind, like the mainstream media and corporations supporting the current landscape.
He's hard to pin down, ideologically speaking, but he's giddy over charges he's now "right wing."
"Would a right wing person wear this?" he asks in his newest video, referring to his less than conservative shirt. Yes, Brand has become a "happy warrior" in the Andrew Breitbart tradition.
So why would the same folks eager to erase Rogan want the same for Brand? The cheeky Brit isn't a hunting devotee like Rogan. Nor does he routinely extol the glory of pot. He's a recovering addict, although he believes in drug legalization.
It's simple. Here's an abbreviated list of his current targets.
Hypocrisy
Media bias
Unnecessary pandemic restrictions
Corrupt politicians
If there's an accepted narrative in the culture, Brand wants us to question it. That's a healthy impulse, but it's also what drew a big, juicy target on Rogan's back.
Why not Brand?
He's growing in stature, for starters. Conservative media sites are starting to pick up his whimsical rants. And that 4.9 million number may grow larger before the year's out. CNN can't compete with those figures. His 11 million Twitter followers can't be ignored, either.
Feel like your thoughts are out of control?! In this mad and hectic world, we need to relax and take control of our minds. Try this week's #AboveTheNoise mantra meditation and calm your thoughts.

Subscribe to @hearluminary at https://t.co/QSDO3Go1vC pic.twitter.com/Vygi8942J6

— Russell Brand (@rustyrockets) January 26, 2022
Like Rogan, Brand isn't predictable in his political leanings. Dub him Left of Center, but not in any concrete fashion. He's also intrinsically funny, which means he can draw a diverse crowd willing to consider his arguments.
Most of all? He wants us to think for ourselves, to question the news headlines blazing across our smart phone screens and wonder why certain stories get more attention than others.
That's Rogan-level dangerous to the Cancel Culture mob.
RELATED: Joe Rogan: It's Accepted that the Mainstream Media Is Full of Bleep
Like Rogan, Brand isn't positioning himself as an expert in any given topic. He's happy enough to question the status quo, to wonder how we all might tweak society for the better.
Conservatives won't love everything he has to say. Liberals might recoil at some of his positions. His colorful past offers ammunition to his critics. He's clearly rich but has come out in favor of extreme wealth distribution. He's clean and sober now but dealt with drug addiction earlier in his life.
Who cares? He's entertaining, unpredictable and finding his voice after a long, chaotic career.
He better be ready for what might come next, though. Rogan is still reeling from the attacks on his show, his character. Is Brand up for the challenge?