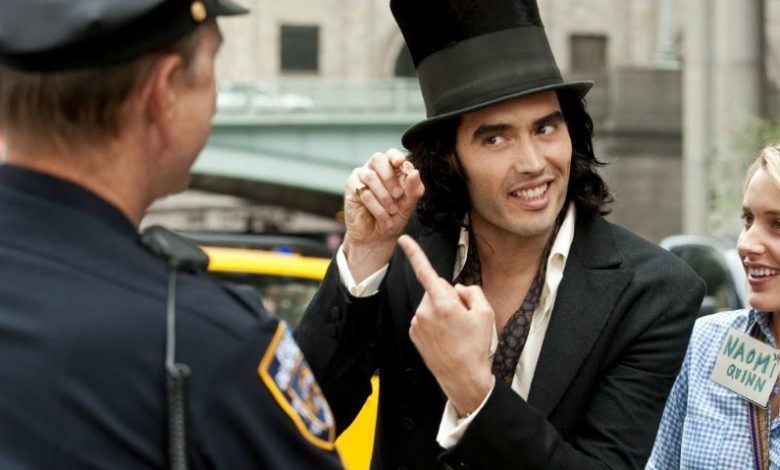 The British comic put his complicated past aside for 2008's "Forgetting Sarah Marshall," a comedy that showcased his professional quirks. He played a rock star who stole our hero's girl without looking back, and we couldn't hate him for it. Brand owned his scenes, and it looked as if his film future would blaze brightly for years.
We're still waiting for that to happen.
Instead, Brand mugged his way through "Get Him to the Greek," an inferior "Arthur" remake and one of the worst releases in recent memory, last year's mega-flop "Paradise." His FX talk show, "Brand X with Russell Brand," limped into a second season before being cancelled last year.
Now, Brand is putting comedy aside for political punditry, positioning himself to the left of Michael Moore.
RELATED: 5 Reasons to Tune Out Russell Brand's 'Revolution'
Brand busies himself these days churning out videos where he picks fights with Fox News personalities, dubs them terrorists and calls for a revolution against the system. There's preaching to the choir, and then there's Brand alienating everyone but a tiny group who share his socialist views.
Now, Brand is the focus of a new documentary focusing on his political work.
Brand looks at how and why people like Gandhi, Malcolm X, Jesus and Ché Guevara did what they did, and in what ways he might be a little bit like them. After writing about them, he realizes they are all willing to die for what they believe in due to an unwavering dedication to their causes. This becomes the Messiah Complex show, where Brand skillfully balances philosophy, history and humour, and he embarks on his first-ever world tour.
Brand can still resume his acting career, and he's only one cheeky role from reclaiming his potential. It might not be enough. His current shtick is alienating fans left and, more importantly, right. He isn't simply sharing heartfelt political opinions. He's being surly about it, using untoward tactics to make his points.
RELATED: Russell Brand Blames Western Culture for ISIS
Think a Fox News devotee is eager to buy a ticket for his next project? Yet that same viewer won't mind seeing a Ben Affleck film. The "Argo" director is as liberal as most of his peers, but he isn't mean-spirited to those who don't share his views.
In today's social media world, that matters. It's a lesson Brand might well explore in a follow-up documentary, assuming he remains famous enough to merit one.