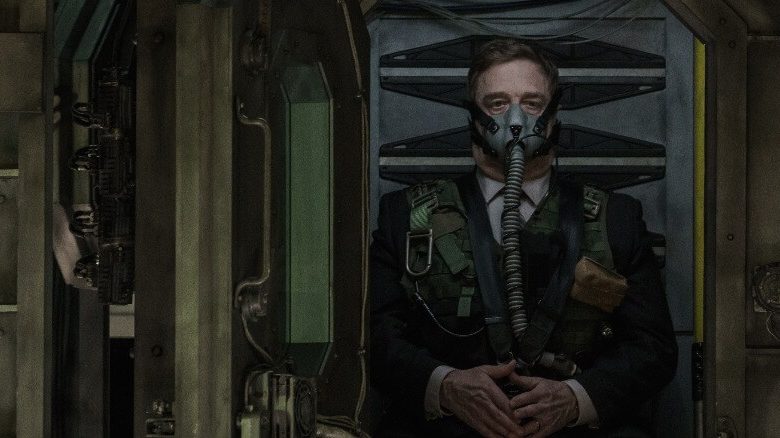 There's a method to marketing madness.
Movie advertisers target specific groups, fingers crossed they'll score a bullseye.
Need an example of a killer movie marketing campaign?
Just recall the rollout for 1999's horror sensation "The Blair Witch Project." The film's campaign suggested the doomed characters were real people, not actors. Enough patrons bought the gimmick, turning a low-budget lark into a sensation.
It helped few, if any, movie goers had ever seen the film's three leads before.
"Captive State," a secretive sci-fi yarn from Focus Features, doesn't hit theaters until March 29, 2019. The film's early marketing efforts suggest some not so subtle jabs at a certain administration.
CAPTIVE STATE | Teaser Trailer | Focus Features
The story opens a decade following an alien takeover of the earth. The economy is booming. Unemployment rates are the lowest in history.
And it's all thanks to the aliens' benevolent leadership. Only all isn't what it appears. Some earth dwellers resist the alien presence, dubbed "The Legislature" in the teaser spots.
The publicity message mailed to reporters this week offered the following tease:
Find the courage to resist. JOIN US.
Resist, you say? Where have we heard that before?
"Everything they're telling you … is a lie," the voiceover crackles in the newest "Captive State" trailer. Why, it's probably what most Hollywood progressives think when they hear about the soaring Trump economy. Something … just isn't right.
It can't be.
That also ties into the narrative that the Trump administration lies … and lies some more, ignoring the countless mistruths spread by mainstream media outlights.
Next, we see images of Americans either being detained or literally collared. This Legislature has some explaining to do.
MovieWeb.com picked up on marketing campaign's Trump connection.
"And you get the sense that its a direct answer to the current Trump presidency."
In a way, the film could be a companion piece to one of the year's biggest flops, "The Oath." That film featured a Trump-like presidency rounding up people who didn't sign its "voluntary" loyalty pledge.
They even nabbed Seth Rogen!
Need another clue "Captive State" is targeting The Resistance? Participant Media teamed with Focus Features to bring the film to theaters. That's the same studio behind such partisan films as "An Inconvenient Truth," "RBG" and "Promised Land."
The studio's involvement suggests a message movie gussied up as a sci-fi adventure. Need more clues? Visit The Legislature's "official" web site, brimming with government propaganda tweaked by "resistance" editors.
Read the site's press release entitled, "Megastar Performers confirmed for 10-Year Anniversary," and see how unseen editors tweaked the material.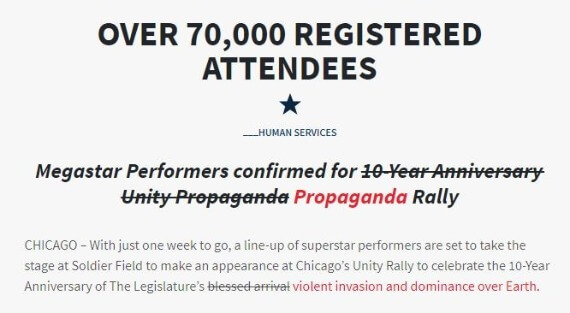 President Trump's boisterous rallies are a signature part of his first two years in office. Hollywood clearly noticed. Today's stars are obsessed with President Trump and eager to explain how his administration has us inching toward the totalitarian cliff.
Does that mean a "resistance" themed marketing push will make "Captive State a hit?
It just might.
The film isn't a big budget project demanding massive ticket sales. Focus Features rarely embraces that scale of movie making. The cast features respectable talent, including John Goodman and Vera Farmiga, but they're hardly in the Hanks/Pitt/Jolie category of A-list stars.
That means snaring a smaller but passionate fan base could spell success, given the movie's modest ambitions. We've already seen how that divisive marketing strategy pays dividends.
RELATED: 'Hood 2' Ties Trumpian Figure to Emmitt Till
It's been roughly two years since Trump's shocking electoral day victory. The fury on the Left has yet to cool. in ways, it blows hotter than ever. It's why "The Late Show with Stephen Colbert" continues to rule over Jimmy Fallon's less political "Tonight Show."
It also explains how "Saturday Night Live" abandoned Red State viewers but still pulls in solid ratings.
Then again, "The Oath" appealed to Trump Derangement Syndrome types and failed. So did Michelle Wolf's short-lived Netflix show, one of the angriest progressive shows in recent memory.
The team behind "Captive State" is rolling the dice its potentially partisan message will leave a mark. The good news? Genre fans may tune out the partisan appeal and feast on an alien invasion saga with a twist.