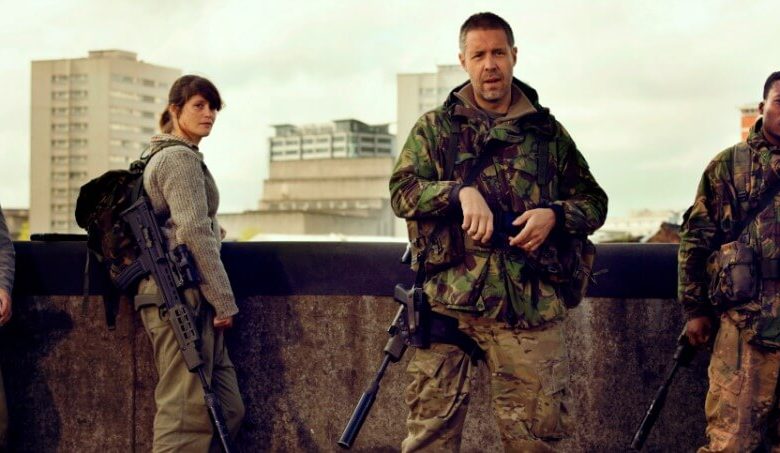 George A. Romero changed the face of zombie movies with 1968's "Night of the Living Dead."
Danny Boyle did something similar with his 2002 shocker "28 Days Later." He gave new life/blood/insert your own cliche to the genre. His infected souls moved much faster than Romero's undead, but Boyle built upon the post-apocalyptic dread that's commonplace in pop culture today.
28 Days Later (1/5) Movie CLIP - Vacant London (2002) HD
We've been inundated with zom-coms, undead satires and even Nazi zombies. None could compare to what Boyle imagined, though.
RELATED: 11 Overrated Cult Classic Movies
Boyle's uncompromising vision reconfigured the genre for a new generation. Poor production design, sketchy acting and bland dialogue couldn't be dismissed so easily anymore. Boyle set the bar higher. Subsequent filmmakers reacted accordingly … with some embarrassing exceptions.
For that, we're all grateful.
Zombie Movies, Take 2
It's impossible to miss Boyle's influence in the new zombie film "The Girl With All The Gifts [Bluray] [Blu-ray]
."
Gemma Arterton and Glenn Close star in this excellent spin on classic zombie tropes. A group of children who appear infected but can be reasoned with lie at the heart of the story. Naturally, there's a security lapse early on, which leaves the precocious Melanie (Sennia Nenua) with a group of adult survivors.
The Girl With All The Gifts – Official Trailer - Official Warner Bros. UK
The film doesn't reach the heights "28 Days Later" achieved. The movie's final act can't measure up to those early scares. It's still worth a place in any list of the best zombie films of the 21st century. Here are six other recent zombie movies equally deserving of praise.
Zombieland
If this 2009 thriller only had that Bill Murray cameo it might make this list. That's just the beginning. "Zombieland" offers a tasty melange of horror and comedy, which is far easier said than done. Woody Harrelson is a hoot as the reluctant, Twinkies chompin' hero. .The cheeky laughs that introduce the undead landscape continue through the final frames.
The shtick about embracing cardio to avoid becoming a zombie snack? Another comedy classic.
Zombieland Official Trailer #1
The subsequent "Zombieland" TV series, one of the early pilots from Amazon, was wisely put out of its misery. Still, modern zombie movies are rarely this enjoyable.
News that a sequel is finally in the works suggests the original's legacy shows no signs of dimming. Let's hope they keep the flow of Twinkies coming.
Dead Snow 2: Red vs. Dead
It's just like "Godfather 2" … a sequel better than the original. Only in this case, "Dead Snow" was a dud, a limp shocker with laughs awkwardly inserted as if after the fact.
Dead Snow 2: Red vs. Dead Official US Release Trailer #1 (2014) - Nazi Zombie Sequel HD
The sequel gets that blend just right. The addition of Soviet soldiers returning to battle enhances the silly mood. In every other way this sequel improves on the source material. Director Tommy Wirkola clearly learned some lessons during the first "Dead" movie. His second time is full of charm … and blood, of course.
World War Z
This one seemed doomed … right up until it hit theaters. Too many reshoots and rumors hung over the project. The budget blossomed in ways no producer wants. And what's an A-lister like Brad Pitt doing in a zombie movie anyway?
RELATED: 14 Netflix Horror Films That Will Scare You Silly
The finished film? A bloody good time and a box office titan. Pitt provides the essential, Everyman, scrambling to find a zombie cure while keeping his loved ones safe. The film took its inspiration from Max Brooks' shocker "World War Z: An Oral History of the Zombie War
." The feature departed dramatically from the source material, but audiences didn't seem to mind.
World War Z TRAILER 2 (2013) - Brad Pitt Movie HD
CGI helps bring the creatures to life, and at times those zeroes and ones are too obvious. There's something to be said for actual actors shuffling along like they've had two too many Michelob Lights. Still, the intensity of the zombie attacks is breathtaking. Plus, it never hurts to have an Oscar nominee in a horror film.
Dawn of the Dead (remake)
Zack Snyder is a pretty ripe target these days thanks to his underwhelming DC Movies. Yet his directorial debut took a beloved zombie film and gave it snap. The opening sequence, a terrifying long shot of the early zombie invasion, sets the tone. And it's chilling.
Dawn of the Dead (2004) Official Trailer - Sarah Polley, Ty Burrell Horror Remake HD
Of course, the mall setting is what makes the original "Dawn" concept click. Here, Snyder isn't as snarky as Romero was with his '70s shocker. Still, with a bigger budget, better actors and slicker FX, Snyder's "Dawn" delivers as intended.
RELATED: 'The Crush' Remains Epic '90s Trash
Shaun of the Dead
It's simply the most revered horror comedy since "An American Werewolf in London." That film leaned more heavily on the scares. Here, the laughs are what count, but the zombie essentials are in place all the same.
Record Toss - Shaun of the Dead (4/8) Movie CLIP (2004) HD
Simon Pegg and Nick Frost cemented their bromance with this genre satire. Their bickering is a thing of beauty and not easily duplicated. The droll British humor is aging far better than your average animated corpse.
I Am Legend
There's plenty of debate whether the creatures in this Will Smith adventure are vampires, zombies or a nasty combination of the two. Or, perhaps they don't fit into any category.
I Am Legend (2007) Official Trailer #1 - Sci-Fi Thriller
No matter. It's a dystopian tale with zombie-like creatures out to smite our hero. Smith is right in his element here. He's a strong enough actor to carry entire sequences by himself. And he looks tough enough to handle the random creature assault.
BONUS: Train to Busan
This South Korean import might just trump all of the above. Director Yeon Sang-ho delivers so many chills and thrills it's almost unfair to the zombie competition.
A father attempts to reunite his young daughter with her mother just as a zombie menace begins. The duo make it to the train on time. So do the zombies. What follows is inventive, scary and bracingly original. Just when you thought the genre had nothing else to say, along comes a film that turns hat wisdom on its head.
Naturally a sequel is in development. So, too, is an "American" version of the film. The latter isn't necessary. "Train to Busan" seems impossible to iimprove.