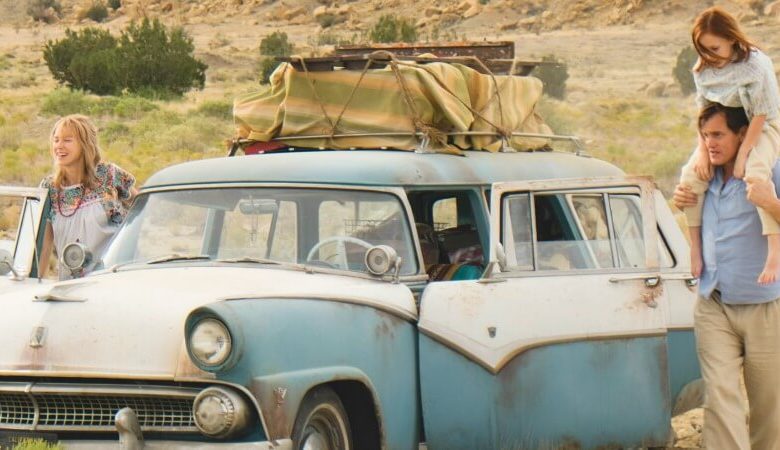 Hollywood loves reboots, remakes and dysfunctional families. And not necessarily in that order.
The more combative, the better, for clans that just can't get along.
That means Jeannette Walls' "The Glass Castle: A Memoir
" is ripe for a big-screen adaptation. It's also full of creative landmines.
Director Destin Daniel Cretton ("Short Term 12") dodges most of them. That nimble touch escapes him near the film's finale, made worse by some end credit photos of the real people from the film. Until then, it's a gaggle of fine performances that never stoop to melodrama.
Long story short: Woody Harrelson just entered the Best Actor competition in a big way.
The Glass Castle (2017) Official Trailer "Dream" – Brie Larson, Woody Harrelson, Naomi Watts
The film follows a hippie couple who should never have become parents in the first place. That's still true four children later.
Sure, they have love in their hearts and mean well. But papa Rex (Harrelson) is a dreamer and a drunk and Mamma (Naomi Watts) has her priorities way out of whack. An early accident that leaves young Jeannette scarred is simply Exhibit A. The rest unfolds like a slow motion train wreck.
And yet Rex is the kind of guy who can mesmerize as well as drive you mad. He's tender and funny, a raconteur who can bluff his way out of any situation.
He's not as good when his kids haven't eaten all day, though.
The family moves, and moves again, each time told that this, this! will be the moment. It's all building up to Rex's dream project, the gleaming home that will suck up less energy and be the envy of anyone within a country mile.
FAST FACT: Jeannette Walls' memoir "The Glass Castle" enjoyed a 261-week run on the best seller list.
Harrelson gives Rex a dynamism that makes him a credible cad. The role demands it, and he ladles out that star power in finely timed doses. The rest of the cast is rock solid, particularly Watts in a role that begs for more scenes.
Still, it's Harrelson that drives the story as well as its goopy final act. You'll miss him when he's off screen and curse when he's center stage.
"The Glass Castle" would collapse under a less savvy director. The story lines up a number of moments that seem stripped out of screenwriter's silliest noodlings. Chances are many events happened just as featured here.
Cretton knows when to dial down the emotions to ground the material. He's like a race car driver tapping the brakes before challenging turns.
RELATED: HiT Movie Review: The Hungers Games: Mockingjay – Part I
Recent Oscar winner Brie Larson plays Jeannette as a grown woman. it's a small part at first, but the performance expands as the movie heads into that third act.
That's where the film's biggest problem rests, although it's not Larson's fault. The movie depicts Rex in a sober, detached way. His actions speak for him, and it's not pretty. The final 20 minutes reverses course, giving the story a sentimental whiff it could do without.
Stick around for the end credits and you might think you just saw "The Waltons: The Movie." It's almost like an apology for telling this painful story.
That matters since "The Glass Castle" never posits Rex as a truth teller, even as he spits out Bernie Sanders lines about a rigged system. He's a con artist, a charlatan, and to cling to his world view is a fool's errand.
HiT or Miss: "The Glass Castle" goes gooey in its waning moments, but before then it's a first-rate drama that speaks volumes about the good work competent parents do.
"ANNABELLE: CREATION"
This "Conjuring" spinoff could become Al Gore's favorite horror film.
The film recycles horror tropes with alacrity. That's a trend that's been building for some time within the genre. "Creation" reaches a recycling crescendo mid-movie, and then something wonderful happens.
Director David F. Sandberg ("Lights Out") remembers why we love horror movies in the first place. The tempo spikes, the shocks escalate and suddenly it's good to be in a darkened movie theater again.
ANNABELLE: CREATION - Official Trailer
The prequel starts with a question that must be answered in our quest for full film transparency: Just how did that mysterious doll from the first "Conjuring" film turn evil in the first place?
To find out, we go back in time to the doll's creation. Samuel (Anthony LaPaglia) is a toymaker by trade, and we see him lovingly build Annabelle from scratch.
Don't do it! Stop!! (Why won't horror characters ever listen to us?)
Shortly thereafter Samuel loses his daughter in a freak car accident, leaving him despondent and his wife (Miranda Otto) bedridden with grief.
Years later, the couple invites a group of orphaned girls into their house as part of their healing process. Only the girls don't realize what's lurking in their new home.
Hint: It's creepy and not remotely kooky.
"Creation" trots out every tired trope within reach for the first half hour. Moving objects. Flickering lights. Ghastly images that appear and fade in an instant. Twitching figures in the dark. Even Sister Charlotte (Stephanie Sigman), charged with lording over the orphans, acts as stiffly as those unknown stars from past slasher films.
Enough, already with the homages.
FAST FACT: David F. Sandberg says he used music from "The Shining" as a temp score for "Annabelle: Creation" during the production to set the proper mood.
Then, the film finds its sense of purpose. The scares multiply. The melancholy spirit gives way to pure adrenaline. Suddenly, it doesn't seem wrong to talk back to the movie screen.
Forgive us, Alamo Drafthouse chain.
Once again, the star attraction is the porcelain doll no sane parent would give to their child. She adds to the mounting chaos, never overstaying her welcome.
Can she fuel more sequels (or prequels)? The Magic Eight Ball would say it's unlikely. Then again, who could have predicted her origin tale would be such a thrill ride?
HiT or Miss: The prequel to 2014's surprise hit "Annabelle" is more green than red for its addiction to recycling horror tropes. Good thing it does it with a zest most horror entries lack.