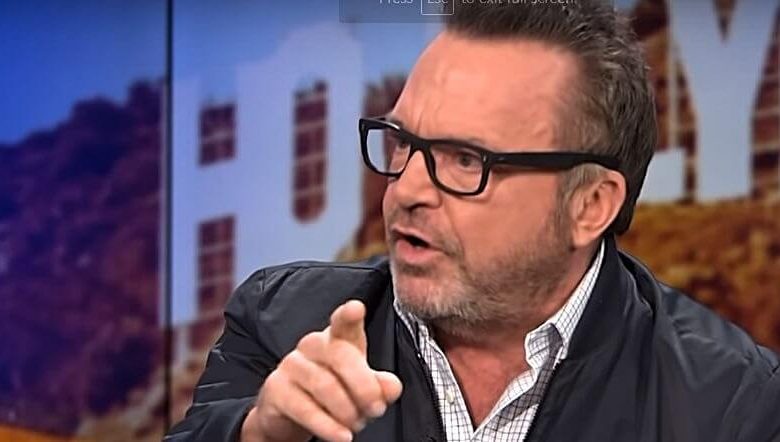 Conservatives note that an avowed anti-Semite like Louis Farrakhan maintains a Twitter account while a gaggle of conservatives no longer do.
Think Anthony Cumia, Owen Benjamin, Roger Stone, Sabo, "Gay Patriot" Bruce Carroll, Gavin McInnes and Laura Loomer.
Former Republican candidate Jesse Kelly became the most recent example.
"Your account was permanently suspended due to multiple or repeat violations of the Twitter rules. The account will not restored. Please do not respond to this email as replies and new appeals for this account will not be monitored."
Kelly says he wasn't notified about which Tweets violated Twitter policies. The service quickly backpedaled following public pressure.
What's equally true?
Some of Hollywood's most notable progressive players have Tweeted things that, on paper, should have booted them off the platform.
Or, at the very least, drew the service's ire in the former of temporary suspensions … like they did to conservative actor James Woods.
Why?
Twitter CEO Jack Dorsey swears his service doesn't have an ideological ax to grind. The facts do more than suggest otherwise.
RELATED: 5 Conservative Stars to Follow on Twitter
That's even more glaring when it comes to today's most outspoken progressive stars. Their comments suggest an unfettered rage that would draw Team Twitter's attention. None of the following stars, however, have lost their Tweeting privileges.
Not one.
Consider Twitter's own violation handbook, spelled out online for all to see.
You may not promote violence against or directly attack or threaten other people on the basis of race, ethnicity, national origin, sexual orientation, gender, gender identity, religious affiliation, age, disability, or serious disease.
Or
We prohibit content that makes violent threats against an identifiable target. Violent threats are declarative statements of intent to inflict injuries that would result in serious and lasting bodily harm, where an individual could die or be significantly injured, e.g., "I will kill you".
Bette Midler fantasized about members of the Trump family getting hanged for their alleged crimes.
Actor Peter Fonda, part of the legendary Fonda acting family, faced heat earlier this year when he demanded the president's young son, Barron Trump, be put in a cage with pedophiles.
"We should rip Barron Trump from his mother's arms and put him in a cage with pedophiles and see if mother will stand up against the giant a–hole she is married to. 90 million people in the streets on the same weekend in the country. F—," the initial tweet read.
First Lady Melania Trump alerted the Secret Service regarding the threat. Fonda took down the tweet and subsequently apologized. Apologies rarely sway Team Twitter, though.
Why?
Too often those suspended by the service aren't even told which Tweet or Tweets merited the ban, making possible apologies impossible. Just ask Kelly.
Twitter remained silent throughout the Fonda kerfuffle.
Actor comedian Tom Arnold's virulently anti-Trump Tweets also drew the Secret Service's attention.
The Beginning Of Trump's Relationship With Russia
First, the star of the recently canceled "The Hunt for the Trump Tapes" challenged the president to a fight. Next, he suggested that fellow far-left comic Kathy Griffin's infamous photo featuring Trump's decapitated head would be real next time.
From Twitter:
Note: we have a zero tolerance policy against violent threats. Those deemed to be sharing violent threats will face immediate and permanent suspension of their account.
Arnold also posted threatening messages regarding the children of both President Trump and the Murdoch family.
Way past sad & all in for these kids with @JuddApatow @FoxNews already hates me. On a plane to NY. Next is protesting Baron's private school as well as James & Lachlan Murdoch's kids. This is what I can do to end the abuse of these children. We're going to make you uncomfortable https://t.co/ESAIWC49la

— Tom Arnold (@TomArnold) June 19, 2018
Arnold's Twitter rage extends to people of color. He used vile, sexist language against a black woman, conservative pundit Candace Owens, which goes against not one but two Twitter rules.
Repeated and/or non-consensual slurs, epithets, racist and sexist tropes, or other content that degrades someone
Far-left comic and "activist" Chelsea Handler attacked a protected group with her Twitter rage. She used a homophobic attack line against Sen. Lindsey Graham, R-S.C.
"Hey, @LindseyGrahamSC what kind of d–k sucking video do they have on you for you 2 be acting like this? Wouldn't coming out be more honorable?"
Jimmy Kimmel served up a similarly homophobic attack against Fox News star Sean Hannity. The two feuded earlier this year, with the far-left comic firing back with this hate Tweet:
Don't worry – just keep tweeting – you'll get back on top! (or does Trump prefer you on bottom?) Either way, keep your chin up big fella..XO https://t.co/R4QJCoGYCL

— Jimmy Kimmel (@jimmykimmel) April 6, 2018
"Sons of Anarchy" alum Ron Perlman delivered a similar homophobic attack on Sen. Rand Paul.
Director Joss Whedon wished death to President Trump in one of his many anti-Trump Tweets. That didn't draw the Secret Service's attention, nor the Twitter's overlords. Again, consider the Twitter rules of conduct:
Wishing, hoping or calling for serious harm on a person or group of people
We prohibit content that wishes, hopes, promotes, or expresses a desire for death, serious and lasting bodily harm, or serious disease against an entire protected category and/or individuals who may be members of that category.
President Trump isn't in a protected class, per se, but any suggested attack on a sitting president alerts Secret Service.
Here's more Twitter rules:
Repeated and/or non-consensual slurs, epithets, racist and sexist tropes, or other content that degrades someone
Rosie O'Donnell evoked that rule when she called NRA spokeswoman Dana Loesch a "whore" in a furious tweet.
This reporter is uneasy with booting people from social media. Users can always block people with whom they disagree. Platforms like Facebook and Twitter should tread very carefully when blocking users, partly because the rationale for those moves can be … questionable.