Uncategorized
Roseanne Banned, Nasty Tom Arnold Thrives
The 'Roseanne' creator got canceled by Hollywood, while her ex keeps on working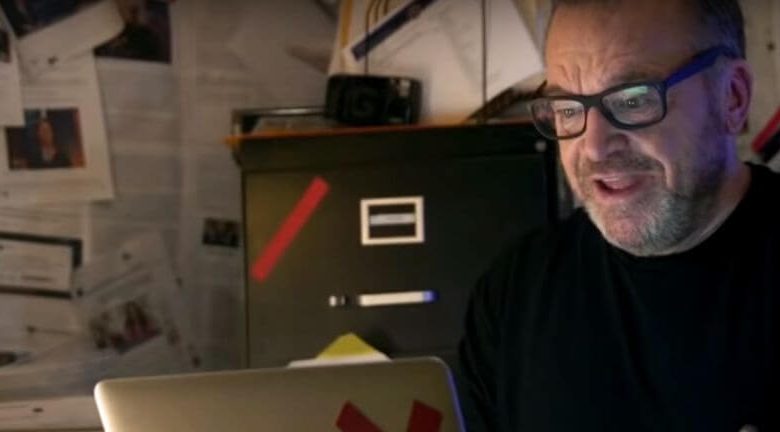 Roseanne Barr and Tom Arnold made a curious couple back in the 1980s.
She rocketed to fame with her self-titled show, "Roseanne." The then-unknown Arnold worked on the series, fell in love with its star and the two got married.
"We're mentally ill. We never get sick of each other. That's how sick we are," Arnold once said of their connection. Their romance played out in the public arena.
The relationship proved rocky, lasting only four years. She claimed he was physically and verbally abusive during their time together.
Roseanne slams her ex-husband Tom Arnold in her Comedy Central roast
Yet the pair are still connected in a way that speaks volumes about pop culture, the media and modern politics.
Barr brought "Roseanne" back from the sitcom graveyard last year. Massive ratings followed. She then sent an ugly, racially tinged Tweet aimed at former Obama administration official Valerie Jarrett comparing her to the "Planet of the Apes" franchise. Jarrett is black. Barr contends she wasn't aware of that fact and swiftly apologized.
Too late.
Roseanne Barr's emotional first interview since she was fired for racist remarks
ABC quickly fired Barr, canceled her show and made sure she couldn't profit from the inevitable spin-off, "The Conners." The new show debuted to soft ratings, but at least it's on the air.
That's more than can be said about Barr, who has admitted to dealing with mental health issues. Her career, in a sense, ended after one awful Tweet. What happens next is anyone's guess.
And then there's Arnold.
The comic actor is the star of "The Hunt for the Trump Tapes." The VICELAND series has Arnold searching for video or audio that will end the Trump administration. So far, the search has come up empty.
That's not stopping him, the show or media outlets from affording him copious press coverage. And then there's the other side of Arnold.
His Twitter feed is a non-stop assault on President Trump. Nothing uncommon there. Arnold takes it a few steps further, though. He attacked fellow actor Dean Cain as "racist" and "anti-LGBT" recently for pitching his new film, "Gosnell," at a Christian gathering. Arnold strongly suggested new Supreme Court Justice Brett Kavanaugh is a pedophile with zero proof to back up the claim.
Now, he's threatening President Trump on social media. The actor, jumping into a conversation about far-left comic Kathy Griffin, offered this prediction.

He's referring to Griffin's disastrous photo op where she held a fake bloody Trump head up high, ISIS style.
Arnold was so proud of his comments he shared a news article by Gateway Pundit detailing the exchange.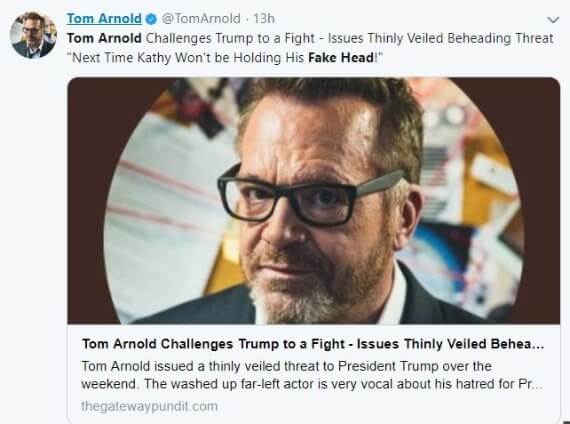 This is the same Arnold who told black conservative Candace Owens to "suck racist d***."
Will any pressure be put on Arnold to disavow his ugly Tweets? Might VICELAND think twice about being in the Tom Arnold business? Of course not. If so, it would have happened by now.
So why the glaring double standard?
Barr embraced President Trump prior to her show's re-emergence. That made her a target within the industry. That's despite being a trailblazer for female comics and, according to Norm Macdonald, going out of her way to hire minority workers on her show.
When she sent that terrible Tweet, ABC had an excuse to cut its ties with her, despite all the revenue the rebooted "Roseanne" promised for the network.
RELATED: What Is Cancel Culture … and Why Should Artists Fear It?
Arnold is arguably the most vocal Trump opponent in Hollywood. His VICE series works to chip away at its success. He doesn't stand a chance of being punished for his Tweets.
And, apparently, some of Hollywood's heaviest hitters have no problem cozying up to him.
The hypocrisy begs another question.
The MeToo movement reached back and tried to snuff out Kavanaugh's Supreme Court bid due to sexual assault allegations made against him from a 36 year old event. The accuser had very little proof to back up her claim save a narrative riddled with inconsistencies.
Yet Hollywood rallied on the accuser's behalf, eager to send Kavanaugh packing. Believe all women, they cried.
Why haven't the spousal abuse allegations against Arnold from his Barr marriage caught the #MeToo movement's radar?
It's old news, no doubt.
Arnold's recent Tweets aren't. Nor is the raging double standard at work with this notorious ex couple.