Uncategorized
Terrence K. Williams, Steve McGrew Hit the Road with Right-Leaning Laughs
The 'Deplorables' duo set freedom-friendly tour, avoid vaccine mandated clubs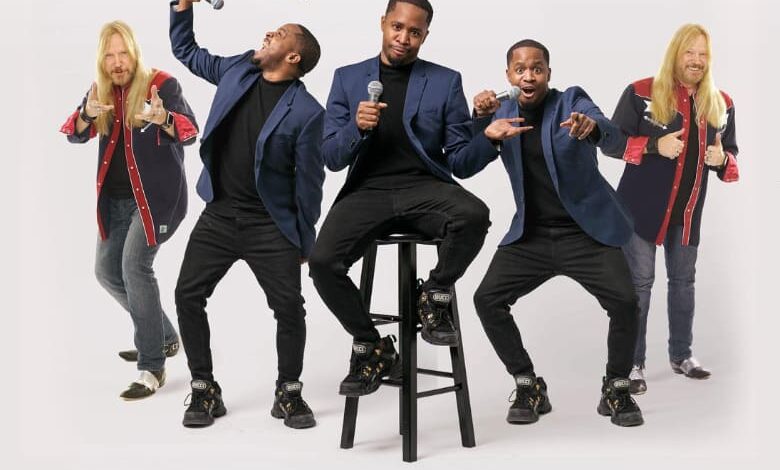 "Saturday Night Live" alum Jim Breuer made waves this week after announcing he won't play clubs that demand vaccine proof for admittance.
He's got some company.
Terrence K. Williams is hitting the road, too, and he's playing freedom-friendly states first and foremost.
The "Laugh at Your Own Risk" tour, co-starring stand-up veteran Steve McGrew, brings a conservative edge to the comedy scene. And you won't have to show your papers to attend.
Terrence K. Williams - Stand Up AmericaTour
Williams, who boasts a massive web following, kicks off the tour in Florida and Texas come November.
The late night comics might avoid mocking liberals, but Williams will make up for that comic negligence on stage.
"There's so much to make fun of, I'm not sure a two-hour show is enough time," he said in a statement about the new tour.
Expect plenty of jabs at "AOC" and other progressive leaders, along with a more personal side of the young comic. Williams recently published "From The Foster House to The White House," retelling his rise from an impoverished childhood to becoming a nationally renown comic.
Comedian Terrence Williams is bringing joy to kids in foster care
It's no accident Williams and McGrew are hitting Florida and Texas first. The states, run by Republican governors, offer more personal choice when it comes to pandemic regulations. Williams has a more blunt response to clubs demanding masks, or else.
"I refuse to give business to those clowns," he said.
Fellow comedian Bill Maher, a dyed in the wool progressive, hinted at this state of affairs during his Sept. 15 appearance on "Jimmy Kimmel Live." Maher said blue states are struggling to attract touring artists because their liberal citizens have an unhealthy fear of COVID-19.
"Liberal media has to take a little responsibility for that, for scaring the [bleep] out of people. And the reason why I'm bringing this up is because it's much harder for every touring act to sell tickets in blue states. They're afraid to go out of the house. Whereas in red states, it's all good to go."
Williams and Breuer aren't the only comedians taking a stand against vaccine mandates. Comedian/podcaster Chrissie Mayr has done the same, despite being based in New York.
@ChrissieMayr @jackmurphylive gave you a shout out for pulling gigs that require a COVID vaccine about 60 seconds ago. pic.twitter.com/Dh6C1jldQf

— Ty Tannenbaum (@TyTannenbaum) September 16, 2021
Williams hit the road last year as part of the "Deplorables" comedy tour. The conservative band of comics played to packed theaters in the runup to the 2020 presidential election.
"It's exciting to get back out there again. Especially with Terrence. We had such a good time on the Deplorables tours. This will be even more fun," McGrew told HiT.
RELATED: Conservative Comic Canceled by 'Everybody Loves Raymond' Star
McGrew, who is routinely punished on Facebook for sharing conservative views and jokes, says President Joe is a boon to comedians, but there's a dark side to his reign.
"Comedy in the Biden era is really easy because Joe writes us new jokes every day …good for us, horrible for America," McGrew says.
Conservative comics may have a treasure trove of material under President Biden, but Big Tech would rather they stick to the same jokes Colbert and co. tell. Satirists like JP Sears and Ryan Long are routinely punished on social media for humor that doesn't fit the current groupthink.
The Babylon Bee is similarly attacked for its right-leaning satire.
View this post on Instagram
McGrew understands why his upcoming tour can help anyone bullied by the progressive Left, government regulations or both.
"Things have gotten worse since Trump left. America needs to laugh. It's a release. And I am the release valve technician," he says.
Tour Dates and Venues (More Coming Soon, including 2022 gigs):
Nov 6 – Clearwater, FL – Capitol Theatre
Nov 7 – West palm Beach – Hilton Airport
Nov 19 – Pensacola, FL – Saenger Theatre
Nov 21 – Jacksonville, FL – Terry Theatre
Dec 4 – Houston, TX – Cullen Performance Hall
For a complete list of tour dates and more information, please visit www.terrencekwilliams.com.