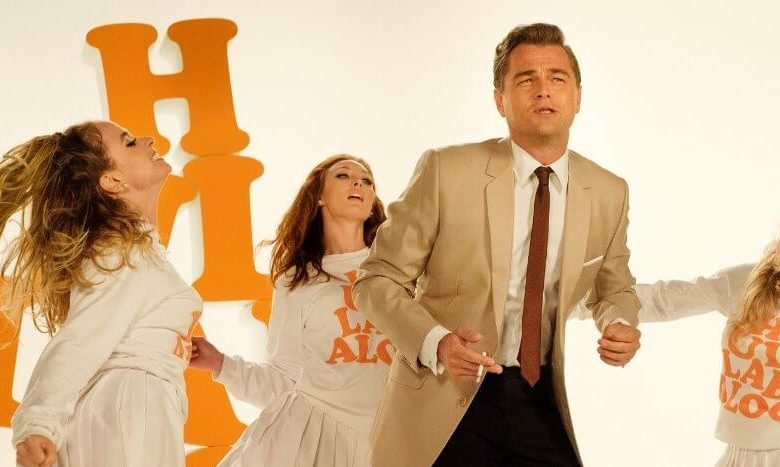 Quentin Tarantino doesn't recreate the end of the Flower Power era in "Once Upon a Time … in Hollywood."
He straps you into Doc Brown's DeLorean and wakes you up in 1969.
Those songs!
The radio banter!
The grainy TV shows blasting from tiny TV sets!
The throwback label on the canned dog food our hero's pup eats!
It's all here. Every unsparing detail. And the effect is mesmerizing. Intoxicating. Overwhelming. And, in some cases, more than enough to counter Tarantino's self-indulgent streak.
You'll forgive, forget and lose yourself in the director's "ninth" motion picture.
ONCE UPON A TIME IN HOLLYWOOD - Official Trailer (HD)
Leonardo DiCaprio stars as Rick Dalton, a middle-aged movie star reluctantly shooting TV projects for a living. This isn't 2019, where A-listers scramble to snag an HBO series.
In 1969 TV represented a blue collar rung on the show biz ladder. And our hero knows it. He punches the clock anyway, aided by his personal stunt man and confidante Cliff Booth (Brad Pitt).
Together, they attempt to resurrect Rick's career while a threat emerges far more consequential than a humiliating spaghetti western gig.
RELATED: 7 Reasons Cancel Culture Caught Up with Tarantino
Tarantino intersplices the main story with the rise of Sharon Tate (Margot Robbie), director Roman Polanski's gorgeous squeeze. She epitomizes the breezy, beautiful side of the era, a young blonde with her own Hollywood dreams.
And we all know those dreams were never fulfilled. The Manson family lurks on the story's edges, their presence intensifying with each act.
Click through to meet the stars of #OnceUponATimeInHollywood – in theaters tonight.

First up: Leonardo DiCaprio is Rick Dalton. pic.twitter.com/atKLPfp7hc

— Once Upon a Time in Hollywood (@OnceInHollywood) July 25, 2019
To say much more might spoil the zigs and zags which make Tarantino such an essential storyteller. He plays on our knowledge, while stoking nostalgia circuits with glee. You thought "Stranger Things" was shameless about its '80s obsession?
"Once Upon a Time … in Hollywood" dwarfs that show's production design. Tarantino creates a candy colored homage to the period, one where civil rights and the Vietnam War are mostly kept off screen. Social Justice Warriors may howl in protest. It's the director's prerogative to tell the story he wants to tell.
It's sad that needs to be said.
Of course, both DiCaprio and Pitt astound. The former captures the desperation of the working actor, someone who can find sustenance from a child's unchecked praise. That's one of several, seemingly superfluous scenes that add to the film's texture. The sequence also humanizes a character who could come off as a jerk.
RELATED: Watch These Epic Westerns Before Seeing Tarantino's 'Hateful Eight'
Pitt's aging stunt man revels in the actor's movie star wattage. He might try to play down his good looks elsewhere. Here? Tarantino shoves it in our faces.
He's Brad Pitt, baby. Deal with it.
It's similar to how we see Robbie's Tate. Yes, she doesn't have much to say. She's more of a symbol, a rarefied beauty enjoying everything the moment has to offer. Her innocence is as dazzling, and delicate, as her wardrobe.
Tarantino long ago cemented his love for grindhouse storytelling. He's similarly besotted with pulp banalities, like boilerplate TV westerns. The director recreates some here, but does so with a style those stories never possessed.
It's like he's workshopping TV history, elevating it to a level he wished it could have reached.
FAST FACT: Quentin Tarantino's 1992 directorial debut, "Reservoir Dogs," made just $2.8 million at the U.S. box office. The modest take hardly captures its cultural impact.
Few directors choose their movie soundtracks with the precision Tarantino brings to the task. His "Hollywood" is no different, a snapshot of the era's radio hits. The choices this time are more obvious than usual. That's on purpose, a way to reconstruct the period without his intellectual filter.
It's perfect.
"Once Upon a Time … in Hollywood" isn't, though. Once again we're locked into scenes that drag on too long. The ending screams for a fresh edit, reminding us Tarantino struggles to say goodbye to his stories.
That stubbornness severely damaged 2012's "Django Unchained."
"Once Upon a Time … In Hollywood" survives Tarantino's nagging flaws. His passions, once again, become ours within the span of two-plus hours. Can any other director make that claim?
HiT or Miss: "Once Upon a Time … in Hollywood" is pure Tarantino, one of the industry's highest compliments.