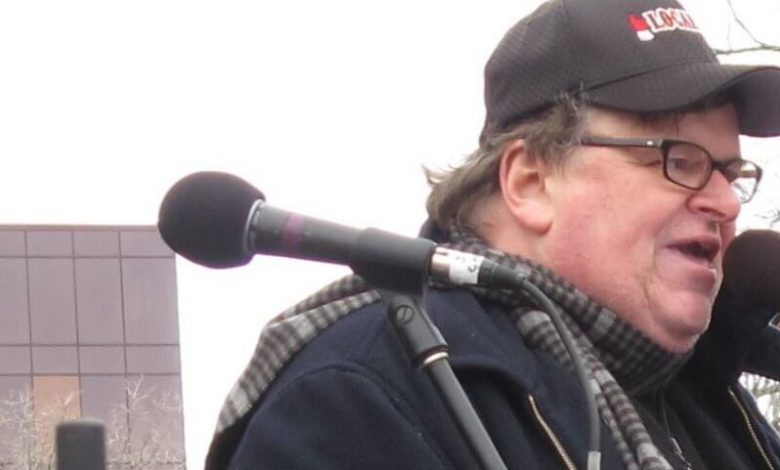 Conservative street artist Sabo made waves when he plastered Los Angeles with signs saying "They knew."
"They" meant Hollywood denizens who heard about mega producer Harvey Weinstein's monstrous behavior but kept quiet.
For decades.
The accusation stuck because it was incendiary and had a kernel of truth to it. How many actors were impacted directly or indirectly by Weinstein's behavior? How many rushed to speak up, to blow the whistle on the industry's biggest bully?
Some, like Quentin Tarantino and Brad Pitt, had firsthand knowledge via their respective girlfriends' experiences with Weinstein.
It took a Pulitzer Prize winning expose by Ronan Farrow (The New Yorker) and Meghan Twohey and Jodi Kantor (The New York Times) to expose his reign of terror.
RELATED: 'Fahrenheit 11/9' – Fake News on Steroids
More recently, we learned CBS CEO Les Moonves allegedly used his clout to sexually attack colleagues and punish those who didn't do his bidding. Or, in the case of Janet Jackson, made him angry for her role in the Super Bowl "wardrobe malfunction."
Plenty of people experienced his allegedly toxic behavior first hand. Others surely heard about it. The industry kept quiet … until now.
Is the film industry also keeping quiet about the way Oscar winner Michael Moore treats blue collar film workers? And why won't the press pick up the trail?
Michael Moore's FAHRENHEIT 11/9 : OFFICIAL TRAILER - In Theaters 9/21
A film production company, Boston Light & sound, is currently suing Moore's Traverse City Film Festival for failing to pay for their services.
The lawsuit drew microscopic press attention until the Maltin family, Leonard and Jessie, addressed the issue on social media.
I'm extremely uncomfortable doing something like this. I have no desire to fight or argue with anyone—but I must stand up for my dear friends at Boston Light and Sound. #MichaelMoore is slandering them—and I can't stand idly by while that happens. pic.twitter.com/Skw1saBSiW

— Leonard Maltin (@leonardmaltin) September 9, 2018
Jessie Maltin, daughter of iconic film critic Leonard Maltin, used Twitter to call attention to the matter. She ended up doing much more than that, though.
"If our friends told us this and Moore had never had any other issues, I'd question it. This was my final straw. I've seen him yell at people in person. I've seen the way he treats people with my own eyes. It's upsetting," she wrote in one thread. "People who work with Moore have shared their grievances with us many times over. He does not have a stellar reputation."
Chapin Cutler, the company's co-founder, weighed in on the matter to The Daily Beast.
"I cannot speak, based on my own knowledge, as to whether the things that are coming out are correct, other than to say that I've heard many of the same stories that Jessie has referred to, and that other people have referred to."
The Daily Beast reporter, Amy Zimmerman, didn't return a HiT request for comment.
FAST FACT: "Michael Moore in Trumpland" earned a paltry $149,000 at the box office in 2017, a sum likely impacted from its simultaneous release on VOD services.
The Daily Beast's comprehensive article not only did the work no other mainstream outlet would do but left one tantalizing nugget:
Moore, champion of the Little Guy and Gal, treats his employees badly.
Is that true? Is his status as Blue Collar America's best friend a charade? If so, isn't that a story? If it's false, shouldn't the record be cleared once and for all?
We don't know all the answers, in part, because media outlets haven't bothered to ask before or after the story's publication. It's the kind of angle an entertainment journalist might find interesting, unless they prefer avoiding an ugly truth.
RELATED: Moore Mocks Patriots, Honors 'Hanoi Jane' Fonda
It's not as if reporters ignore Moore. His every public utterance generates dozens of headlines, like when he recently threatened to move to Canada.
He's genius at that part of his empire – getting his name in the press. Few filmmakers spread their brand with the tenacity and wit Moore brings to the game.
This isn't the only Moore-related story reporters haven't touched. News outlets yawned when he admitted to planting false stories about his wealth to the press. He literally generated Fake News … but few outlets held him accountable.
That's minor compared to another potential wrinkle in his public persona.
FAST FACT: Michael Moore's most recent film, "Fahrenheit 11/9," made a paltry $6 million at the U.S. Box Office.
This site dug into some serious allegations Moore has made in the past about attacks on his own life. The press hasn't so much as sniffed at these stories, even though some sound dubious on the surface.
The most glaring example?
Moore claims a man planned to plant a fertilizer bomb under his house.
According to Moore, the man in question was cleaning his AK-47 at home when it accidentally fired. The neighbors called the police who found all sorts of incriminating evidence on his property. That included a list of high-profile assassination "targets" featuring not just Moore but also Hillary Clinton, Rosie O'Donnell and Janet Reno. The man in question, Moore claims, went to the federal penitentiary.
Moore told the story to the press while simultaneously saying he didn't want the story shared.
More importantly, if a would-be bomber planned to take out the former Secretary of State (along with Moore, Reno and O'Donnell) wouldn't that be national news even if he never got the chance?
Why wasn't it?
Moore's team defended the veracity of some of these attempts, via a surrogate, to Breitbart News in 2011. Follow the link and judge for yourself how effective his answers sound.
Moore didn't respond to a request for comments from this site when that story first went live. Nor did Moore respond to a more recent HiT request for comment on the Maltin situation.
The latter makes sense since the media mostly ignored the Maltin imbroglio.
A few conservative outlets tackled the Moore/Maltin dustup. The vast majority of outlets, from general news sites like CNN.com to entertainment trades (Variety, The Hollywood Reporter), covered their ears.
The media also yawned over a Page Six press report on the salacious legal battle with his ex-wife. The Hollywood Reporter shared the news… and that's about it. The details of the matter also should, in theory, intrigue any editor given Moore's socialist bent (per Page Six)
"He was supposed to pay her 4 percent of total revenue from his creative works—but he gave her just $541 in 2014," the suit says. "That means he would have pulled in just $13,525 during a seven-month period, according to court papers. And Glynn's not buying the amount of income Moore reported to the IRS—negative $350,862 in 2014 and negative $221,025 in 2016."
We already know media outlets ignore how fast and loose Moore plays with the truth. Variety penned a fawning tribute to Moore that doubled as an excuse for why "Fahrenheit 11/9" flopped in theaters. This site's official review of the film details some of the many misdirections behind it.
That's not an isolated incident. Take a quick read of Dave Kopel's exhaustive takedown of "Fahreneit 9/11."
The media gave more Moore copious press coverage for "Fahrenheit 11/9." He appeared on "Real Time with Bill Maher" among many other shows. That's above and beyond interviews he gave across the media landscape.
The film only made $3.1 million on roughly 1,700 screens.
Moore is no Weinstein or Moonves, men who could make or break careers. To Moore's credit, he helped rejuvenate the documentary format in theaters with his earlier films. He also has an Oscar on his shelf via his gun control documentary "Bowling for Columbine."
His still lacks the clout of those aforementioned power brokers.
So why haven't more filmmakers and crew members spoken out about his antics? More importantly, why have reporters avoided negative Moore stories? Do they fear legal repercussions for doing so?
When his 2004 smash "Fahrenheit 9/11" hit theaters he swung into action, proactively promising to sue critics for libel if they spread lies about his film.
On the surface, it sounded like a Trumpian tactic.
"Any attempts to libel me will be met by force,'"Fahrenheit 9/11 director Michael Moore told the New York Times on Sunday (June 20, 2004). "The most important thing we have is truth on our side. If they persist in telling lies, knowingly telling a lie with malice, then I'll take them to court."
These are all questions with no simple answers. What's clear, though, is that today's film reporters have little appetite to honestly share the full Michael Moore story.
---
Crave a podcast that treats conservatives with respect? Please check out The Hollywood in Toto Podcast.
Photo by StretchyBill on Foter.com / CC BY-SA