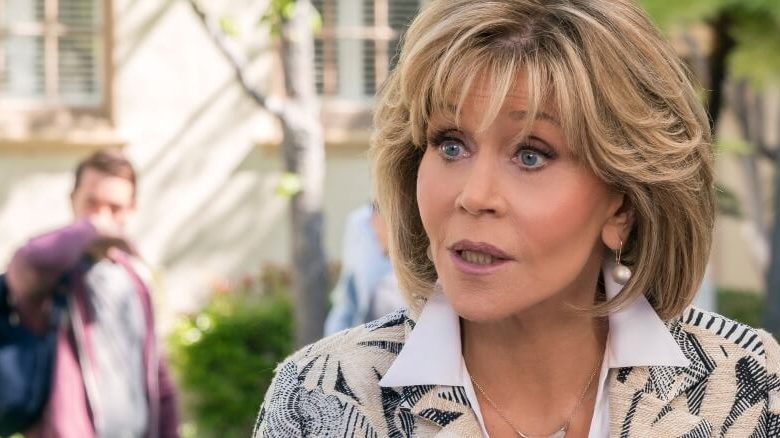 Love him or loathe him, Michael Moore knows how to gin up publicity.
Few filmmakers are better at snaring headlines than the far-left director. In recent years, as his cultural clout and box office muscle atrophied, he retained his preternatural gift for effective PR.
He's at it again.
The socialist is set to honor actress Jane Fonda with a lifetime achievement award, courtesy of his Traverse City Film Festival. The event is far tinier than Cannes, Sundance or most recognizable festivals.
Still, Moore generates his fair share of headlines just by assembling the annual gala. And for 2018 he outdid himself, publicity wise. He lured Jane Fonda to the event to fete her with a lifetime achievement award.
The actress, currently starring in season four of Netflix's "Grace and Frankie," certainly merits the honor on paper.
The two-time Oscar winner's resume includes "Klute," "Coming Home," "On Golden Pond" and "Julia."
For many, she'll always be Hanoi Jane, the actress who merrily posed with Vietcong soldiers at the height of the Vietnam War. Those images remain etched in the minds of many U.S. military veterans, an act far more egregious than a Dixie Chick slamming the Commander in Chief on foreign soil.
Here's a quick reminder of her actions circa 1972:
While in Vietnam, Fonda appeared on 10 radio programs to speak out against the U.S. military's policy in Vietnam and beg pilots to cease bombing non-military targets. It was during that trip that a photograph was taken of her seated on an anti-aircraft gun in Hanoi, making it look like she would shoot down American planes.
The act was so heinous Fonda repeatedly apologized for it.
Jane Fonda Apologizes Again for 1972 Vietnam Trip
That puts Moore's celebratory comments, shared in the press release for the Fonda announcement, in the proper context:
"I can think of no other artist who has given more to her country," said Moore. "What an honor for our festival audience to welcome and to be inspired by the work of this American Icon. Her voice is as needed today as much as ever."
Ignore the "as much as ever" phrasing. That's di rigueur for any star who attacks the GOP, President Donald Trump or both.
"Given more to her country." That's the Moore fastball, clocking in at an Aroldis Chapman-like 103 mph.
Her U.S. based bona fides?
Fonda's lifetime commitment to social change has also inspired a generation of artists and activists. She chairs the Georgia Campaign for Adolescent Pregnancy Prevention, sits on the boards of Women's Day Media Center, which she helped found, and V-Day: Until the Violence Stops. She established the Jane Fonda Center for Adolescent Reproductive Health at the Emory School of Medicine and has long been a leading advocate for environmental issues, human rights, and the empowerment of women and girls.
Moore isn't dumb. He knows some of Hollywood's biggest directors left their careers during World War II to share their talents with the Allies. They even made a movie about their patriotism.
Five Came Back | Official Trailer [HD] | Netflix
He also understands how many actors have bravely served their country, something Michael Reagan is honoring with his Walkway to Freedom memorial. No, that comment was meant as a poke in the eye to veterans and GOP-friendly voters alike.
The 14th annual Traverse City Film Festival will be held July 31 to Aug. 5 in Michigan.