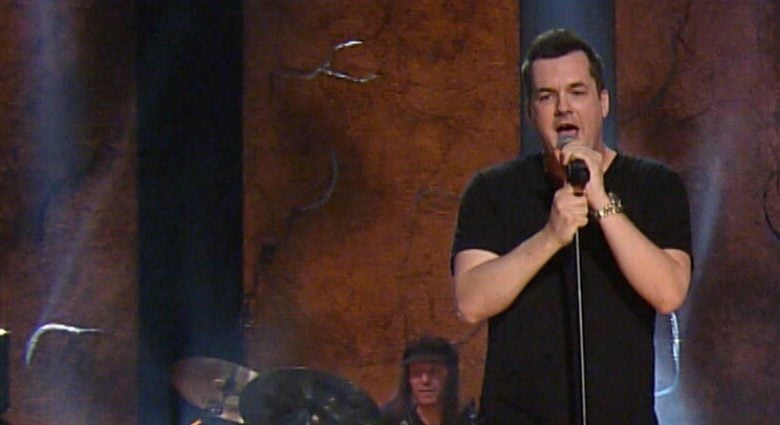 Comedy Central is your one-stop shop for Republican-bashing humor.
It's been that way for some time, dating back to Jon Stewart's tenure at "The Daily Show." It blossomed with "The Colbert Report," even if that tradition couldn't keep Larry Wilmore employed via his "Nightly Show."
Even the channel's "Broad City" did what it could to drag Hillary Clinton over the finish line last year. Spoiler alert: It failed.
Now, the comedy network plans to add a new voice to its lineup: Jim Jefferies.
Liberalism Down Under
Who's Jim Jefferies? He's the Aussie comic showcased in the HBO special "I Swear to God" as well as his 2016 Netflix special "Freedumb." Jefferies also created "Legit," a dramatic series which ran for two seasons on FX.
The comedian's 10-episode season will begin this summer. We're told the show will "take on culture and politics," truly bold terrain for a late-night comic.
"Plus, he'll talk about Donald Trump because, unfortunately, there's no way he can avoid it," says the Comedy Central press release.
Yes, we've seen the channel's programming and pretty much know what to expect. Or do we?
Here's a hint: Jason Reich is both co-executive producer and head writer. You may know him from his recent credits: "The Daily Show with Jon Stewart" and "Full Frontal with Samantha Bee." Is there any chance right-of-center views will get a fair hearing with Reich behind the wheel?
It's still Jefferies' show, after all. And he'll have significant say in its content. So let's sample some of Jefferies' recent political tweets:
Just stay in bed will ya https://t.co/l8q0Sgeomc

— jim jefferies (@jimjefferies) February 18, 2017
It's very odd that people think calling you liberal is an insult. Being liberal is a good inclusive quality.

— jim jefferies (@jimjefferies) February 13, 2017
Public health care is a really good thing you dummies

— jim jefferies (@jimjefferies) February 8, 2017
And, if you like comedians who traffic in hate humor (non-jokes teeming with venom) and insult their audiences, we've got a talent for you. (caution: adult language in the clip below)
Jim Jefferies - Donald Trump - Full Length Official Clip -- From Freedumb Netflix Special
Now, there's nothing inappropriate with mocking the president. Of course, that essentially didn't happen for the past eight years, but we digress.
Still, is there truly an appetite for another liberal comic hosting a politically charged talk show? What do proud progressives say after watching Colbert, Bee, Trevor Noah, Seth Meyers, Bill Maher, John Oliver and Jimmy Kimmel?
"Gosh, if only we had just one more late night comic who reflected my worldview…"
RELATED: Jon Stewart: 'When Was America Great?'
Isn't the far smarter bet to find that rare, right of center comedian and give him or her a late night show?
Paging Nick Di Paolo. (warning: adult language in the clip below)
Nick DiPaolo - Third Debate Recap & Mainstream Media - Jim Norton & Sam Roberts
Sure, the media wouldn't gleefully share those jokes as they do with Colbert and co. Still, red state America would flock to the program just to hear humor they can't find anywhere else.
It's why Fox News, with unabashedly right-leaning hosts, continually crushes the 24/7 news competition.
It's called capitalism. See a void in the marketplace. Fill it. Count the cash. Now, can somebody whisper that economics lesson to the suits at Comedy Central?