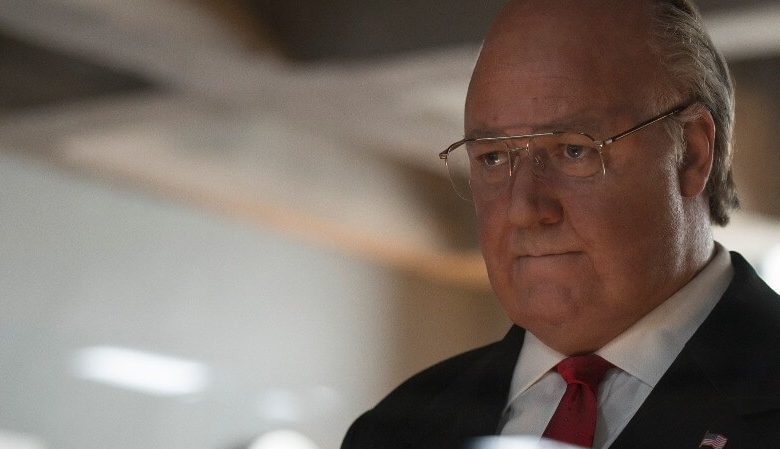 Matt Lauer's decades-long career came to a screeching halt thanks to the #MeToo movement.
The same is true of venerable news man Charlie Rose.
Hollywood has shown little interest in either tale. The epic fall of Roger Ailes, a fellow #MeToo casualty, is another matter.
Why? Do you even need to ask?
Not one but two major projects have Ailes in their cross hairs. First up is "The Loudest Voice," based on Gabe Sherman's book, "The Loudest Voice in the Room: How the Brilliant, Bombastic Roger Ailes Built Fox News–and Divided a Country
."
The seven-part Showtime series just released its first teaser trailer. Russell Crowe, who looks nothing like Ailes, plays the late media mastermind. The cast includes Naomi Watts, Sienna Miller, Josh Charles and Seth MacFarlane.
"The Loudest Voice" debuts June 30.
Sherman co-wrote the screenplay with Tom McCarthy ("Spotlight"). The LA Times called Sherman's book "reasonably fair" but in the very same article dubbed the Tea Party "extreme." Slate, a left of center outlet, proved more cutting. Its book critic called out Sherman's liberal bias.
Fox's prime-time audience averages 1.1 million. Network news audiences in the great old days reached 40 million. Sherman's thesis that Ailes "divided a country" is quite absurd. What Ailes did do is to help turn politics into a special interest category. It is not just the Fox view that is a closed ecosystem—it is the liberal view of the Fox view that is as much a part of the bubble. Perfectly targeted co-dependents.
Fox News gave conservative audiences a voice at long last. That's not divisive. It's representation.
The Showtime press release announcing "The Loudest Voice" suggests Sherman's biases will be visible in the miniseries, too:
In today's politically charged media landscape, no figure looms larger, even after his passing, than Roger Ailes, who molded Fox News into a force that irrevocably changed the conversation about the highest levels of government. To understand the events that led to the rise of the modern Republican party, one must understand Ailes. The upcoming limited series takes on that challenge, focusing primarily on the past decade in which Ailes arguably became the Republican Party's de facto leader, while also touching on defining events in Ailes' life, including his experiences with world leaders that gave birth to Ailes' political career and the sexual harassment accusations and settlements that brought his Fox News reign to an end. The series aims to shed light on the psychology that drives the political process from the top down.
The project is co-produced by Blumhouse Television, part of Jason Blum's media empire. Blum's hatred for President Trump is no secret, another hint that the project has its sites on not just the deeply flawed Ailes.
Still, "The Loudest Voice" might be a love letter compared to director Jay Roach's "Untitled Roger Ailes Project."
Jay Roach's Untitled Roger Ailes Movie Will Release December 20, 2019 – [https://t.co/8mIbdly3tk] pic.twitter.com/cM5CCs2joK

— Omega Underground News (@OmegaUGround) March 6, 2019
That film, set for an awards season release date (Dec. 20) looks at the sexual harassment charges against Ailes from his female employees' perspective. Charlize Theron leads another high-caliber cast including Nicole Kidman and John Lithgow as Ailes.
Roach's previous work showcased his hard-left thinking. He served as an executive producer on the HBO film "Game Change," a cartoonish assault on Sarah Palin. Roach also helped bring "Trumbo," a film downplaying screenwriter Dalton Trumbo's socialist views, to the big screen.
RELATED: Trevor Noah's Attack on Antifa Hits Fox News, Too
The untitled film's screenwriter? Charles Randolph, who also penned the left-leaning Oscar winner "The Big Short."
There's more.
The project started at Annapurna Pictures, a studio known for its leftist content. Think "Sorry to Bother You" and "Vice." Budgetary woes led Annapurna to pass the project on to Lionsgate.For what it's worth, "Vice" also hit theaters in late December. That release date helped snag a slew of awards season accolates (despite mediocre reviews).
Why will we soon see not one but two stories laser focused on Ailes, who died in 2017? It's simple.
RELATED: Entertainment Weekly Demands Stewart Target Fox News
The Left abhors Fox News, the one major channel that gives the conservative side in the daily news cycle. Consider past attempts to silence Fox News All-Stars like Bill O'Reilly, Tucker Carlson and Laura Ingraham.
The latter involved her very mild critique of hard-left activist David Hogg, a survivor of the Parkland High School massacre. [Editor's note: This reporter previously worked for Ingraham's LifeZette]
Those attempts all failed. O'Reilly's Fox News exit stemmed from his own sexual harassment woes.
Hard-left activists will keep trying to remove Fox News hosts and/or diminish the channel's clout. Could these two Ailes projects be Plans B and C,?
We'll have to wait and see the final projects before knowing for sure. As of now, all signs point to "yes, indeed."