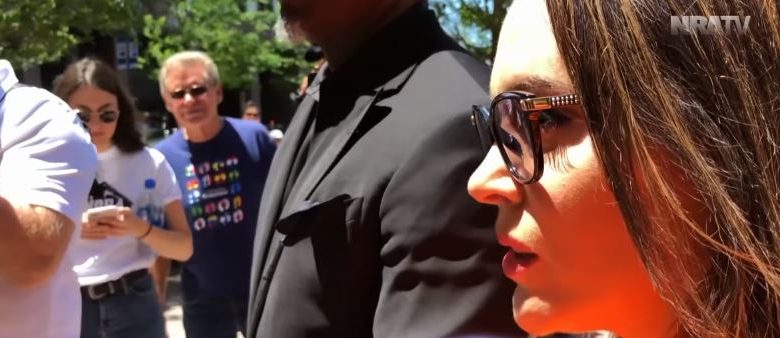 Alyssa Milano keeps forgetting her own script.
The actress turned NRA opponent is one of the highest profile celebrities taking on the civil rights group. Milano, 45, isn't in the public eye nearly as much as she was during her days co-starring with Tony Danza on "Who's the Boss?" or the long-running "Charmed."
Now, with her bustling Twitter account, she's front and center in the battle over the Second Amendment.
The NRA doesn't care about the American people, it's members or our troops. They care about profit. #NoRA https://t.co/6qthHnPRxG

— Alyssa Milano (@Alyssa_Milano) May 7, 2018
It's why she appeared at an anti-NRA rally over the weekend, part of the newly formed NoRA movement. Only a video shot during the event captures her in the very worst light possible while proving she can't keep her own rhetoric straight.
Hollywood Hypocrite, Stage Left
Milano's NoRA group features a number of high profile celebrities including, according to The Hollywood Reporter: Alec Baldwin, Amy Schumer, Ashley Judd, W. Kamau Bell, Don Cheadle, Minnie Driver, Jon Favreau, Nathan Fillion, Jordan Horowitz, Jimmy Kimmel, Julianne Moore, Michael Moore, Patton Oswalt, Annabella Sciorra, Jill Soloway, Amber Tamblyn and Constance Wu.
Here's a key message from the group:
"We're going to shine a bright light on what you and your organization do to America. We're going to make sure the whole world sees your bloody hands (emphasis added). We're coming for your money. We're coming for your puppets. And we're going to win."
Nasty, right?
Milano showed up at Saturday's NoRA protest with what appeared to be three bodyguards. The NoRA assembly took place four blocks from the NRA convention in Dallas.
One unnamed guard physically intimidated an NRA member, Will Haraway, who didn't pose any threat to Milano or her fellow speakers. The man kept insisting Haraway move away from Milano even though there didn't appear to be any law backing up his claim.
What's one of the biggest attack lines for Second Amendment supporters? Celebrities live in gated homes and travel with security personnel. Most Americans cannot afford either luxury. It makes Milano's bodyguards, and one's bullying tactics, a walking, talking cliche.
This is Will Haraway a CCW @nra member. He asked @Alyssa_Milano's security if he was armed (he was) and then asked Alyssa about it. Here's what happened. (She comes to talk to him after this and I will post that longer video shortly). pic.twitter.com/qMsq6rbzDd

— Ben (@BenHowe) May 5, 2018
It gets worse.
The bodyguard, according to a Daily Mail account of the confrontation, may have been armed. Video taken by NRA TV shows a bulge in his suit that looks like the butt of a handgun.
That's Cliche No. 2 within the Hollywood System. Stars attack the Second Amendment while enjoying the protection of armed security guards. It's the epitome of bad optics.
Want more?
Milano wades into the discussion in the second of two video clips captured Saturday.
Here's the rest of the video which aired tonight on @DLoesch's show. pic.twitter.com/aw7crHndqG

— Ben (@BenHowe) May 8, 2018
"I have no problem with NRA members that are lawful and have guns," she tells Haraway after shaking his hand. "At my house my husband has two guns, so don't call me a hypocrite."
At this point the father of a child killed by gun violence, there to support NoRA, interrupted the discussion. When Haraway expressed remorse for the man's loss he flatly rejected it.
"No you're not. That's a hypocritical comment," the father said. "You don't give a crap."
That put Milano and her mission in a tough spot. The father's grief is impossible to measure. She's trying to have a civil conversation with Haraway all the same, but it's hard to critique her for letting this dad say his peace.
Then, the bodyguard steps in and says to the camera man, "I'm gonna ask you to leave in just a second."
Why? Under what authority? This is a public space, after all. More importantly, why doesn't Milano tell him to stand down?
Do These Talking Points Sound Familiar?
She then repeats her assertion she has no problem with NRA members but "my problem is with the gun lobby and the fact that they buy off our politicians which prevents all of us from being safer and 80 percent of Americans want sensible gun reform. And that's all I'm asking for."
Study after study shows the financial power wielded by the NRA is minimal compared to other sources, like unions. While the graceless comedian Jimmy Kimmel famously said the NRA has the "Republicans' balls in a money clip," the truth is another matter.
Here's one example:
Around $900 million in outside contributions was spent on federal campaigns during the 2016 election cycle; the NRA's outside spending only accounted for approximately 6%.
The actress then addresses Haraway's child while he tries to steer the conversation back to the adults. She accuses him of being "highly confrontational" in trying to continue their debate.
"To me, we have to bridge this divide," she says.
An NRA TV member asks if she'd be open to appearing on the news channel. She replies, "If I have the time," as her bodyguards conveniently whisk her away.
Here's an important note:
She's one of several celebrities trying to get NRA TV kicked off of both Amazon Prime and Apple TV.
Stars attack the Second Amendment while enjoying the protection of armed security guards. It's the epitome of bad optics.
Click To Tweet
NRA TV told HollywoodinToto.com the actress may indeed appear on its channel. This report will be updated when more information becomes available.
For now, it's instructive to compare the actress' "bridge" comment with her previous statements. She once used racially charged terms to attack the NRA in one awkward Tweet:
"If @NRA or @NRATv were run by brown or black people, it would be labeled a terrorist organization with hate propaganda programming that incites violence."
Let's not forget the NoRA mission statement and all that it implies. It's the opposite of a good faith gesture. Or, to be more blunt, it destroys bridges rather than building them. She's done everything possible to attack her opponents in the current gun debate.
And, for one sad Saturday afternoon, Milano expertly played the out of touch celebrity. That likely did little to help her cause.
---
Want more Hollywood news from a conservative point of view? Like our Facebook page below!