Lists
5 Ways 'Gosnell' Can Unite the Left, Right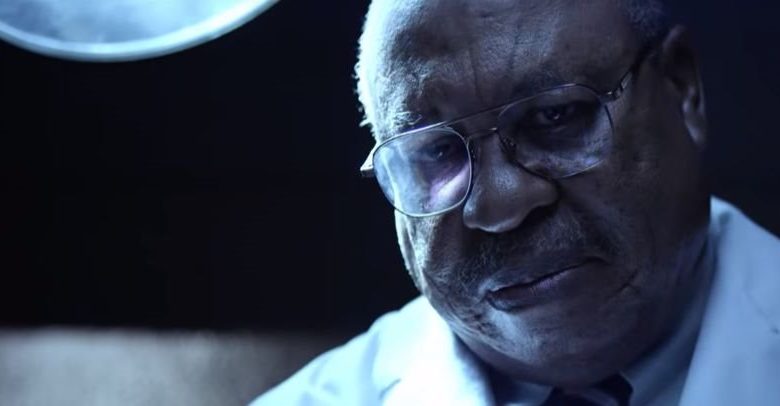 This past week, my wonderful husband and I went to go see "Gosnell," a far cry from our last movie date night—"The Meg."
Obviously, "Gosnell" is very polarizing because, in a culture where nothing should be considered too taboo, we can't talk about abortion without feeling icky.
But as I left the movie theater, still gripping my husband's hand in silent horror, I thought "Gosnell" has ideas the Left and Right can agree upon.
The Importance of Health Codes
You probably don't want to eat at a place where people don't wash their hands, the meat is undercooked or the avocadoes are rotten. My poor husband, knowing how easily the wrong germs can cause health troubles, was appalled that Gosnell's office had cats running around it at all, let alone that there was cat poo all over the floor.
GOSNELL: The Trial of America's Biggest Serial Killer (Official Trailer)
Our reaction didn't improve after Gosnell ate his lunch immediately after treating a patient, still wearing his bloody coat. What's worse? Watching the police find over 30 body bags full of aborted babies and "medical waste" in the break room fridge.
RELATED: Film Critics, MSM Ignore 'Gosnell' … Again
Bills have been rejected and laws overturned that include standards for abortion providers because certain people and lawmakers believe that the standards for cleanliness were too strict. But health codes protect the welfare of the patient and the people working.
They should be taken seriously, and that means enforcing the law. Gosnell's clinic went for years without a proper inspection, even with several complaints filed against him. The Pennsylvania Department of Health is required by law to check on clinics after every complaint. There were instructions not to bother Gosnell's clinic.
Education Makes a Difference
My mother once asked me, "What do you call the doctor who graduates at the bottom of his class?" I didn't know the answer. She gave me wry smile and said, "Doctor."
If you're going to hire anyone or pay for services, it should matter if the person you are working with can do the job. It should also matter if they are doing a good job, no matter their political affiliation. In the case of "Gosnell," the movie clearly shows why it matters to have professionals who are properly trained.
Gosnell trained the workers in his clinic himself—one said he trained her for about 20 minutes, and another learned from watching her mother as she worked for Gosnell. One worker had a quick "cheat sheet" on how to administer drugs to a patient—something only a certified doctor should be able to do.
Several of them were working when Karnamaya Mongar died.
Having standards—legal and ethical standards if not moral—is not a form of negative discrimination against race, gender or class. This is something both sides can easily agree on. Nobody wants to go to an incompetent, neglectful or abusive doctor.
The Worst Examples Should Not Define the Cause
Remember when "Spotlight" came out? It won an Oscar for the dramatization of the how the Catholic Church covered for abusive priests over decades. As a Christian, I can adamantly declare the church was horrendously wrong, the punishment was well deserved and I would never agree that their actions were somehow justifiable.
In the case of Gosnell, even if someone upholds abortion as a fundamental right to the fullest extent possible, they should agree it was wrong that Gosnell was able to use the "abortion is a legal right" argument as a cover for his illegal behavior.
I would not excuse the church for covering up abuse if they said they did it to prevent people from seeking Jesus, and I would be properly beyond angry if someone suggested that.
BONUS: HiT 'cast Interview with 'Gosnell' Producer Ann McElhinney
Listen to "HiT Episode 90 Ann McElhinney ('Gosnell')" on Spreaker.
When Leftists accuses the Right of being Nazi KKK members and the Right decries the Left as Stalin-loving Commies, we should know it's ridiculous to condemn all people by their larger group labels.
Hitler loved his dog, but that doesn't mean everyone who love his dog is Hitler.
Accountability Matters
Gosnell had a history of breaking the law and malpractice. In the 1970s, he was part of the Mother's Day Massacre, and he illegally brought endangered turtles up from the Bahamas to keep as pets in his office.
After 30 years in the business, he had several hundred criminal charges pressed against him, including incidents where patients died, including Mongar, for whose death he was eventually charged with involuntary manslaughter. Give the other disturbing factors present, it seems unfathomable that he was able to get away with as much as he did for so long.
RELATED: HIT 'cast Interview: 'Gosnell' Producer John Sullivan
Why didn't the Pennsylvania State Health Department check his clinic? Review his medical history? Follow up on the many reports that were received complaining about his practice?
And why didn't the media do something? It took the new media to shame the mainstream media into covering the story, and only did it get coverage toward the end of the trial. Even now, word about the movie has been stagnated because of the mainstream media.
Laws are important, but there's no point in having a law if it's not going to be enforced. As a society, coexistence means that everyone has to be watching everyone else. We can do that in a safe, responsible and reasonable way.
"Gosnell's" script was written as a crime procedural by the Edgar Award-winning crime novelist Andrew Klavan, but the movie easily could have been a horror film. Klavan has stated on his podcast that the script condenses the court transcripts and nothing in the movie is fictional concerning the crime.
Can you imagine if Gosnell was about a dentist, serving poor people with a low-rate, sub-par, back-alley dentistry options while being protected by high-ranking politicians and the media? What if, instead of collecting baby feet in jars, Gosnell collected jawbones? Or if he, as a dentist used drill bits and their picks and tools more than once, without sterilizing them, like he reused his abortion tools?
The re-styled Gosnell-as-dentist-or-other-doctor wouldn't have had to be a horror film to have been declared a smashing box office success. Portray it with Meryl Streep and Tom Hanks going against the political system (a la "The Post"), and it would be heralded as "brave."
And finally …
Lena Dunham was Wrong
The "Girls" star once said that dressing up as an abortion doctor for Halloween was "sexy." Dr. Gosnell is not sexy. And I think that's something we can ALL agree on, ALL of the time.
For more information on Gosnell, please check out GosnellMovie.com or read the book about the case in "Gosnell: The Untold Story of America's Most Prolific Serial Killer
."
---
C. S. Johnson is the author of several young adult novels in a variety of genres including fantasy, science fiction, and historical fiction. Her latest spy adventure, "Kingdom of Ash and Soot (Book 1)
," is now available. With a gift for sarcasm and an apologetic heart, she currently lives in Atlanta with her family. Find out more at Johnson's official Web site.