Opinion
Media Bias
Industry News
Media Go Hog Wild Over 'SNL' Pro-Abortion Clown Show
'Neutral' news outlets would recoil if comedienne Cecily Strong slammed abortion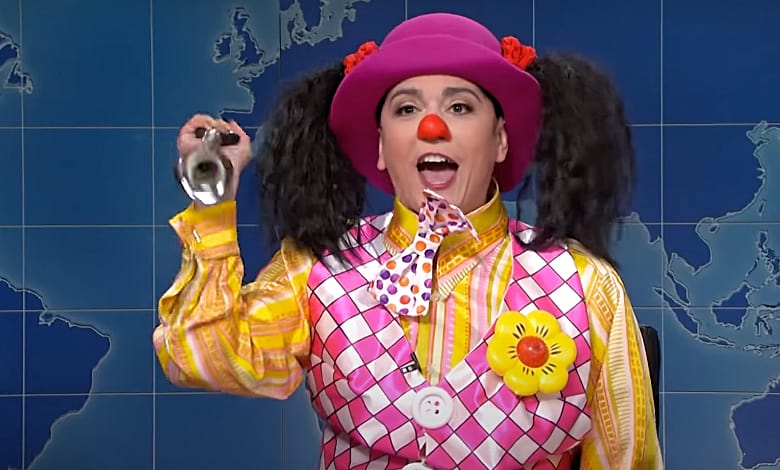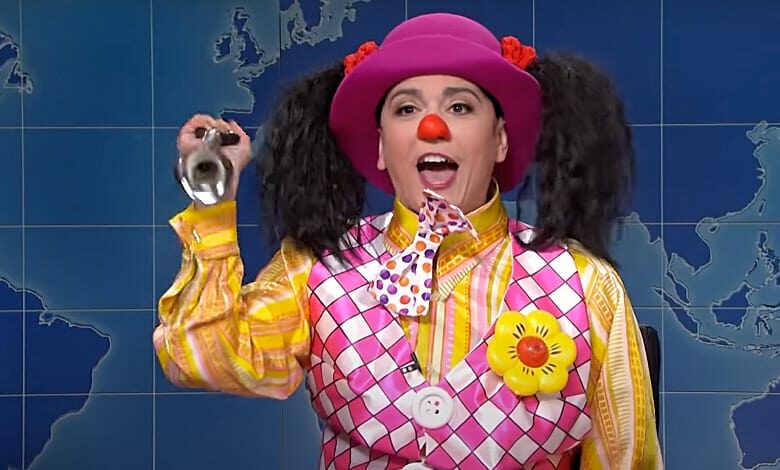 Imagine this scenario.
A seasoned "Saturday Night Live" cast member uses her "Weekend Update" slot to frame abortion in a darkly comic fashion with one stark message.
Abortion is murder.
This would never happen, of course, especially given the ideological bent of "SNL" today. Still, it's a worthwhile thought experiment given that nearly 40 percent of Americans think abortion should be illegal.
The polar opposite happened last weekend.
Cast member Cecily Strong, a gifted mimic, portrayed "Goober the Clown" opposite faux anchor Colin Jost. Strong's clown character, dressed as you might expect, explains why "clown abortions" are a good thing, gosh darn it.
Weekend Update: Goober the Clown on Abortion - SNL
There aren't many laughs in the sketch, and even the keyed-up live audience is mostly quiet. That's part of a newer comic template where "clapter" and political statements outweigh yuks. See Colbert, Stephen for more clarity
Strong sells the bit, barely, but it's hardly "SNL's" funniest shtick.
What happened next?
Media outlets pounced, writing individual stories based on that three-plus minute sketch. That isn't uncommon, since journalists routinely "cover" "SNL" sketches immediately following a broadcast.
It's a reliable sign of liberal media bias, sharing content that adheres to a reporter's worldview in the guise of "news." Journalists can't come right out and say they support abortion, but they can cover a non-event like this under the guise of reportage.
Now, if the sketch caught fire, getting millions of downloads in just a few hours, then the news value skyrockets.
The sketch in question boasts an impressive 1.2 million views after six days, but similar "SNL" sketches draw similar numbers. This "cut for time" sketch, for example, racked up more views in the same time span.
Weekend Update: A Guy Named Brandon on "Let's Go Brandon" - SNL
Reporters did more than "cover" this breaking news item, though. They amplified its message, cheered on Strong and extended Goober's news cycle far beyond its sell-by date.
Who did just that?
CNN ran at least three separate stories on the sketch, all in a favorable light. One featured a fawning opinion piece praising Goober. The channel's "Reliable Sources" weighed in, too, as did a piece saying Strong "opened a dialogue" on abortion.
Phew. Without Goober, we'd never discuss abortion in a pop culture context.
PLAN B - Trailer (Official) • A Hulu Original
Obvious Child | Official Trailer HD | A24
The Break with Michelle Wolf | Salute to Abortions | Netflix
Abortion Laws: Last Week Tonight with John Oliver (HBO)
Other "neutral" news sites weighed in, too, eager to extend the Goober narrative. USA Today revealed how Strong's fellow cast members cheered on her personal abortion sketch. People magazine detailed the sketch down to its very last details.
TheWrap.com highlighted that the sketch earned "praise" from some viewers.
Buzzfeed, which played an integral role in spreading the Russian collusion hoax, used Goober to applaud Strong's overall body of work. The timing is a coincidence, of course.
More overtly liberal sites, like Vox, The Daily Beast and TheWeek, also shared breathless coverage of Goober and her non-functional clown horn.
The Goober sketch is six days old at the moment, but chances are reporters will find a few more ways to extend its journalistic shelf life.