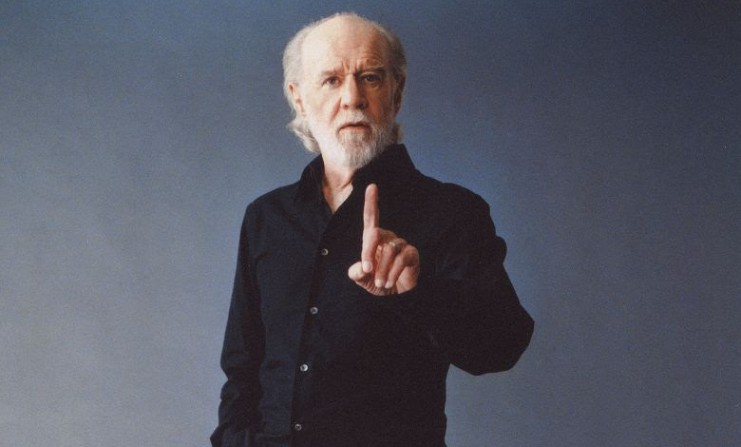 The Left and Right are wrestling over George Carlin's magnificent legacy.
For liberals, the progressive comic's attacks on pro-lifers, Reagan conservatives and the Church are the stuff of endless viral memes. Conservatives see Carlin as a free speech warrior first and foremost, a cudgel against the Cancel Culture scolds.
HBO's "George Carlin's American Dream" sets tribalism aside to put the spotlight where it belongs – on a once-in-a-generation genius.
Mostly.
George Carlin's American Dream | Official Trailer | HBO
The two-part documentary, debuting May 20 on HBO, appears infatuated by its subject. Some stretches could easily be snipped from the three-plus hour production. And Carlin's life overlapped with some critical moments the documentary doesn't explore in sharper detail.
Viewers still emerge in awe of Carlin's gifts — both his verbal dexterity and willingness to evolve over time.
In short, "American Dream" confirms that Carlin has few, if any, peers.
Co-directors Judd Apatow and Michael Bonfiglio wisely keep political posturing off screen. Yes, Carlin leaned to the Left, sometimes with a near-religious fervor (ironic given his rage against organized faith).
The comic shouldn't be reduced to his political hot takes. Doing so diminishes an iconic career that spanned five decades and often targeted both sides of the aisle.
RELATED: How Big Tech Is Crushing Conservative Comedy
The docuseries delivers a warts-and-all approach to the source material, sharing Carlin's personal struggles and professional detours. What emerges is a near-complete portrait, one that occasionally disappears down less vital rabbit holes.
RELATED: Mike Rowe: Comedians Have Let us Down
George Denis Patrick Carlin began as a mainstream cutup who found work on endless TV chat fests.
The persona fit him poorly, even though his natural humor rose to the surface. He was a rebel, a comedic troublemaker who wanted his voice, his true voice, to be heard. And Carlin himself "narrates" much of his life story here, gleaned from archival interviews and countless notes he took over the years.
On today's Downtown, we talk with @kelly_carlin about @TheGeorgeCarlin & the new documentary that premieres next week on @HBO, plus @mainedan of @TheNiteShowME, Joe Ricchio, @MarcCalnan, and Mighty John Marshall, 4:00-6:00pm ET on @RetroZ62 pic.twitter.com/OqpE7ncAra

— Rich Kimball (@DowntownRichK) May 13, 2022
His early partnership with broadcaster Jack Burns forged his progressive leanings, and when an eventful acid trip expanded his horizons he let his hair down, man.
Literally and figuratively.
It's when George Carlin, comedian, finally emerged, pushing past the squeaky clean gags and bug-eyed impressions. It wasn't an easy transformation. He got arrested along with fellow provocateur Lenny Bruce early in his career. His devoted wife, Brenda Carlin, forged his "new" media kit when he shed his corporate skin.
It turned out to be the best career move he could have made. He fit right in with the counter-culture crowd, leaning on the Flower Power generation to revolt against, well, everything.
FAST FACT: "Saturday Night Live" tapped Carlin to host its very first episode on Oct. 11, 1975.
"George Carlin's American Dream" brims with classic footage, letting us see every step in the comic's remarkable career. Old variety shows. Rare interviews. Chats with cultural "squares" like Merv Griffin, Mike Douglas and Dinah Shore.
It's all fascinating, from the stroll down pop culture lane to insights into Carlin's enduring brand. Bruce may have died for our comedy sins, but Carlin's work is consistently timeless.
His wordplay dazzled, his timing couldn't be more precise, even into his final years.
Jerry Seinfeld praised Carlin's classic "stuff" routine, dubbing it a sublime elevation of Observational Humor 101.
Apatow's attachment to Carlin's story could have been disastrous. The "Knocked Up" auteur devolved into an unhinged Trump hater in recent years, and his comic output simultaneously cratered during that span.
His recent Netflix comedy, "The Bubble," earned Apatow some of his worst critical reviews to date.
Would Apatow weaponize his subject's progressive mien? The co-director generally holds back, letting Carlin's work guide him.
We see it all, from Carlin subjugating himself to demeaning gigs to his final stages where he leaned, hard, into his anti-human sentiments. That chapter is both ugly and necessary given the way his stand-up soured in his final years.
The docuseries doubles as a love letter to the comedian's wife, a woman who endured her husband's roller-coaster career, alcohol addiction and endless days spent waiting for her beau to come home from the road.
Carlin, for all his caustic wit and anti-human broadsides, proved both romantic and loyal. Yet he teemed with contradictions. He praised drugs on stage and off, yet they nearly killed both him and his marriage.
He rejected mainstream comedy, but showed up for endless variety shows and toothless TV bits, soaking up the attention and cash. Even hippies need to eat, and his battles with the IRS hardened his financial woes.
George Carlin's Personal Side (Pt. 1) | Kelly Carlin | COMEDY | Rubin Report
The project's title is both curious and apt. Carlin seemed to loathe his homeland, drilling down on every stateside hypocrisy he could find. And America delivered over and again, naturally.
Those rants lacked perspective, of course. Were other countries fairing far better than the U.S.? Wasn't human nature to blame as much as any one policy or party? His bitterness felt hollow on more than a few occasions.
Still, fascinating nuggets abound, from how Carlin was both scared and inspired by Sam Kinison's unbridled act to a clip where Seinfeld says no comedy bit ever changed his mind on a political issue.
That's a shocking addition given the current nature of comedy.
It's disorienting to hear some Carlin quotes, like how he pivoted to the university crowd after embracing his inner hippie.
"I gotta go to the colleges where people will let me be myself," he said at the time. If he only knew how academia would change following his 2008 death.
And letting Cancel Culture deniers Jon Stewart and Stephen Colbert, plus Antifa-apologist W. Kamau Bell weigh in on Carlin's genius just feels … wrong.
It's a shame the docuseries wraps by suggesting Carlin predicted America's current ills. Here's where Apatow leans into his Leftism, from insinuating President Donald Trump is a fascist (exhausting and illogical) to a photo montage of other, hard-Left narratives.
That isn't what made Carlin so special, nor should it be the summation of his life's work.
Otherwise, "George Carlin's American Dream" is bloated but beautiful, a testament to a comedian whose work endures for the very best of reasons.