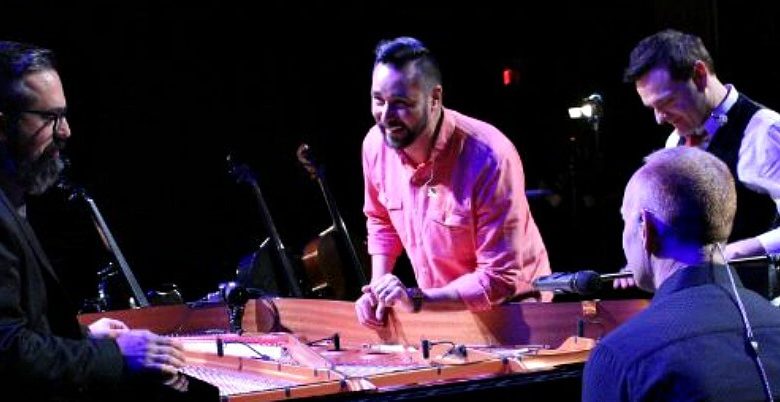 Journalist Matthew Faraci knows how some view people of faith.
"Finger-wagging, do-gooder, holier-than-thou types," Faraci says. "And they look and talk like Ned Flanders [of 'The Simpsons']."
It couldn't be further from the truth, Faraci says.
"Some of the coolest, most free-wheeling, fun-loving, creative people come from a faith background," he says. His latest gig hopes to prove just that while shattering those media-fueled stereotypes.
"Frankly Faraci," debuting March 21 on The Dove Channel, finds the host interviewing some of the more colorful, and inspirational, talents who also happen to lead spiritual lives.
Musicians (The Piano Guys). Athletes (former NFL star Bryan Schwartz). Rappers (Propaganda).
The show's first season doesn't just offer a family-friendly look at intriguing stars. It promises to upend the traditional talk show format. "Frankly Faraci" lacks a typical TV show set. The host comes to his guests, on their turf. What better way to explore their gifts, their life and their faith?
"It's shot in a very organic style. The people have to be in a place where they're comfortable," he says.
First up: The Piano Guys, a talented troupe who bring a sense of adventure to classical music. The show's lively banter takes place, where else, backstage at a Piano Guys gig.
This is Your Fight Song (Rachel Platten Scottish Cover) - The Piano Guys
The host wasn't looking to star in his own television series. He attended Variety's Purpose summit last year, an event exploring faith and family entertainment. Executives from The Dove Channel saw Faraci moderating one of the summit's panels and approached him about creating what would become "Frankly Faraci."
Only both sides didn't envision yet another cookie-cutter chat-fest, albeit one aimed at a faith-based audience.
The show's conversations are fun and informal. The interviews can go in any direction, but the focus typically returns to how faith guides the guests' life journeys. It's a far cry from what you might see on "The Tonight Show" or "Ellen."
RELATED: 'New Life' Star: Why Faith Film Still Shock Hollywood
Faraci says his first few guests have been "real and authentic. They're comfortable in their own skin."
"Folks out of Hollywood are not always that way," he adds.
Faraci is currently planning the show's second season. He's already pondering his dream guest list for future episodes. Think Bono, Tim Tebow, Chris Pratt, Harry Connick, Jr., actor David Oyelowo and Pope Francis.
And the current White House occupant, too.
"I'd like to talk with the President. I wouldn't ask him any political questions, but 'who you are … what drives and motivates you … his faith story," he says.
FAST FACT: The subscription-based Dove Channel boasts nearly 1,400 pieces of content, including nearly 500 films and 900 television episodes approved by the Dove Foundation. The service says it offers the largest library of faith-based & family-friendly content in the OTT marketplace.
Faraci began his career telling jokes in Los Angeles. He dabbled in acting for a while, too. He found work in a number of fields, including politics. He served as a political spokesman for President George W. Bush.
"You have to be quick on your feet," he notes of the gig.
He also helped produce the long-running "McLaughlin Group." That job helped him focus on what matters for an interview show like "Frankly Faraci."
And then there's the personal side of the series. Faraci wants to leave viewers inspired to do some good. God gives every person a talent, and it's up to them to channel it in the best way possible, he says.
Frankly Faraci - Meet the Faracis
Should "Frankly Faraci" catch fire he'd like to expand the show's geographic scope.
"Find people in other countries that are really helping out the poor and the needy, the modern-day Mother Teresas," he says. "I'd use the platform to do interviews with then. Then, as viewers see that, they'll have the opportunity to support those causes."
For now, he'd be delighted to remind youngsters they, too, can be music superstars someday. Of course, that means without embracing the gig's hedonistic trappings.
"We're always looking for role models," he says. "I know so many young people who have picked up classical music because they love The Piano Guys."