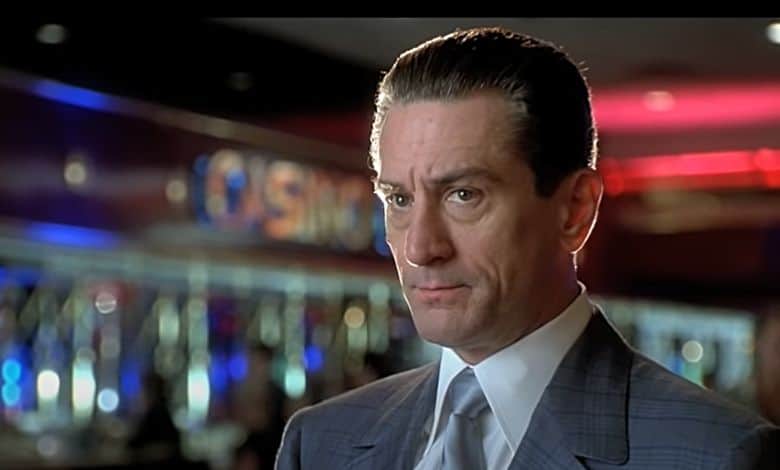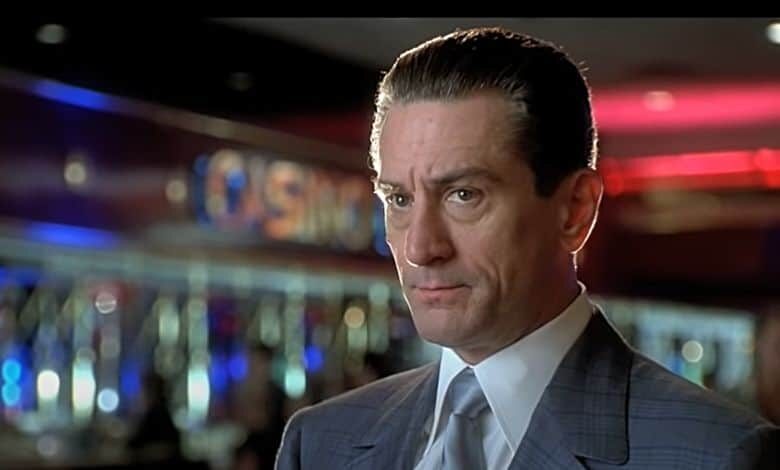 "When you love someone, you've gotta trust them. There's no other way. You've got to give them the key to everything that's yours. Otherwise, what's the point? And for a while, I believed that's the kind of love I had."
The opening lines from Martin Scorsese's "Casino" immediately set it apart from other films about the mafia: the words of "Ace" Rothstein (played by Robert De Niro) are about a longing for a life he cannot have, in a world he fails to control.
Casino Official Trailer #1 - (1995) HD
Adding to this sense of loss is how, seconds later, Rothstein steps into a car that explodes, while the exemplary opening credits (designed by Saul and Elaine Bass) unspool.
Following the prelude in 1983, the story then steps backward to 1973, where we see how De Niro's Rothstein builds his own insulated empire with the Tangiers casino in Las Vegas. The daily operations, personally overseen by Rothstein and his right-hand man (a silent but perfectly cast Don Rickles), keep the gambling tables and slot machines tightly guarded, the cheaters crawling away maimed and the gangsters overseeing the profits from afar happy.
When Nicky, Rothstein's loose-cannon childhood friend (Joe Pesci) moves to Vegas for a piece of the action, it signals the beginning of the end. Likewise, Rothstein's attraction to a known hustler and casino fixture named Ginger (Sharon Stone), whose charm inspires Rothstein to feel a love in his heart that is never reciprocated.
RELATED: Walter White vs. Tony Soprano: And the Winner Is …
Rothstein convinces Ginger to marry him, despite her admitting there's no attraction. Rothstein's one request is that Ginger honors his demands that she keep his "trust," which is around when she and Nicky begin to topple Rothstein's carefully mounted kingdom.
Scorsese's hypnotic film depicts a man in total control of a world he lawlessly assembled. Meanwhile, his personal life is spiraling out of control. It's an amusing contrast, as Rothstein can't corral the seemingly simple pleasures of domesticity and family.
Rothstein is initially drawn in and amused by the chaos Ginger brings from her first introduction (he admits via narration, "I fell in love right there"). Rothstein only excels at eyeing card sharks, having their hands broken by goons and throwing them out the back door.
Casino (2/10) Movie CLIP - The Count Room (1995) HD
The violence is horrifying, even for a film about mobsters, which is exactly right. Scorsese allows his characters to bask in their wicked excess for only so long. There's always a price to pay for compromising one's soul in his films.
An interesting touch is how the supporting cast is flush with comics and stage performers, many of whom were Las Vegas fixtures, like Rickles, Alan King, Dick Smothers (wonderful in a small role), Steve Allen & Jayne Meadows and Frankie Avalon. There's even an amusing stand-in for Siegfried & Roy (deemed "Jonathan & David").
An unexpected touch that pays off big time? A ripe comic supporting role for none other than movie critic Joe Briggs. Billed as John Bloom, the critic plays an unreliable overseer of the casino slot machines.
The storytelling, infused with Scorsese's masterful grasp on the uses of cinema, is brilliant. "Casino" is always in motion, electrifying when the focus is on the central characters but just as captivating when it's just showing us the day-to-day operations of the Tangiers.
A quick throwaway subplot, involving a billionaire named Ichikawa (Nobu Matsuhisa) and his time at the casino, is as enthralling as everything else here. Only in the film's last act (the film clocks in at two hours and fifty-nine minutes) does the film start to wear you down. It's not because Scorsese is running out of steam.
The self-destructive behavior of the characters becomes hard to bear and the third act is punishing.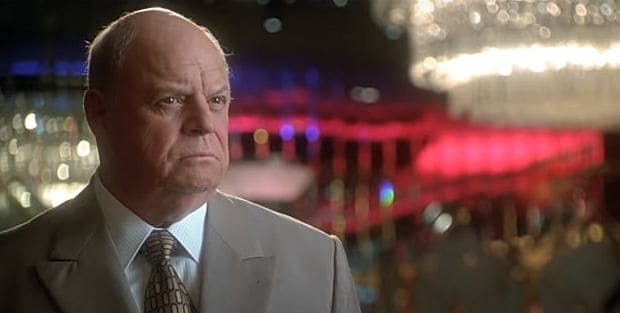 "Casino" lingers on wonderful character details, like Nicky's habit of always making sure he's home in time to make breakfast for his son (an amusing ritual for a career psychopath), Rothstein's rage over the inadequate number of blueberries in a casino muffin, the amusing idiocies of "Aces High: The Sam Rothstein Show" and the hilarious visual of a fed plane landing on a golf course after running out of fuel from circling Nicky's gang for too long.
De Niro is wonderful – he has some emotionally explosive scenes, but there is actually a great deal of subtlety to his characterization. Note his controlled demeanor during a tense confrontation with Ward's father, in which Rothstein insists he enjoys doing favors but won't allow an idiot to work for him.
There's also the volcanic scene where Rothstein throws Ginger out, only to have her return moments later. They both reconcile in an attempt at tenderness that seems alien for both of them. Pesci's Nicky is an impish wildfire of a man who cannot contain his tendency to bring disorder to any room he walks into. Scorsese paints the pivotal meeting between Rothstein and Nicky in the desert as a mythic confrontation of volatile forces.
Then there's Stone, in an amazing performance that brought legitimacy to a career unfairly defined by the controversial "Basic Instinct." Stone is up for the considerable demands of her role, which is not a hateful opportunist but a sympathetic, independent woman who refuses to be protected, even when she needs it from her lifelong pimp (James Woods, killer good in a small but essential supporting turn).
Casino (4/10) Movie CLIP - For Ginger, Love Costs Money (1995) HD
"Casino" did not over-perform at the box office; in fact, it barely broke even domestically, as the word of mouth was stunted by the mixed reviews, complaints about the violence and especially the length. Oddly enough, the other great De Niro film of '95, Michael Mann's towering "Heat," opened within a few weeks of "Casino" and, if box office is any indication, the two films sort of cancelled each other out.
It wouldn't take long for a renewed appreciation to kick in on home video. During its time in theaters, however, "Casino" was deemed a career high mostly for Stone, who was Oscar nominated for her work, while the film itself wasn't met with universal enthusiasm.
In fact, a characteristically snarky segment on "Saturday Night Live" summed up the audience reaction at the time: on "The Hollywood Minute," David Spade declared, "Casino…ca-seen-it…and I liked it better the first time I saw it, when it was called 'Goodfellas.'"
Cue laughter.
RELATED: 'Miller's Crossing' – The Movie That Changed Everything for Team Coen
While "Goodfellas" will always be the most quotable (mostly due to Pesci's scene-stealing work) and fondly remembered (that dinner scene with Mrs. Scorsese and the kitchen knife is flawless), "Casino" is the far more ambitious and dynamic film.
Before you threaten to bury me in the Vegas desert, consider the scope of what Scorsese has achieved here: working far outside "the neighborhood" (or, as the mobsters refer to it here, "back home"), Scorsese has shaped a real life tragedy that is every bit William Shakespeare as it is Nicholas Pileggi.
Consider how Rothstein, with his grand plans and reaches for power, family and respectability, is a King Lear to Ginger's obviously unraveling Lady Macbeth. Picture how Pesci, despite what critics said in 1995, is not repeating himself but actually portraying an uncontrollable monster even scarier than his unhinged Oscar winning turn as Tommy DeVito.
"Goodfellas" portrays the passing of time on a cluster of family-oriented criminals, whereas "Casino" is about this as well but also how the climate, and not just the moral malaise, catches up to men and women who think they will never have to pay for their sins.
This being Scorsese, the use of the Biblical term isn't out of the question, as this, as much as "Goodfellas," "Mean Streets," "The Departed," "Who's That Knocking at My Door" and several Scorsese works not in the crime genre, are exploration of the wages of sin.
The Departed (1/5) Movie CLIP - Someone Else Every Day (2006) HD
The characters of "Casino" and other Scorsese films portraying criminal behavior may be shocking but make no mistake, they exist in a moral universe and pay for their excesses.
"Casino" was a bit much for audiences in 1995 and is still an overwhelming experience (watching Rothstein save his daughter yet again from her out of control mother is as grueling as seeing a rival gangster have his head in a vice).
Scorsese doesn't flinch from any of this, as Pileggi changes the names but basically re-tells this dark piece of history how it actually happened. Its power is showing us that no one is above falling from a great height, as anyone willing to bet their soul in pursuit of moral compromise will eventually lose everything they have.