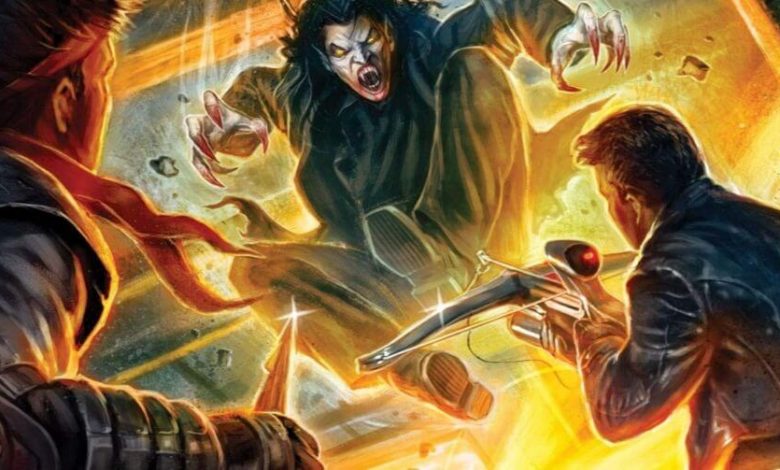 Perhaps it was wrong of Columbia Pictures to release "John Carpenter's Vampires" on Halloween of 1998.
The holiday and Carpenter's name likely created some unrealistic expectations though, commercially speaking, a welcome association for his fan base.
Likewise, touting in the press materials that the latest from "The Master of Horror" is also from "the director of Halloween" created a no-win scenario. No modern contemporary genre work could compete with that, not even one from Carpenter himself.
Truth be told, reaching far back to a filmmaker's earliest smash is never a good idea. Remember how Brian De Palma's wonderful, twisted cult favorite, "Femme Fatale" from 2002, had posters noting it was "from the director of "Scarface."
It's hard to think of two movies as dissimilar as "Femme Fatale" and "Scarface."
Femme Fatale - Original Theatrical Trailer
In the same way, Carpenter's output has become so varied over the years, name-dropping classics like "The Thing" and "Escape from New York" probably doesn't help matters when promoting subsequent projects.
Carpenter's later works have always maintained their intrigue for how far Carpenter strays from expectations, all the while showcasing his signature touches. "Vampires," like his woefully misunderstood "Ghosts of Mars" in 2001, is first and foremost, a western.
John Carpenter's Vampires - Trailer
James Woods stars as Jack Crow, the lead in a team of vampire killers. When we meet Crow, he and his crew are doing another grisly, if fairly routine chore: they arrive at a "nest," (in this case, a dilapidated house in the middle of nowhere), pulverize the vampires with stakes and impale them with a pulley system that yanks them into the daylight, where they burst into flames.
Crow notes on his most recent assignment that, while they destroyed nearly 10 vampires (and have the skulls to prove it), they seemed to have missed the hive's leader.
When Valek, the menacing head vampire (Thomas Ian Griffith), does show up, he leaves few survivors. Crow, his right hand man (Daniel Baldwin) and a bitten prostitute who is slowly becoming a vampire (Sheryl Lee) take it upon themselves to personally confront the source of all bloodsucking evil.
Woods, a brilliant actor whose tweets got him suspended from Twitter, was among the most prolific, in-demand film actors when he made this. The initial surprise of seeing him here (assaying a role one could easily imagine carried by Carpenter regular Kurt Russell) evaporates quickly. He's completely immersed, nails the uber-masculine tone Carpenter is going after and is visibly having a blast.
RELATED: John Carpenter's 'The Thing' Hasn't Aged a Day
Griffith (who notably stole "The Karate Kid, Part III" as the charismatic heavy) evokes considerable physicality and smug menace to the role of the central antagonist. Lee gives the same piercing intensity to this that made her work in "Twin Peaks" so harrowing. As bloody and B-movie worthy as the screenplay gets, every actor brings their all to their gritty roles.
Crow's crew is motley and tough looking, evoking an uneasy but undeniably tight comaraderie among them. An interesting touch the film introduces but mostly ignores: a few of Crow's team announce in the early going that, in addition to knowing vampires are real, they also know God and the supernatural to be genuine as well.
It's an angle worthy of exploration, though it's sidelined by, in addition to how good they are at being vampire killers, Crow's team is also a bunch of rowdy, hard partying jerks. They may have faith on their side and possibly reverence for the supernatural, but they also might as well be members of the Hell's Angels.
FAST FACT: "John Carpenter's Vampires" earned $20 million during its U.S. theatrical run, a number which matched its estimated budget according to Box Office Mojo.
Otherwise, this is less about the presence of God and the afterlife and concentrates more on moral compromise and religious hypocrisy, particularly in the third act. While how much one takes any of this seriously will vary from viewer to viewer, "Vampires," at the very least, has enough of an edge, coupled with gory encounters, a juvenile sense of humor and a rough and tumble feel that make it a real find for genre fans.
While it was shot in 1997 and released in 1998, "Vampires" could have been set 100 years earlier. Everyone either comes across as a cowboy or town folk who unwillingly enters the narrative. There are no lovely long shots of vistas, but those melancholy visions of sunsets, rundown towns, outcasts wandering a hot, desolate landscapes, coupled with a tone evoking macho confidence, sure makes this feel like a John Ford horse opera infected by vampirism.
"Vampires" plays like a mean, modernized take on Bram Stoker's "Dracula." While it lacks the polish of Carpenter's larger budgeted studio efforts (particularly "Starman" and "Big Trouble in Little China"), it carries consistent themes, character types and an attitude that makes it a nice fit with Carpenter cult classics like "They Live" and "Assault on Precinct 13."
They Live (1988) - Aliens in the Grocery Store Scene (3/10) | Movieclips
Coming after Carpenter's big budget flop, the unfairly dismissed and wildly entertaining "Escape From L.A." (am I a Carpenter apologist? You betcha), "Vampires" marked a return to low-budget form, as well as a commercial effort that briefly connected with audiences.
Carpenter's film was both a sizable hit in the U.S., where it seized the #1 spot over the Halloween weekend, and overseas, where Carpenter's eclectic body of work was initially better appreciated than in America.
The sequences where Crow and his teammates clean out rotting buildings of shadow-protected vampires offers a unique spectacle for this type of movie: Crow's line of work doesn't allow for tidy, easy elimination. These scenes are down and dirty, devoid of careful choreography and, appropriately, resemble bar brawls with spears and guns.
The humans hunt the vampires in such a barbaric manner, it's easy to share Lee's perspective and sympathize with the bloodsuckers as they thrash and scream for survival. Crow's team may consist of unruly warriors-for-hire but their un-scrubbed, disreputable and off-the-grid personas make them authentically un-PC neo-cowboys (akin to a team of Snake Plisskens).
The sunset-hued cinematography by Gary B. Kibbe (the gifted Director of Photography who also shot Carpenter's "Prince of Darkness," "They Live," "In the Mouth of Madness," "Village of the Damned," "Escape from L.A." and "Ghosts of Mars") is striking.
So is Carpenter's tendency to have montages featuring images that fade over one another; it captures the monotony of Crow's profession. Carpenter's score (credited to The Texas Toad Lickers) sounds like the work of a great bar band and has that signature hook that is catchy and suitably heroic.
Based with some fidelity on John Steakley's enjoyably pulpy 1990 novel, "Vampire$," Carpenter's film has finally been released on a Blu-ray Collector's Edition from Scream Factory that is packed and, yes, offers lots of bite.
While the Carpenter's director commentary is enjoyable, it's carried over from a prior release and would have benefited with Woods or someone of that caliber carrying it with him. Carpenter's easy going, un-pretentious and self-deprecating manner is always worth listening to, though he sometimes describes the action taking place more than what happened in the making.
The new material is terrific, as satisfying, thorough interviews with Carpenter and his producer/wife Sandy King, Kibbe, co-star Tim Guinee, and make-up guru Greg Nicotero are enough to make this disc worth seeking out.
The big scoops, however, are the new interviews from Woods and Griffith.
Woods's enthusiasm for the film and his experience working on it matches the gusto of his performance; he's a great interview subject and offers some surprising insight (Crow, he reveals, is among his favorite roles and he'd be happy to return to it).
Griffith, who is still strikingly handsome but no longer resembles his late 20th century film appearances (a haircut and time have served him well), is another exceptional interview subject; his recollections are cheerful and amusing.
In his interviews, Carpenter discusses how Woods was a challenge but, overall, provided a fine collaboration; in the behind the scenes B-roll footage, glimpses of Carpenter working with Woods and everyone else gives a valuable vantage point on the film's hot, New Mexico shoot.
The film's robust, very-90's trailer, set to Marilyn Manson's "The Beautiful People," is also included, as well as different movie poster designs, stills and interviews.
Marilyn Manson - The Beautiful People
Finally, Carpenter's score, another late-career highlight, can be heard as an isolated feature. This is easily among my favorite Scream Factory releases on 2019.
"Vampires" lacks the elegance of Carpenter's "Halloween" and the sheen of some of his other works but, taken as the drive-in movie alternative to "Blade" (released the same year) and an exciting, outlaw shoot-em-up with an affectionate nod to saddle cinema, it's an unmissable work for Carpenter's fans.