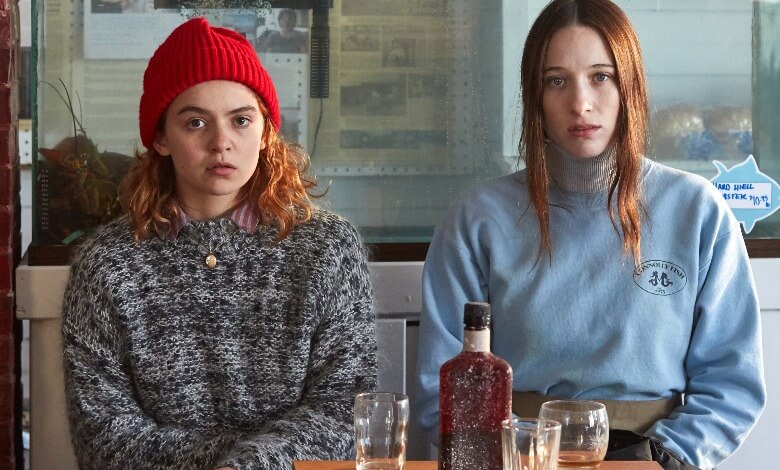 Style can bite a filmmaker where the sun don't shine.
Push it too far, and you've stumbled into Faux Tarantino terrain. And nobody wants to so much as visit that place.
First-time writer-directors Danielle Krudy and Bridget Savage Cole employ a Greek chorus of fisherman in "Blow the Man Down." The burly men bellow nautical tunes, like the title, between the unfolding narrative.
That could have undermined the dark story afoot or proved a water-logged gimmick. Instead, it announces a pair of talented filmmakers swinging for the fences during their first at bat.
Call it a stand up double, at the very least.
Blow The Man Down – Official Trailer | Prime Video
Sisters Priscilla (Sophie Lowe) and Mary Beth (Morgan Saylor) are grieving their mother's passing in very different ways.
Priscilla wants to honor her memory by keeping the family store afloat. Mary Beth can't wait to leave their fishing community behind … for good.
A sudden burst of danger, and violence, changes everything for the duo. They're forced to cover up a crime lest their futures crumble, but they learn their secret is in very good company. The town teems with them, both petty and sizable, and some hit very close to home.
The death of a local woman under creepy circumstances only heightens the sense of insecurity bubbling up around them.
"Blow the Man Down" shows the young filmmakers tackling more than a fishing community in crisis. They've created a credible community of bit players, along with souls whose clout reaches deep into local law enforcement.
In this town, every body has a secret. Amazon Original "Blow the Man Down" arrives March 20 to https://t.co/h08oZkmKgy pic.twitter.com/Lg3c0n07EL

— AmazonNewsEU (@AmazonNewsEU) February 9, 2020
Enter the great Margo Martindale as Enid, a woman with a curious hold over this Maine hamlet. The Emmy winner makes Enid a force of nature with palpable flaws. Watching her drink while retaining her sense of control, and ego, is an acting triumph.
That's nothing new for Martindale.
Only she's just one of many first-rate characters inhabiting this coastal community. Local regulars played by June Squibb and Annette O'Toole have stories to share, too, but you never know where their allegiances lie.
FAST FACT: "Blow the Man Down" co-star Morgan Saylor landed her first acting gig via a tiny voice-over role on HBO's "The Sopranos."
"Blow the Man Down" tells a crisp story in 90 minutes, but who wouldn't want to spend more time here? Even Will Brittain, cast as a young cop immune to the town's siren song, pushes beyond his aw, shucks persona.
And if you thought the fisherman's songs set the tone, wait until the theatrical score pushes past your comfort zone. Composers Jordan Dykstra and Brian McOmber take the town's bleak, brittle beauty and make it sound … alluring.
"Blow the Man Down" casts a spell, all right, suggesting Krudy and Cole have plenty more stories to tell.
HiT or Miss: "Blow the Man Down" serves up style, twists and characters a plenty. What more could you want?