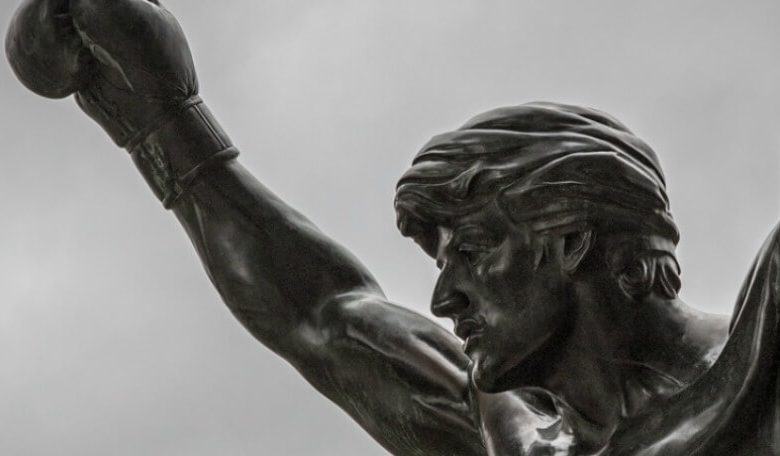 The Italian Stallion is the All-American story. He's as iconic as Uncle Sam … if the old fella did 100 ab crunches before noon.
In reality, this month marks the film's 40th anniversary. "Rocky" hit two theaters on Nov. 21, 1976, followed by the full release Dec. 3, 1976.
Rocky Official Trailer #1 - Burgess Meredith Movie (1976) HD
Sylvester Stallone's career Hail Mary made him a superstar. It also created an indelible franchise which still may have legs thanks to 2015's "Creed." His fictional fighter became a symbol for the nation's inherent promise. Dream big … and it can happen.
If Rocky could beat the odds, we could, too.
In honor of the film's anniversary, here are 20 crazy but true tales tied to the boxing saga.
Stallone took all of three and a half days to bang out the film's first draft. He scarfed down caffeine pills to keep his energy level high.
Ryan O'Neal, Burt Reynolds and James Caan were all considered for the starring role at some point in the production.
Stallone had a 10 percent stake in "Rocky" profits, a wise move for an actor/screenwriter on the cusp of poverty.
Jackie Stallone, an astrologer and mother to the future Rocky Balboa, accurately predicted her son would hit it big as a writer. Stallone earned an Oscar nomination for his "Rocky" script.
Stallone was offered $265,000 to sell his "Rocky" script in order for another actor to step into Balboa's shoes. The fledgling screenwriter resisted despite being broke. He wanted the starring role for himself.
Frank Stallone Sr., the actor's father, has a cameo in the film as a boxing timekeeper.
Stallone originally envisioned the franchise as a trilogy, with his character entering politics and becoming the mayor of Philadelphia.
Before his "Rocky" fame, Stallone cleaned lions cages at the Central Park Zoo.
Carl Weathers TKO'd Stallone inadvertently during the audition process. Weathers was reading for the part of Apollo Creed with Stallone but stopped mid-audition to ask if he could continue with an actor instead.
Stallone created "Rocky," in part, as a reaction to the darkness surrounding American culture at the time. "Where are all the heroes," he asked.
The original plan had Rocky running up the steps of the Philadelphia Museum of Art carrying his dog. The canine was too fat, so the classic sequence carried on without him.
Stallone used to talk to himself in the mirror, a sort of free therapy session. He incorporated that practice into his signature character.
"Rocky" cost a mere $1 million, chump change then …and now.  The crew utilized one Winnebago as the production's de facto trailer.
The sweet first date sequence featuring Rocky and Talia Shire's Adrian was supposed to take place in a crowded place – either a restaurant or skating rink. The budget wouldn't allow for so many extras, so they settled on an empty rink. Movie magic ensued.
Carl Weathers says his days as an unknown actor ended once "Rocky" hit theaters. Strangers began recognizing him on the street the day after the film's Dec. 3, 1976 release.
The studio didn't initially want Weathers to play Apollo Creed. They sought a "name" athlete for the villain. When that search failed, they allowed Weather to audition.
Stallone was so broke prior to Rocky hae sold his bull mastiff, Butkus, for $50 outside a 7-11
United Artists and its legal team feared a massive flop, so they tried to wriggle out of the "Rocky" deal.
The production initially hoped to cast either Bette Midler, Cher or Susan Sarandon to play Adrian.
Stallone considered casting a real fighter for the film. He changed his mind after spending all of 11 seconds in the ring with "Smokin' Joe" Frazier. The champ left him with four stitches before Stallone had a change of heart.
Photo credit: Stefan Ogrisek via Foter.com / CC BY