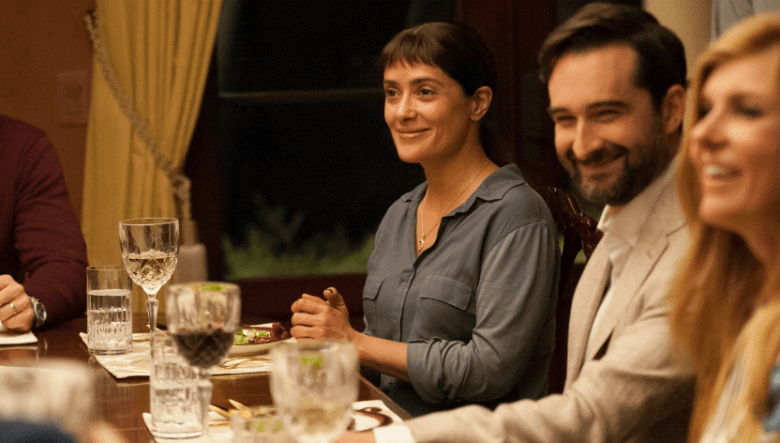 Sometimes actors do the craziest things while promoting their films.
Take Christian Bale. The "Dark Knight" superstar called Moses "schizophrenic" while attempting to convince people to see his 2014 flop "Exodus: Gods and Kings." You don't have to be a Biblical scholar to realize that might dampen enthusiasm for the film among faith-friendly crowds.
More recently, Michael Shannon suggested it was "time for the urn" if you voted for Donald Trump while promoting "Nocturnal Animals." Imagine the film's publicist wincing at that press clipping.
Those are just a few examples of stars working against their best interests while hitting the publicity circuit. So you might think taking an indie film and turning it into a political football would be a mistake.
Not necessarily.
Look at "Beatriz at Dinner." The new film (opening June 9) stars Salma Hayek as a Mexican-American healer who clashes with a real estate mogul (John Lithgow) during one drunken dinner.
Beatriz at Dinner | Official Trailer
The June 9 comedy is being actively pushed as a Trump-era affair. And that's before you realize the film pits a Mexican character against a blowhard tycoon bragging about his job creation chops.
Heat Street noticed the marketing choices at play. The film's online trailer highlights the Trump connection in the very first critic's quote: "The first great movie of the Trump era," declares Yahoo!
RELATED: Werner Herzog: Trump's America Isn't Fascist
Now, film critics are as obsessed with President Trump as most liberals. So it's not shocking to see some draw those parallels, especially since a surface-level look of the film makes that clear.
Yet making the Trump comparison could make some Red State viewers flee. In this case, that's a calculated risk.
Does anyone think Hayek's celebrity clout will hold much sway over audiences this summer?
Click To Tweet
If "Beatriz" were a $200 million tentpole movie or sequel the marketing team would be delusional to think that tactic would work. Franchise films demand a wide, voracious audience to buy tickets and spread the word on social media.
An indie film needs a tiny slice of that review stream. That's it.
And, frankly, most independent films don't ever achieve that. Consider these high profile indie films from 2016 that made a pittance (data courtesy of BoxOfficeMojo.com):
"Miles Ahead" starring Don Cheadle – $2.6 million
"Paterson" starring Adam Driver – $2.1 million
"The Comedian" with Robert De Niro – $1.6 million
"Elvis & Nixon" with Kevin Spacey – $1.1 million
And many others secured far fewer ticket sales. Does anyone think Hayek's celebrity clout will hold much sway over audiences this summer?
It's doubtful, and that's no sleight against the Oscar nominee. It's just brutal for indie films to square up against summer blockbusters. And, as we've seen with the growing figures for "The Late Show with Stephen Colbert" and "The Daily Show," bashing trump will draw a crowd.
Not a huge crowd, mind you. But if progressive movie goers see the Trump quote on the "Beatriz at Dinner" poster it might seal the deal for them.
Ka-ching.
The downside? The red state unease with Hollywood will be fanned anew. That's the industry's problem, though. If you're on Team Beatriz you play the Trump card now. It's your best chance at turning a profit.