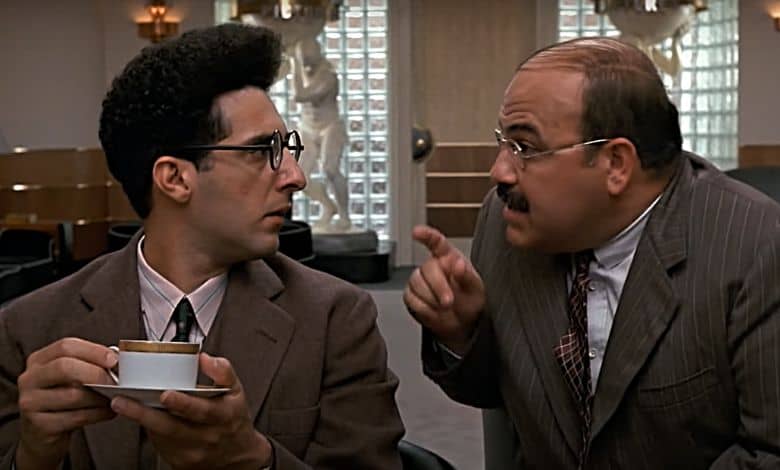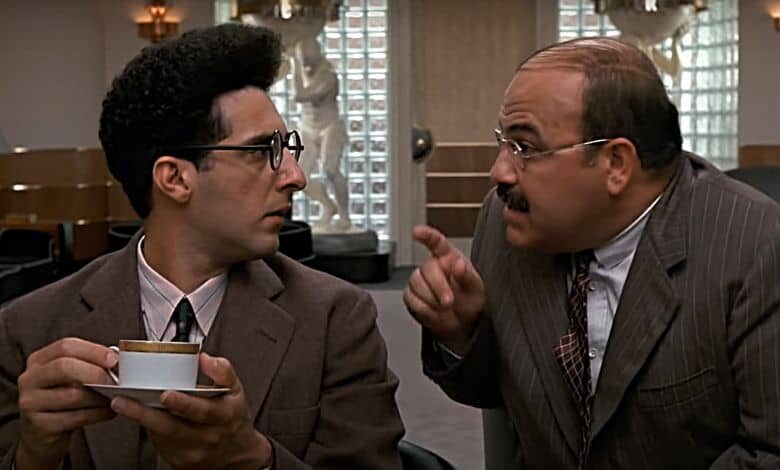 Throughout "Barton Fink," a film producer named Lipnick (Michael Lerner, in an Oscar-nominated turn) speaks of craving "that Barton Fink feeling" in a screenplay.
Namely, an honest, sublime truth that's lacking in the normal Hollywood fare.
What the fourth film from writer/directors Joel and Ethan Coen offers, then, is that Coen Brothers feeling. We're in a different world, with characters and places created from a couple of wildly original filmmakers, seeing and hearing things that we've never witnessed before.
Their films are gifts to anyone who loves movies, and "Barton Fink" is among their essential masterpieces. It's a work that celebrates, and even apologizes for, the creators who live "the life of the mind."
It begins in New York, 1941 as Fink (a jittery John Turturro) is watching a production of his latest play wrap up its final scene in front of an audience. Fink is clearly a tortured artist – note his fixed expression in his first scene. The play's acclaim finds Fink being summoned to Hollywood, where he's tasked with writing a feel-good, crowd-pleasing movie.
Fink's assignment is to create a screenplay for a dramatic wrestling movie, called "The Burlyman," tailor made for movie star Wallace Beery (a real-life B-movie actor). Lipnik wants "a Wallace Beery wrestling picture" but Fink, neither an athlete with any sense of the sport or a quick-on-his-feet writer who can conjure up a contrived story on the spot, doesn't know how to start.
While struggling with putting the first few words of the screenplay together, Fink settles down in a lush, if dingy hotel, called Hotel Earle, where the bellman (named "Chet!" and played by a wonderful Steve Buscemi) is helpful but stern.
RELATED: 'Miller's Crossing' at 30 – the Movie That Changed the Coen Brothers
Fink's room isn't much and neither is the wallpaper…that disgusting wallpaper, which occasionally oozes off the panel.
Fink finds an unlikely friend down the hall, a loquacious salesman named Charlie Meadows (John Goodman). The friendship inspires and encourages Fink, as the words start to come but the world around him grows increasingly strange and dangerous.
The Coen Brothers on 'Barton Fink' and Audience Feedback | The Dick Cavett Show
Some questions that bubble up – Is Charlie Meadows real or a character Fink created? After all, every time Barton begins to write, Meadows shows up. Note how Fink's wiggling into slippers is followed with Meadows showing up and noting that Fink is wearing his slippers. Or maybe Meadows is the Devil and is the Hotel Earle actually Hell?
Can any of the events that take place within the Hotel Earle be taken as a literal part of the story or are we witnessing Fink's imagination taking over?
Maybe a better question – is Barton Fink an amalgam of Joel and Ethan Coen, who have experienced their own agony working for the Hollywood system (think: "Crimewave," the 1985 flop they wrote, Sam Raimi directed and all involved have tried to forget).
The image of a man furiously typing and struggling to come up with each following word has never been the most cinematic trope. This is the rare film about a writer that works. Fink insists that "a writer writes from his gut." However, it's the head, both Barton's and that of others, that gets the most emphasis.
RELATED: 19 Perfect 'Raising Arizona' Movie Quotes
"Barton Fink" is bookended by the shot of wallpaper. Another key image – Barton lays back on his chair, hands rested on the back of his head, suspended over the floor pattern, as though floating through the cosmos.
It bears a visual similarity to the poster image of Jack Nance in "Eraserhead."
At another point, the camera goes down the sink, giving this a connective visual thread to the final shot of "Blood Simple," the Coen brother's astonishing debut film.
This is a period piece, though doesn't have to be, as this story of a writer who wrestles (the apropos word) with his ability to craft a for-hire narrative could easily have been contemporary.
FAST FACT: Cannes acclaim didn't help "Barton Fink" stateside. The film earned an anemic $6 million during its 1991 U.S. release.
As a metaphor for the creative process, it's a rich, thoughtful work on the gap between inspiration and the nitwits who don't find value in truth. At one point, Fink, both pleading and painfully honest, tells an unhappy superior, "I tried to show you something beautiful, something about all of us."
It takes place in creative spaces – the theater, a producer's office, a writing desk and in a hotel that is as cluttered and colorful as Fink's imagination. The hotel slogan is, "Hotel Earle – A Day or a Lifetime." The lobby of the hotel suggests nature merging with architecture.
Many have noted that Fink is akin to a stand-in for Clifford Odets and John Mahoney is playing a Faulkner-like writer, though I see Mahoney's Bill Mayhew as more of Paul Bowles and his wife (Judy Davis, sublime playing a strikingly similar, though far darker role, in David Cronenberg's "Naked Lunch" the same year).
Naked Lunch (1991) ORIGINAL TRAILER [HD]
There is a Kafkaesque paranoia running through the film and Fink encounters anti-Semitism from Lipnik and the cops who close in on him. There are Preston Sturges-like comedy beats, with colorful characters and delicious chatter giving each moment its own rhythm. Yet, this also has jolting switches to all-out horror and casual surrealism, which is why it continues to either delight of baffle adventurous filmgoers and faithful fans of the Coen's.
As strong as Turturro's work is, Goodman is incredible in this, giving every one of his lines a possible double meaning, which grows more apparent from subsequent viewings. Goodman has been absurdly overlooked for his long list of award worthy performances and this is the near the top.
The sensation of 1991 Cannes Film Festival and a box office flop stateside, it is among the most challenging of the Coen Brother's films. Let that be a challenge and allow this exhilarating masterpiece to take up permanent space in your mind.