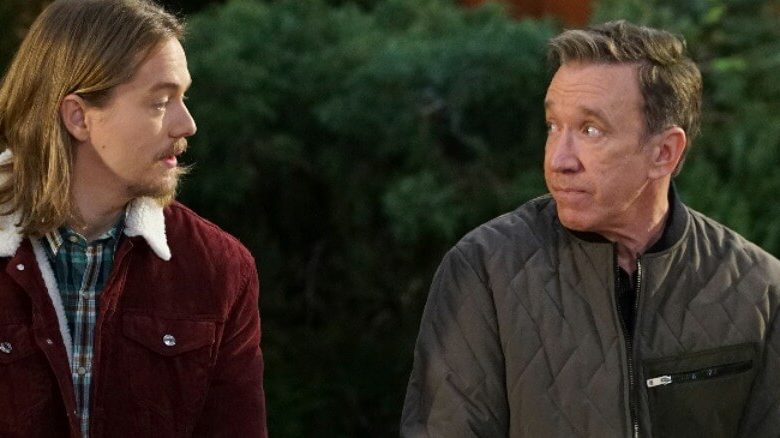 The attempt to shame conservative star Tim Allen is a textbook example of how liberals play the Selective Outrage game. And reporters are only too eager to join the fray.
The star of "Last Man Standing" recently cracked a joke about Hollywood's treatment of conservatives. Sitting on the couch at "Jimmy Kimmel Live," Allen explained to Kimmel the pressure his fellow Republican stars face in the Age of Trump.
"You gotta be real careful around here, you know. You'll get beat up if you don't believe what everybody believes. It's like '30s Germany."
Tim Allen on Going to Donald Trump's Inauguration
Allen said it with a smirk. That wasn't enough for Steven Goldstein, the executive director of the Anne Frank Center.
"Tim, have you lost your mind?" Goldstein wrote in a Facebook post.
"No one in Hollywood today is subjecting you or anyone else to what the Nazis imposed on Jews in the 1930s," said Goldstein directing Allen to leave his "bubble" and "apologize to the Jewish people" as well as "other peoples targeted by the Nazis."
Stop the Presses!
Goldstein's comments attracted instant attention from most major news outlets. Time Magazine. The Hollywood Reporter. Variety. Entertainment Weekly. USA Today.
Reporters slavishly weaponized Goldstein's comments to embarrass Allen into an apology. And, perhaps, silence the fact that he had a point.
The joke wasn't Allen's finest. Yet Allen is hardly the first celebrity to make a clumsy reference to either Nazi Germany or Adolf Hitler over the past few months. Heck, it's become mainstream for celebrities to invoke the era to slam President Trump.
And most aren't joking.
Sarah Silverman donned a Nazi outfit and a Hitler mustache to talk Trump on TBS's "Conan" show.
Cher sent out the following tweet: "LIKE TRUMP,HITLER CAUSED CHAOS&FEAR,THEN SAID HE WAS THE ONLY MAN STRONG ENOUGH 2KEEP PPL SAFE& KEEP TROUBLE MAKERS FROM RUINING THE COUNTRY."
Green Day singer Billie Joe Armstrong told Kerrang! Magazine: "He's preyed on their anger…He just said, 'You have no options, and I'm the only one, and I'm going to take care of it myself.' I mean, that's…Hitler, man!"
"Transparent" creator Jill Soloway called Trump a "complete dangerous monster" at the 2016 Emmy Awards Ceremony, adding "and at any moment that I have to call out Trump for being an inheritor to Hitler, I will."
Director Spike Lee told The Daily Beast Trump would shutter mosques. "That's like the Nazis. That's like Hitler, Mussolini, the Axis Powers. You can't do that.."
Ashley Judd's comments at January's Women's March featured her approvingly quoting from a young poet: "I am not as nasty as a swastika painted on a Pride flag and I didn't know devils could be resurrected, but I feel Hitler in these streets."
Actress Leighton Meester recently insinuated Trump was worse than Hitler
That's just a partial list.
And yet The Anne Frank Center appeared to ignore those outrageous comparisons. A good faith Google search didn't find evidence the Center took those stars to task.
So we reached out to both the Center and Goldstein to ask why.
Here is Goldstein's swift response:
"We have watched Tim Allen's appearance on Jimmy Kimmel Live closely.  He was not engaging in satire but rather, making a comparison he took seriously.  As an organization, we have issued numerous statements cautioning even our own supporters not to compare President Trump, whose civil and human rights policies we abhor, with Hitler.  No one can't credibly claim we are selective with whom we take issue when it comes to Antisemitism and other prejudice."
This reporter politely asked via email both Goldstein and the group's press representative for any examples where the Center took the aforementioned stars to task for their Nazi comparisons.
No response.
Why?
Tim Allen, Conservative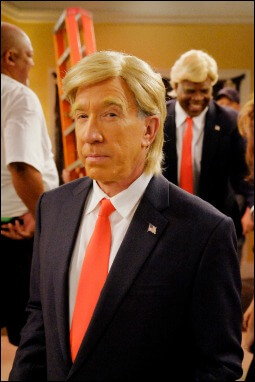 Could it be that Allen votes for the GOP while the other stars making the Hitler comparison are liberals? You don't have to dig too deeply into the Anne Frank Center's social media presence to see a decidedly liberal tilt.
And that's fine.
The center's selective outrage? That's another matter. And why aren't media outlets asking the very same question? They've reported on the stars' Hitler Card obsession for a full year now. Why not ask the Anne Frank Center why it didn't slam other celebrities, too?
It fits a familiar pattern.
When rapper Bow Wow Tweeted about pimping out First Lady Melania Trump there was precious little outrage. The press' reaction was muted.
No major women's group called for the rapper to apologize. Imagine if a conservative country star had said something similar about First Lady Michelle Obama?
This reporter reached out to the National Organization for Women to respond to the rapper's heinous tweet. The group said it didn't have a spokesperson available to comment.
This Isn't a New Story
Allen's comments came on the heels of two major media outlets essentially admitting to Hollywood's suffocating attitude toward conservatives. Both the LA Times and The Hollywood Reporter published articles explaining how conservatives are mistreated in Hollywood.
GOP actors have met in secret for years while liberals stars flaunt their Democrat fundraisers. It appears to be getting worse since President Donald Trump took the oath of office.
Let The LA Times paint the picture:
For the vast majority of conservatives who work in entertainment, going to set or the office each day has become a game of avoidance and secrecy. The political closet is now a necessity for many in an industry that is among the most liberal in the country.
Have other outlets started investigating the threat to free speech in an industry that allegedly thrives on it? Not yet, at least. Salon.com mocked how conservatives call the unequal treatment the "new" blacklist. So did the AV Club, the partisan news wing of the liberal comedy site The Onion.
So there you have it. A liberal organization attempts to silence a conservative star for speaking the truth in an admittedly clumsy fashion. And the press, oh so happy to slam a Republican while downplaying Hollywood's oppressive nature, pounces.
It's another sad example of the entrenched biases in both the press and Hollywood. That's something everyone should be outraged about.