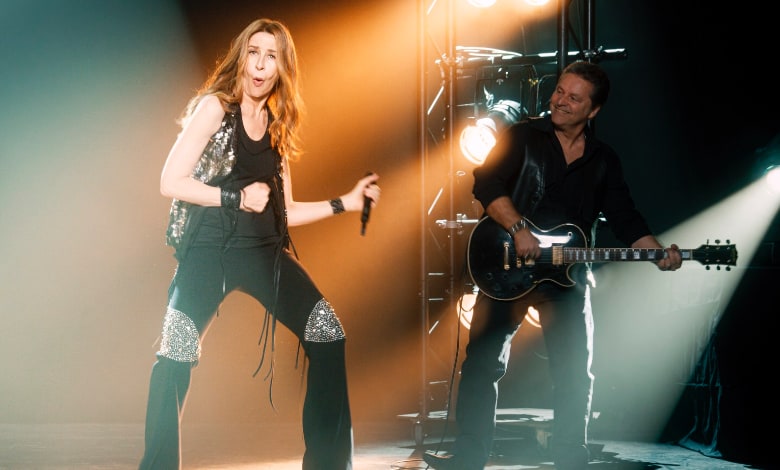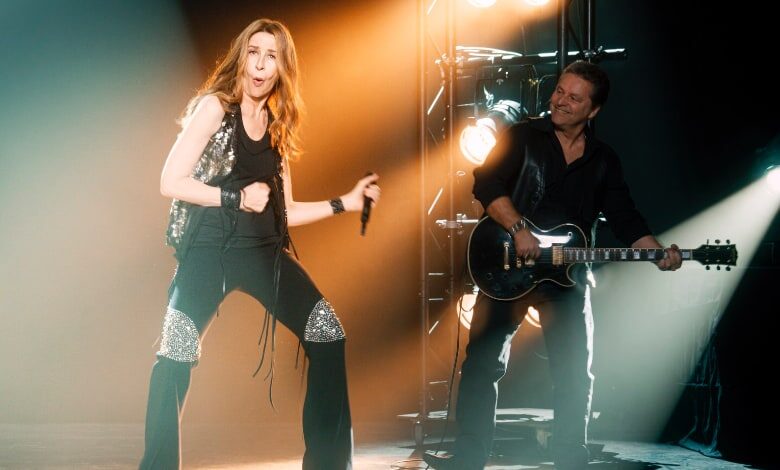 Valerie Lemercier's "Aline" is a strange and dull film about the life of Celine Dion, a performer most would agree deserves a proper film bio.
I love Dion and, from the trailer, thought this was going to be a jukebox musical drama, akin to the likes of "Walk the Line," "Respect" or "Bohemian Rhapsody."
Boy, was I wrong.
Aline | Official Trailer | In Theaters April 8
Lemercier wrote the film (with Brigitte Buc), directed and stars as Aline Dieu – the names have been changed but make no mistake, this is The Celine Dion Story, complete with a handful of Dion songs, her show business origin story and even a portrayal of how she met her husband.
At one point, a character accidentally calls Aline "Celine," just to remind us who this is really about.
Here's the thing about "Aline": it's about Dion but it has little to say about her. However, it says an awful lot about Lemercier, whose earnest, redundant, poorly paced and flavorless film is both a love letter to its subject and especially a showcase for its star.
While Lemercier never sings (she lip synchs to the convincing Dion sound alike vocals of Victoria Sio), she's in every scene. I don't know how old Lemercier is currently (and I won't be rude and report her age) but, as an example of her gall and a big reason "Aline" never connects, is that the star is playing Dion from age 5 to 56.
Yes, that's Lemercier playing a child in the opening scenes. Later, Lemercier plays Aline as a youngster, a teenager and a 20-something, but always looks decades too old. It's an insane choice.
View this post on Instagram
Perhaps the idea was to state that Aline was always a woman on the inside…or some nonsense like that, I dunno. The bottom line is that Aline Dieu always looks like she goes to the same school as Evan Hanson.
Yes, I'm referencing the disastrous casting of 28-year-old Platt portraying a high schooler in last year's awful "Dear Evan Hanson."
In doing so, Platt appeared to be doing 21 Jump Street undercover duty. The reviews, and box office receipts, were far from kind.
Dear Evan Hansen | Final Trailer | In Theaters September 24
Yet, that pales in comparison to "Aline," which not only has the title role played by an actress too old to pass for a grade schooler, to put it mildly, but there's no title cards telling us what year it is.
Scene after scene, we have no idea where we are on the Aline/Celine career timeline and, since our lead actress always appears like a Canadian Benjamin Button, it's impossible to guess when the film is taking place.
The screenplay doesn't serve its subject well, as there are whole pieces of Dion's story missing. There's no mention of when Dion/Aline recorded her first English language songs and completed an album for the U.S. (the 1990 "Unison"), so we never grasp how she became a crossover success.
Here, we see her perform a random assortment of songs, appear on French Canadian talk shows and suddenly she's given the demo tape for "My Heart Will Go On." I was still waiting for the reveal that her "Where Does My Heart Beat Now" was an international success but no, the film skips that.
Imagine a movie about Elvis Presley that leaves out "The Ed Sullivan Show" or a Beatles bio minus the release of "Meet the Beatles!"
RELATED: Here's the Fatal Flaw in Too Many Musical Biopics
What is included at length is Aline's relationship with her manager, Guy Claude-Kamar (Sylvain Marcel), an obvious stand-in for Rene Angelil. Marcel has an uncanny resemblance to the man he's playing, but he and Lemercier have no chemistry.
Dion recently lost her husband to cancer, so I'll tread carefully, as I mean no disrespect: as the film portrays their union, it could be interpreted that Guy had been grooming Aline since she was a pre-teen; the film never comes out and says it, though it stops short of declaring their union as inappropriate.
"Aline" really should have made a decision to either go dark or to defend the integrity of the couple's relationship.
"Aline" is well made and certainly ambitious, though it feels twice as long as its 126-minute running time. Even without Lemercier's ill-considered aging stunt, the movie drags and never connects emotionally. The third act is numbing, with its revolving scenes of concert performances, Aline in her apartment, conversations in the back of the limo, another concert scene and repeat.
I'm not a Dion superfan but I listen to her music often, especially the early '90s tunes ("Nothing Broken But My Heart" is my favorite of her ballads). "Aline" doesn't cut it as a jukebox musical, as there isn't enough of Dion's actual music in this.
I love "I'm Alive," though that tune (the theme from "Stuart Little 2") is one of the few hit Dion tracks on the soundtrack. Even if you change the channel whenever that song from "Titanic" comes on, sitting through a movie about Dion shouldn't feel like a chore, but that's what "Aline" is.
Roadside Attractions' Celine Dion biopic, ALINE, hit a clamorous box office note, debuting with just $21k in 61 theaters, $355 per. pic.twitter.com/9MjTsiJJyj

— Exhibitor Relations Co. (@ERCboxoffice) April 11, 2022
The irredeemable moment comes in the form of Guy's proposal to Aline, in which he treats Aline and her band to ice cream in Naples; Guy has the ice cream vendor stick a big diamond ring in Aline's ice cream cone, which she discovers in time before swallowing it. She then dances around a fountain.
The scene is one of the many concocted for the film, though the ludicrous nature of it is actually insulting. Would Dion's manager stick a wedding ring in a glob of ice cream, when there was real danger that Dion would A. swallow it, B. choke or C. all of the above and permanently damage her vocal chords?
Of course it didn't happen in real life, though it says much about how foolish "Aline" is that the scene appears here.
Lemercier deserves either credit or infamy for what she's attempted here but really, even the music video "Ashes (from Deadpool 2)" is a better Dion movie than "Aline."
One Star