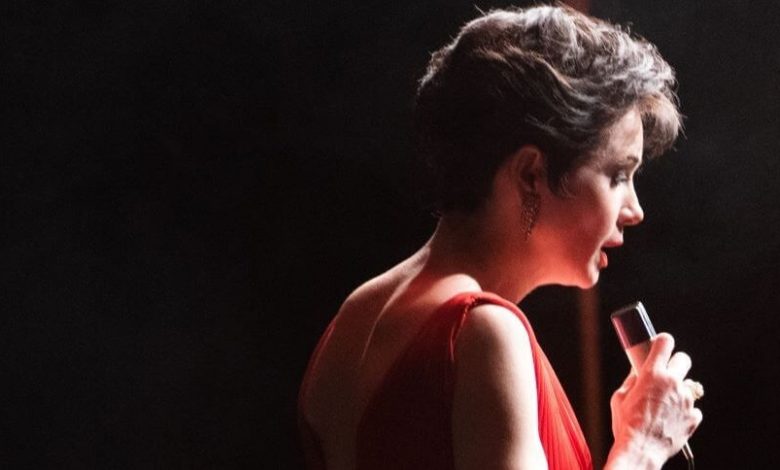 Joaquin Phoenix did a marvelous job emulating Johnny Cash in the 2006 biopic "Walk the Line."
The attitude. The sneer. The stage presence.
But not the voice. That voice.
The actor couldn't duplicate Cash's inimitable sound. Who could?
Walk the Line (1/5) Movie CLIP - I Walk the Line (2005) HD
That film still snagged co-star Reese Witherspoon an Oscar for playing June Carter Cash. "Walk the Line" earned $119 million at the U.S. box office. The team behind the film should have used Cash's singing voice, though, to complete the effect.
A marvelous movie would have become transcendent.
It's a problem facing the latest musical biopic. "Judy," out Sept. 27, features Renee Zellweger singing like Judy Garland once did. Can those notes pack a fraction of the legend's punch? If not, how might it hurt the film's bottom line?
JUDY Main Trailer [HD] - Renee Zellweger is Judy Garland
We just saw older audiences flock to see "Downton Abbey," a British import with a deep connection to 40-plus crowds. Wouldn't the same patrons line up to "hear" Judy Garland anew?
Last year's smash "Bohemian Rhapsody" proved a fascinating lesson when it comes to lip synching on screen. Star Rami Malek earned an Oscar for portraying Freddie Mercury, Queen's iconic lead singer. Malek deserved the honor, even though he only contributed to his character's singing performances.
The creative team allowed Malek's voice to intertwine with Mercury's pipes at times, but when it came to belting out Queen's arena anthems it's pure Mercury.
And what a joy it was.
The film took massive liberties with the Queen narrative, the kind that left rock purists scratching their heads. By leaning on Mercury's voice it became a smash anyway. Who wouldn't want to re-watch the film's Live Aid finale again just to hear Mercury one more time?
The lack of lip synching impacted "Rocketman," a film expected to duplicate "Bohemian Rhapsody's" success. The Elton John biopic benefited from a committed turn by Taron Egerton and some seriously creative sequences. Still, Egerton's impression of John's voice couldn't match the real deal, even if John approved of the star's approach.
Elton John & Taron Egerton - Rocket Man (Cannes Film Festival 2019)
Did the film's disappointing box office haul ($96 million) reflect that disconnect?
The argument for actors singing the songs in question is simple. We know the music so well that, to watch an actor, particularly a recognizable star, pretend it's their voice would be distracting.
That didn't happen with "Bohemian Rhapsody." A great performer can sell us virtually anything.
Jamie Foxx shrewdly lip synched during his Oscar-winning turn in 2004's "Ray." Foxx is a gifted musician beyond his acting chops. He and/or his colleagues realized the folly of replicating Ray Charles' unmistakable voice, though.
One recent musical biopic showed the lip synching formula isn't bullet proof for modern fans.
The 2014 James Brown biopic "Get On Up" failed commercially, and that film used Brown's actual vocals. Chadwick Boseman's dynamic turn as the Godfather of Soul should have drawn a larger crowd. Still, the film will age better thanks to its insistence on keeping Brown's growl intact.
Get on Up (2014) - Soul Power Scene (10/10) | Movieclips
Malek said it best during the promotional push behind "Bohemian Rhapsody." He explains to an NPR reporter where his voice stops and Mercury's starts in the film. And why, at the end of the day, that's what had to happen.
What I quickly realized was no one can sing like Freddie Mercury, and nor can I. It's very difficult to get my voice up to those high notes, and at some point, my voice breaks. And it breaks pretty quickly when I'm trying to ascend what Freddie Mercury can do.
The movies are all about make believe, transporting us to another time and place. If we truly want to revisit icons like Freddie, Judy, Johnny or Elton, we need to hear their voices again.
Accept no substitutes.