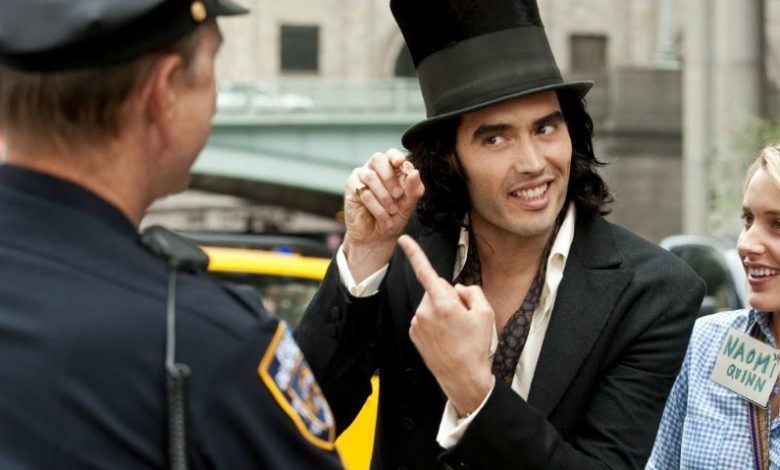 Not every actor enjoys a career like Meryl Streep, Clint Eastwood or Denzel Washington.
That Hollywood holy trinity just keeps up working, and audiences certainly don't mind. These stars muscled past aesthetic changes, cultural shifts and simply the passage of time.
The latter is always the toughest enemy for any star.
Staying at or near the top is much harder than it looks in a competitive industry like Hollywood. And it's not as if each of the aformentioned stars avoided clunkers.
Washington survived "Carbon Copy." Eastwood left "Pink Cadillac" behind. Streep's body of work makes it easy to forget "She Devil."
And yet other actors have fallen hard after a complex serious of obstacles. The following five stars may still work, but their careers are clearly in decline.
Russell Brand
The bawdy Brit broke out with his scene stealing turn in "Forgetting Sarah Marshall." He was witty, brisk of tone and wholly original.
Then, slowly, his avuncular presence started to sour.
He made lousy film choices (a toothless "Arthur" remake). His personal life overwhelmed his star status (hello… and goodbye Katy Perry). And his shift to full-time socialist activism alienated audiences while highlighting his personal hypocrisy.
RELATED: Brand Blames Western Culture, Media for ISIS
Now, he's relegated to straight to DVD fare like "Army of One." He's also either unwilling to play the Hollywood game or unable to get back on the industry's A-list.
He's still young and ripe for a second act. That's assuming he wants to drop his socialist-loving ways long enough to get back to work.
Ashley Judd
Young, beautiful actresses often have a short shelf life in Hollywood. It's not fair, but it's often true. Think of all the actresses who worked constantly during the '80s and '90s who rarely snare major gigs these days.
Penelope Ann Miller rushes to mind.
So Judd's descent shouldn't be surprising. She simply helped matters along, often in an aggressive fashion. Judd's political feint proved shallow and a tad embarrassing. Her recent film roles couldn't slow her career descent.
And who can forget her comments at the Women's March in D.C. in January. That rambling, frightened speech, highlighted by a crude Hitler Card play, revealed her as a C-list provocateur at best.
Sacha Baron Cohen
"Borat" dropped an Atom bomb on the comedy landscape. Suddenly, star/creator Sacha Baron Cohen could do no wrong.
The partly improvised romp rocked the box office and showed Cohen as a nimble, and often outrageous talent. What would he do for an encore?
His "Candid Camera" style formula fell instantly flat with "Bruno," and he was forced to try more conventional comedy stunts. Diminishing returns followed. The mediocre romp "The Dictator" gave way to the box office dud "The Brothers Grimsby."
The Brothers Grimsby - Official Trailer (HD)
In between, he proved reliable as a supporting comic player ("Sweeney Todd," "Talladega Nights"). His early promise suggested something more potent: a comic innovator who would take film comedy in fresh directions.
We're still waiting.
Worse, his potential breakout project, a Freddie Mercury biopic, never materialized.
Val Kilmer
Kilmer's name pops up these days for all the wrong reasons. is the "Top Gun" star really ill? Why did he send those curious Tweets to Cate Blanchett?
The bigger question? What happened to the charismatic guy who turned in so many indelible performances a decade-plus ago?
"Batman Forever." "Real Genius." "Top Gun." "."Tombstone." "Top Secret!"
Top Secret! (3/9) Movie CLIP - Some Bad Movie (1984) HD
You can't keep blaming his misbegotten remake of "The Island of Dr. Moreau" forever. For Kilmer, it could be the cumulative effect of his nasty reputation. Actors are loathe to attack each other in the media. It's a very hard job, and there's always the chance you'll work with the guy or gal you just slammed to an eager reporter.
Yet folks don't hold back when describing what it's like to work with Kilmer. Particularly the directors who worked with him at the peak of his success.
Lindsay Lohan
Just about everyone with a TV or Internet connection can trace this starlet's decline.
The fresh-faced child star transitioned smoothly to more sophisticated roles with "Mean Girls." Then, personal disaster struck.
Addiction. Oversharing. Lousy film choices. Failed comeback attempts.
Her 2007 film "Georgia Rule" didn't restart her career. It did, however, confirm her toxic status. One of the film's producer released an open letter blasting Lohan for arriving to the set late and other unprofessional behavior.
You can get away with plenty in Hollywood. Just ask director Roman Polanski. You better show up all the same.
Now… who knows what career, if any, Lohan can reconstruct. She's the baby of this quintet at 30 years of age. Yet in some ways her resurgence is the most unlikely of this group.