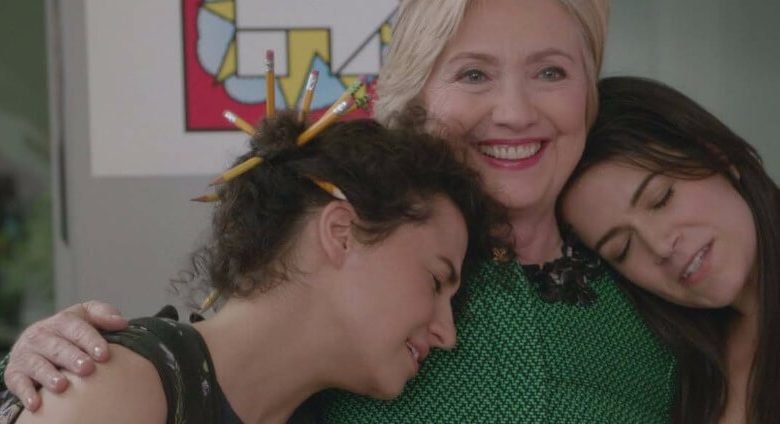 If "woke" isn't the word of the year it's in serious contention.
The term refers to an enlightened state of mind. More specifically, a progressive world view that won't stop with mere words. Woke hit the mainstream this year but dates back to the Ferguson imbroglio.
The word woke became entwined with the Black Lives Matter movement; instead of just being a word that signaled awareness of injustice or racial tension, it became a word of action. Activists were woke and called on others to stay woke.
The word became so commonplace it earned a spot in the Merriam-Webster dictionary in September.  And, since "progressive" and "Hollywood" are often synonymous, it's de rigueur in entertainment circles.
Not all progressives are woke, but many are.
Woke shows like "Broad City" and "Transparent" earn endless praise from critics. We'll soon see a broadcast sitcom following a newly woke soccer mom and her (presumably) troglodyte parents (read: conservative).
The term only goes so far in La La Land, apparently. In fact, many bastions of woke aren't woke at all. And we can blame the Harvey Weinstein scandal for exposing that ugly truth.
Thrown Under the Bus
To be woke means feminism on steroids, rejecting the white male patriarchy in the process. And yet the behavior thriving in Hollywood for many years was anything but feminist. Try pure, unadulterated cave man.
It all started with the Weinstein revelations. The mega producer, a key Democratic bundler, allegedly assaulted a number of actresses over decades in the business. It was the worst "open secret" in Hollywood, but everyone from actors to industry insiders kept it all same.
Meanwhile, innocent young women were pawed at, pressured and made to feel like dirt while Weinstein's power infrastructure remained intact.
You can't expect a 20-year-old actress to blow the whistle on a Weinstein. Yet established stars who could withstand a blow to their careers – think Brad Pitt or Gwyneth Paltrow – stayed silent.
Brad Pitt Warned Harvey Weinstein Not to Touch Gwyneth Paltrow Again
The Weinstein affair unleashed a torrent of similar accusations. Take prolific showrunner Andrew Kreisberg, a driving force behind both "Arrow" and "Supergirl." Kreisberg got suspended by Warner Bros. TV Group after 19 staffers said he sexually harassed them in a variety of ways.
Yet his "Supergirl" series fully embraced the "resistance" movement aimed at unseating President Donald Trump and his allegedly misogynist ways. That's woke personified.
Here's a sample line from one episode:
"Resist. Resist these invaders with everything you've got. They come with empty promises and closed fists. They promise to make our world great again, and yet they know nothing about the people who make this world great."
Beyond the overt lectures came the show's feminism, a critical element of its DNA.
"Arrow" also squeezes woke elements into its programming. That's not an accident given the show's producer is a self-described "unapologetic progressive" named Marc Guggenheim.
Yet a visionary behind both "Arrow" and "Supergirl" may have repeatedly degraded women. Another "open secret" kept?
Nothing 'Transparent' Here
The wokest show on the small screen also proved problematic behind the scenes. Amazon's "Transparent" follows a senior citizen (award winner Jeffrey Tambor) as he transitions to his fully realized self: a woman.
Transparent Season 1 - Official Trailer | Prime Video
The series treats trans characters with the utmost respect. Show creator Jill Soloway, who eschews gender labels in real life, has made no secret of the show's culture war mission. That includes featuring non-binary characters in the narrative to stoke acceptance.
Yet Tambor, who feels shame for being a cisgender male in a trans role, is now accused of sexual harassment himself. His targets? Not one but two trans members of the show's team. Was this an open secret, too, or were there ways women could speak out?
Not Ready for Prime Time Spin Meisters
"Saturday Night Live" once cuts its teeth on edgy comedy that made viewers uncomfortable. Today? It's aggressively liberal, attacking any politician with an "R" affixed to his or her name.
Message from the DNC - SNL
A recent sketch mocking the Democrats' "deep bench" was both hilarious and an exception to the rule. When a show repeatedly lionizes a Democratic president and mourns another Democrat's defeat at the ballot box it's clear where it stands.
Yet 36 current and past "SNL" women (including original players Jane Curtin and Laraine Newman) gathered recently to pledge their support to … Sen. Al Franken, the Minnesota Democrat.
Is that even remotely woke given the photographic proof against him?
Yes, Franken is a former "SNL" player and scribe. He's also Minnesota's junior Senator, one knee deep in sexual harassment charges.
"What Al did was stupid and foolish, and we think it was appropriate for him to apologize to Ms Tweeden, and to the public … In our experience, we know Al as a devoted and dedicated family man, a wonderful comedic performer, and an honorable public servant."
Since then, more women have come forward alleging similar conduct from the Senator. We're waiting to read an update on that "SNL" letter.
Unfunny Business
The sudden fall of comic Louis C.K. shocked more than just Hollywood. His serial masturbation in front of unwilling women brought a ghastly new perspective to his self-pleasure routines.
What happened next? He lost every gig he had in Hollywood. Worse? His Oscar-season film "I Love You, Daddy" got yanked off the schedule, and it's unclear when, or if, he'll work again.
I Love You, Daddy Trailer #1 (2017) | Movieclips Indie
Yet once more the comedian's actions were an open secret. So why didn't anyone within his ranks sound the alarm? The current comedy scene is overwhelmingly liberal. Surely some stand-ups knew enough to say something.
Aziz Ansari, whose Netflix series "Master of None" is considered a woke masterpiece, was asked point blank about it. Did he speak truth to power, protecting his female comics in the process? Nope.
It gets worse. Vice recently shared the chilling connection between the Weinstein and C.K. scandals.
John Levenstein, who's produced and written for Arrested Development, Silicon Valley, Kroll Show, and appeared on Portlandia, told me in a text message, "Anyone in comedy who says they weren't aware of the rumors is full of s***."
None of this should come as a surprise. Hollywood celebrities constantly rally for diversity while the industry's track record on the subject remains dismal. They demand more gun control but live in a world with fences and armed security details. That's on top of creating content that consistently glorifies gun violence.
And when they embrace their newly woke personas it doesn't stop them from keeping secrets that should never be held … or supporting politicians who only talk a good game about women's rights.