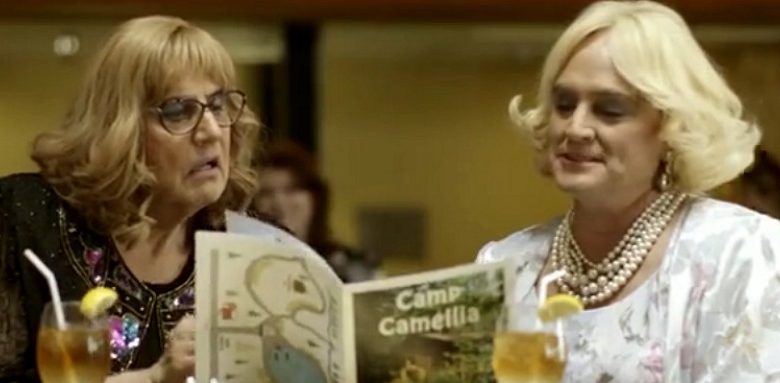 But his new role as a transgender man transforming into a woman on Amazon's "Transparent" has even more personal significance for him.
That's because he has had several transgender relatives himself, and when offered the chance to portray such a character he saw it as a chance to bring greater public awareness and understanding to their journeys.
In fact, Whitford is so committed to the role that he'll be speaking about it at 10:15 a.m. Feb. 15 in the Rector's Forum at All Saints Church, his place of worship in his hometown of Pasadena, California. The actor discussed the show, its attendant controversies and more on the "Kozversations" podcast on www.radiotitans.com.
Transparent Season 1 - Official Trailer | Prime Video
"I play a guy named Mark, who is kind of actually homophobic when we meet him, but he's in a marriage and secretly cross-dressing," says Whitford. "He meets Jeffrey [Tambor's] character and dresses for the first time with another man … it was a very fun, exciting, scary thing to do. It was an acting job that scared me, putting heels on and wearing a dress terrified me. I spoke with Jill [Soloway], our writer [and creator of "Transparent"], and it was an amazing experience."
While "Transparent" recently won Golden Globes for Tambor's lead performance and Best Comedy Series, there are pockets of America where the show's themes aren't so welcomed. Yet Whitford says that the show's ability to straddle both funny and serious points makes it special.
"I don't think as an actor in it I get a very objective view of how it's being received, but what I'm hearing is very, very positive," says Whitford. "One thing I really love about the tone of this show is that it treats the issues, I think, very sensitively and with dignity, and at the same time you have these moments where confusion about gender and about sexuality all turns it into a sex farce while simultaneously dealing with very complicated issues. That tone is a very unique combination. Usually with issues like this they get treated either obnoxiously broadly comically or in a kind of irony deficient, earnest way. I love the combination."
Whitford says the show lacks an overt political message, but he acknowledges "Transparent" will have an impact all the same.
"There's no specific agenda beyond putting a human face on an issue that for a lot of people is hard to grasp," he says.
To hear the rest of Whitford's interview, including the difference between "The West Wing" and "Transparent" experiences, whether the show's social agenda overpowers it, and this sense of using acting as a mission for social change, visit www.radiotitans.com and find it in the archives on the "Kozversations" show page, located at www.radiotitans.com/kozversations-2.
*   *   *
Carl Kozlowski is a veteran film critic for and the entertainment editor at the alternative newspaper Pasadena Weekly, in addition to being the film critic for Catholic News Agency and Movieguide. He also is a professional stand-up and the winner of the America's Funniest Reporter title from the Laugh Factory club in Hollywood. He is the founder and head of the podcasting site Radio Titans.