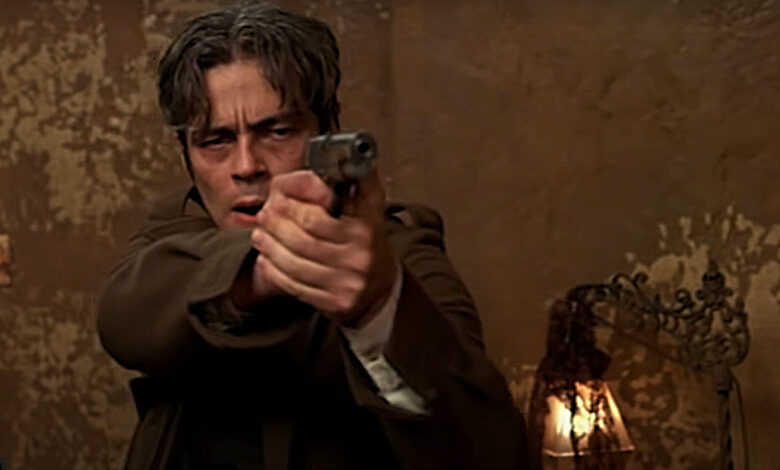 Christopher McQuarrie may be in charge of the successful "Mission: Impossible" franchise today, but his directorial debut defined rebel cinema.
It also nearly set his career back before it had actually started.
McQuarrie made a name for himself almost right out of the gate with the '90s cult classic "The Usual Suspects," a film that won him an Oscar for Best Original Screenplay.
It took five years, however, for another McQuarrie feature to make its way to the screen in the form of 2000's "The Way of the Gun."
The Way of the Gun (1/9) Movie CLIP - Raving Bitch Knock-Out (2000) HD
It's not the type of glamorous film you'd expect from the screenwriter who is the toast of the town, but McQuarrie explained in subsequent interviews that winning an Oscar meant Hollywood wanted him to make their movies, rather than vice versa.
"The Way of the Gun" proved an $8.5 million experiment.
McQuarrie wanted to push every boundary he could and spit in the face of perceived rules. Above all, the movie is a clear middle finger to what was just a whisper then compared to today:
Political correctness.
From the opening scene, McQuarrie makes it clear that he is not going to be holding back or playing it safe. After he's made that point, he makes it again.
The film clobbers you over the head in the form of Ryan Phillippe's Parker and Benicio Del Toro's Longbaugh getting into an exchange of curses that would make Richard Pryor blush. Next, we see a fistfight where our protagonists swing against anyone they don't approve of – AKA everyone – including women.
Sarah Silverman, one of the punching victims, has a few lines she'd probably apologize to her woke mob about today.
"'The Way of the Gun' is nothing if not an allegory for my struggles in Hollywood. It's all in there. You just have to listen," McQuarrie told JoBlo about the writing of the film, which the site dubbed one of the "best movies you never saw."
RELATED: Meet the Man Behind that Spec 'Die Hard' Script
The plot is fairly simple. Two criminal drifters kidnap the pregnant surrogate mother of what they think is just a rich man. He turns out to be a rich and dangerous man. It's not so much the setup itself that works about "Gun" as it is the way McQuarrie lets everything play out. He often avoids exposition and tells his story through quiet character moments or chaotic gun battles.
It's a genre exercise treated with the same effort and respect as "high art," the sort of movie Sam Peckinpah would have made had he been around in 2000.
"Way of the Gun" got slammed as a Tarantino ripoff by many critics post-"Pulp Fiction." It was a trend for anyone who wanted to dismiss anything that pushed PC and ratings board boundaries and dropped pop culture references.
"Gun" should please Tarantino's base, but it's likely made more for the Mann-type fan. The hyper-stylized effort finds its groove in the minutiae of its characters and settings.
FAST FACT: "The Way of the Gun" didn't attract much attention at the box office in 2000, earning a weak $6 million stateside.
McQuarrie's Navy SEAL brother served as the movie's technical advisor, leading to some of the more unique and tense film gunfights. Phillippe, Del Toro and others don't look like actors pretending to shoot weapons; they look like people who have shot before, a rarity even among some of the world's most precious action stars.
Characters, most of whom have military backgrounds, move tactically in "Gun" and McQuarrie masterfully builds tension in certain scenes, like a slow crawl alleyway car chase scene (much more exciting than it sounds). The sequence sets up a rivalry that pays off in appropriately grimy and unforgiving fashion in the third act.
Combine this tension and gritty, Peckinpah-style action with a script that oozes noir, and you've got a film few would dare to make in 2000, and even fewer would dare to make now.
The Way of the Gun (6/9) Movie CLIP - Longshot for Mr. Longbaugh (2000) HD
Characters curse. They express unpleasant thoughts. They reveal themselves through their views of the world, and the writer is not afraid to hold back on any of them out of fear of offending a viewer. The writing crackles like a collection of brilliant, but unused Raymond Chandler or Frank Miller lines.
"We don't want your forgiveness. We won't make excuses. We're not gonna blame you, even if you are an accessory."
"Fifteen million dollars is not money. It's a motive with a universal adaptor on it."
"There's always free cheese in a mousetrap."
"Karma's justice without the satisfaction. I don't believe in justice."
Some exchanges feel like direct takedowns of cultural efforts to limit language and expression under the guise of social progress.
"It's not what you say anymore, is it? It's all in how you say it," Phillippe's Parker tells an employee at a sperm bank (don't ask) during an exchange about that certain word that landed Matt Damon in so much hot water recently.
It would take 12 years for McQuarrie to step behind the camera again.
The unique beast that was "Way of the Gun" nearly stopped McQuarrie's career almost as fast as it started. The once Hollywood darling bumped from one screenwriting gig to the next until he stepped behind the camera again for 2012's "Jack Reacher," setting off a years-long partnership with Tom Cruise that is continuing to this day.
Mission: Impossible - Fallout (2018) - Official Trailer - Paramount Pictures
McQuarrie has admitted "Gun's" abrasive and unapologetic nature made it a bit difficult for him to get the opportunity to direct again. The film's cult status, however, also got him hooked up with today's ultimate action star.
Cruise saw "Gun" and sought a collaboration with its writer/director.
The superstar was smart enough to profit off of his fandom by hiring McQuarrie to help pen movies like "Edge of Tomorrow" and "Top Gun: Maverick" while also tapping him to helm the latest installments of the insanely successful "Mission: Impossible" franchise.
That is why he's Tom Cruise.
There's no question today that McQuarrie is a masterful writer and director. He has staged eye-popping stunts in the "Mission" franchise and helped piece together intensely-studied cult pieces like "Tomorrow."
But these movies are McQuarrie on his best behavior, a more mature artist capable of navigating the Hollywood system to keep himself working and producing content. Once upon a time, though, a young and hungry McQuarrie released a film with an undeniable energy – whether you love or hate it – and it has only grown more relevant over the years.
The Way of the Gun (7/9) Movie CLIP - Shootout at the Whorehouse (2000) HD
"The Way of the Gun" is the sort of delightfully wretched, politically incorrect genre fare all but extinct in mainstream Hollywood. Indie producers like Dallas Sonnier support like-minded filmmakers still daring to make such cinema (S. Craig Zahler, for instance).
Sick of Vin Diesel grumbling generic – and easily translatable – lines about family while he flies digital cars off cliffs and buildings?
Exhausted by actors posing in front of green screens being celebrated by agenda-driven critics as great cinema?
Bored of the chokehold wokeness has not only over film but over our culture as a whole?
"Way of the Gun" is the answer. It just happened to be released 21 years ago.
Zachary Leeman is the author of the novel "Nigh" and co-host of the "Man of Science, Man of Faith" podcast. He has covered politics and culture for Breitbart, LifeZette and others.