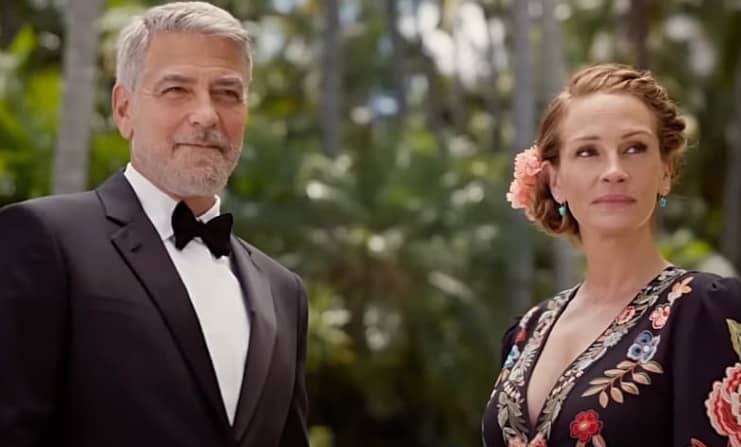 Movie stars no longer put fannies in the seats.
Just ask the bean counters behind the star-studded "Amsterdam, the year's most notorious flop. Stars still matter, though, at least when it comes to conjuring movie magic.
"Ticket to Paradise" is a sweet, and slight, rom-com that might float on by if not for the chemistry of its leads.
Oscar-winners George Clooney and Julia Roberts know how to handle this material, swinging from cranky to cooing at all the right intervals. It turns a passable romantic comedy into one well worth your while.
Ticket to Paradise | Official Trailer [HD]
Roberts and Clooney play a divorced couple who can't stand being in the same room together. Their bickering gives the film an early, saucy kick.
Georgia and David push past their differences on behalf of their headstrong daughter, Lily (Kaitlyn Dever). She's engaged to a young man she barely knows, casting her professional dreams aside to hang with a seaweed farmer in Bali.
Lily can't make the same mistake they made all those years ago, her parents cry. And they'll stop the wedding at all costs.
It's another 21st century rom-com gimmick, the kind that plagued duds like "How to Lose a Guy in 10 Days." Yet "Ticket to Paradise" unfolds at an organic pace, with Georgia and David navigating their love for Lily with the heartfelt fear she's making the mistake of a lifetime.
And, shock of all shocks, the ex-lovers realize they don't hate each other as much as they assumed.
RELATED: GEORGE CLOONEY, THE INCREDIBLE SHRINKING MOVIE STAR
"Paradise" spends most of its running time in Bali's sumptuous settings (although it was actually shot in Australia), so the film is never less than easy on the eyes. The same holds true for Roberts and Clooney, an older couple by rom-com standards. They're allowed to be attractive, alluring and, best of all, complex.
The screenplay mourns both their youth and the end of their marriage. The latter is initially played for laughs, but later we learn the details of their complicated split.
"Ticket to Paradise" could use some spiky supporting players, the kind great rom-coms lean on for laughs. Lily's gal pal (Billie Lourd) is up to the task, but the story doesn't give her enough to do.
View this post on Instagram
Lily's betrothed, Gede (Maxime Bouttier), is too bland, even though he occasionally challenges David's motives. Gede's family falls into the generically woke trap of depicting different cultures as if they lack the flaws we all experience.
It wouldn't hurt for a family member to resent Lily's intrusion into their lives or share some less than noble sentiments. Perhaps the screenwriters feared a Cancel Culture attack a la "Snatched" and played it safe.
The worst character in this "Paradise?" Georgia's new boy-toy (Lucas Bravo), who dotes on her every syllable in a way that never makes him a real romantic threat.
RELATED: CAN MEG RYAN REVIVE THE ROM-COM?
The film ultimately asks a tough but essential question. Can Georgia and David reignite the romantic sparks that fueled their marriage, and will that play out in ways that win audiences over?
Director/co-writer Ol Parker ("The Best Exotic Marigold Hotel") makes it happen, even if it means the film's pacing could use a tune-up. The third act alone could use some trimming for time's sake alone.
Roberts and Clooney handle the rest, looking so comfortable that we hope they can stop fighting long enough for one long, soulful buss.
HiT or Miss: "Ticket to Paradise" is both smart and patient, allowing its stars to bring the best out of the material in play.