Industry News
Opinion
DISASTER: 'The Marvels' Tracking as Low as $35 Million
'Captain Marvel' earned $153 million just four years ago during MCU's unwoke glory days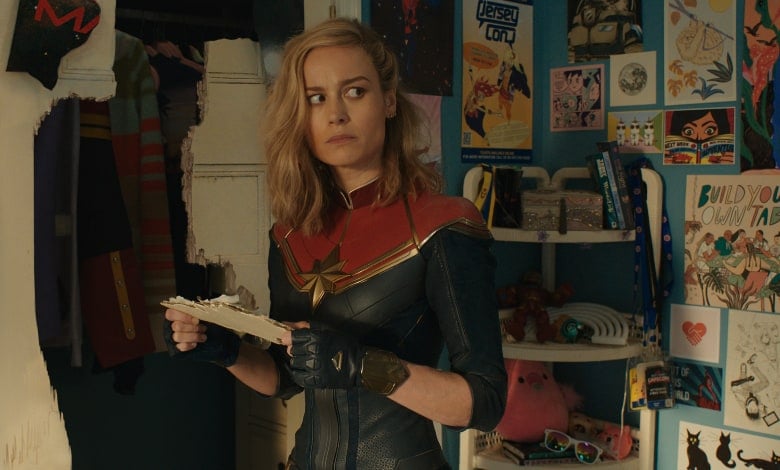 Superhero fatigue just got real.
The once-mighty genre has been showing signs of decay for the past two years.
Recent disappointments include "Shazam! Fury of the Gods," "Blue Beetle" and "Ant Man and the Wasp: Quantumania."
Now, "The Marvels" looks to add an exclamation mark to that trend. And it couldn't happen at a worse time for Disney, which owns the Marvel Cinematic Universe (MCU).
Marvel Studios' The Marvels | Official Trailer
The sequel to 2019's "Captain Marvel" could earn as little as $35 million this weekend, a shocking figure given the genre's previous smashes. The original film earned $153 million in its opening frame, and it went on to snag an astounding $426 million stateside and another $704 million from international sales.
The new adventure, once again starring Brie Larson as Captain Marvel, reportedly cost $275 million. That doesn't include the massive marketing dollars needed for a film of its size and scope.
Those new projections come from BoxOfficePro.com, a reliable source of cinema trends and figures. That site predicted just a few weeks ago that "The Marvels" would earn between $50-75 million less than a month ago.
The new predictions? $35 million to $49 million.
And that's with a new "Marvels" trailer that recruits footage from past "Avengers" movies to pump up interest in the sequel.
Critics won't be able to save "The Marvels" at this point. Several reviewers dubbed the film, directed by Nia DaCosta, the worst MCU feature to date. The film is hovering just above the Rotten mark at RottenTomatoes.com with a 62 percent "fresh" rating.
Some scribes cheered on the film's female heroes. Others found the enterprise lacking.
It's almost as if the suits at Marvel Studios know it doesn't matter if their movies are any good. — The New York Times
A narrative and visual jumble, and the clearest evidence yet that maybe we don't need some sort of Marvel product in theaters or on streaming at all times. – RogerEbert.com
The shocking predictions come as Disney continues to lick its financial wounds.
The Mouse House just announced it will slash another $2 billion from its spending plans, showing the company's fiscal woes remain front and center.
The bad news comes after Disney recently completed its largest round of layoffs in recent memory, shedding 7,000 jobs around the world.
The studio's list of box office disappointments far outstrips its hits of late, with films like "Haunted Mansion," "Indiana Jones and the Dial of Destiny" and "The Creator" collapsing at the box office.